Koo Ja-hong, the late first chairman of LG Group, died of 77 on Feb. 11.
LS Nikko-Copper Chairman Koo Ja-hong, who shepherded the growth of LS Group, succumbed to a chronic disease he had been suffering from. He was 75.
Chairman Koo, born in Jinyang, Gyeongsangnam-do, was the eldest son of the former honorary chairman Koo Tae-hoe of LS Cable & System (LS C&S), who founded LS Group.
Chmn. Koo graduated from Gyeonggi High School and Princeton University's Economic Department in 1973.
He entered the predecessor of LX International and held positions including senior executive vice president of Lucky-GoldStar, the predecessor company of LG Electronics, before being promoted to LG Electronics chairman.
Chairman Koo served as LS Group chairman for nine years, from 2004, when LS Group was officially spun from LG Group.
While serving as LS Group chairman, Koo had been credited with establishing the group's fundamentals. Under the stewardship of Chairman Koo, the name of LS Cable & System Group changed to the current one, LS Group, it established a holding company system and was catapulted to a conglomerate, which ranked 14th in 2021 through aggressive M&A.
Chairman Koo established a tradition of smoothly transferring the group's chairmanship to former LS group chairman Christopher Koo.
Koo served as chairman of LS Future Institute between 2013 and 2014 after stepping down as LG Group chairman. Koo took office as chairman of LS Nikko-Copper in 2015.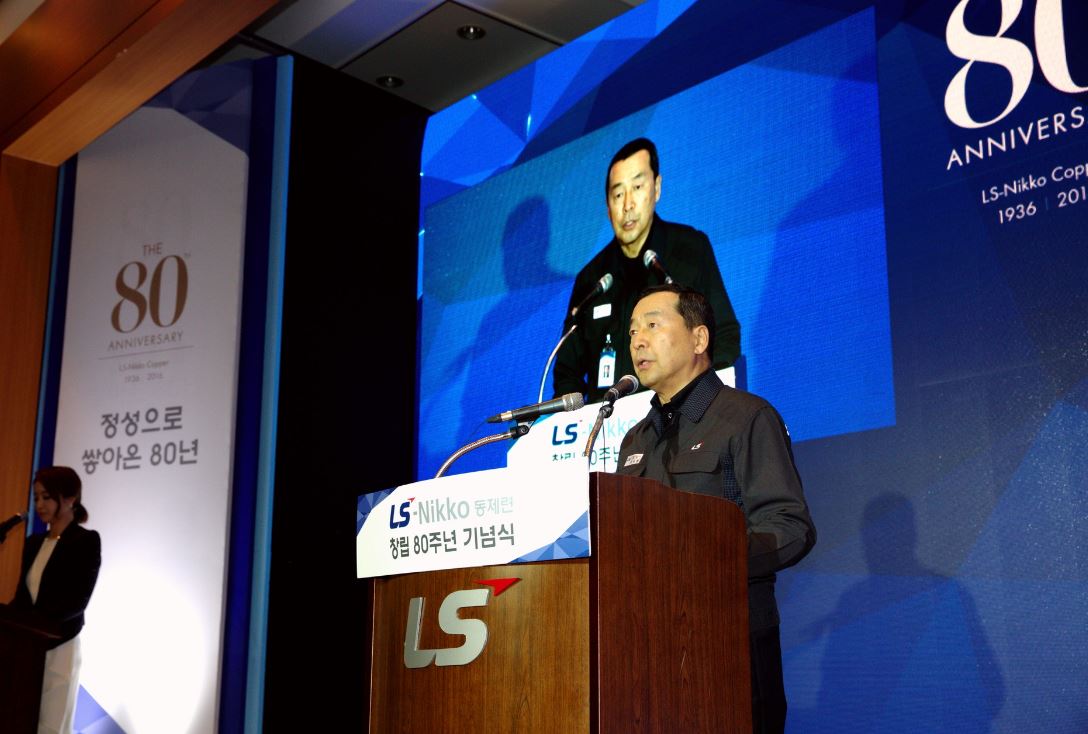 Chairman Koo Ja-hong of LS Nikko-Copper delivers a speech at a ceremony to celebrate 80th anniversary of the company in 2016.
He served as chairman of Korea Electronics Association and chairman of Korea Nonferrous Metal Association.
He was honored with the Order of Industrial Service, Gold Tower in recognition of his contribution to the development of the nation.
The late chairman Koo was a second generation LS group chairman. He was the eldest son of the late honorary chairman Koo Tae-hoe of LS Cable & System, who founded LS Group.
He was a nephew of the late Koo In-hoe, one of LG Group founders, and the late honorary chairman Koo Pyung-hoe of EI and the late honorary chairman Koo Doo-hoe of yesco.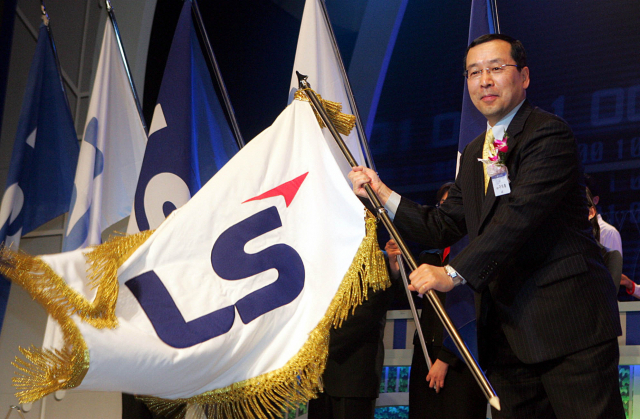 LS Group Chairman Koo Ja-hong waves the group's flag at a ceremony to declare its corporate identity in 2005 at Yongsan Tower, LS Group headquarters in Seoul. (Photos: LS Group)
His cousins are Chairman Christopher Koo of the Korea International Trade Association, former LS Group chairman, Chairman Koo Ja-yong of E1, Chairman Koo Ja-kyun of LS ELECTRIC, and Chairman Koo Jae-eun of LG Group. He is bereaved by his wife Ji Soon-hae, eldest daughter Koo Na-yoon and son Koo Bon-woong.
The late chairman Koo, dubbed "the Gentleman of the Business Community," was noted for his humble attitude by demonstrating and putting into practice management tenets such as respect, care and trust.
While serving as chairman of LS Nikko-Copper, the late chairman had demonstrated communication leadership by holding the "Casual Day" during which he had talks with his staffers over beer. He a veteran go game veteran with an amateur six-grade.