Collaborates with Japanese firms to set up a joint venture to produce and sell BR in Malaysia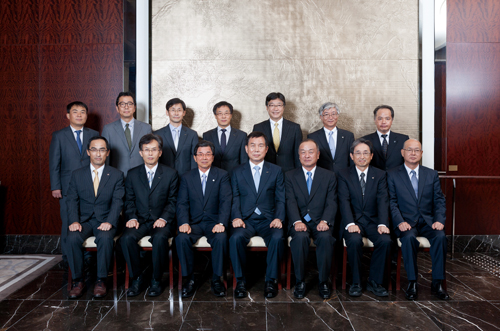 Lotte Chemical President Huh Soo-young (front row, 4th from left),; Nobuyuki Takahashi,
president of Ube Industries, (front row, 3rd from left),; and Takahisa Miyauchi, Mitsubishi
Group CEO, Chemicals Group, participate in a ceremony to agree on the establishment
of a polybutadiene rubber joint venture in Malaysia.
Lotte Chemical has teamed up with Japanese companies to build a polybutadiene rubber (BR) plant in Malaysia and make inroads into the synthetic rubber business.
To this end, Lotte Chemical announced on March 13 that Japanese chemical firm Ube Industries, Japanese trading company Mitsubishi Corp., and Lotte Chemical Titan, a Malaysian unit of Lotte Chemical, will set up a joint venture to manufacture and sell BR.
The joint venture Malaysian Synthetic Rubber SDN BHD, with an annual production capacity of 50,000 tons of BR, will be put into operation in 2014.
Ube Industries will provide related technologies, while Lotte Chemical Titan will supply the raw material butadiene. The Japanese company is Japan's representative petrochemical company specializing in the production of resins for general use, synthetic rubber, and advanced chemical products.
Polybutadiene rubber is widely used for producing tires, high impact polystyrene (HIPS), and shoes due to its heat resistance, wear resistance, and waterproofing.
An official from Lotte Chemical said they are expected to shift into high gear its investments in Malaysia through Lotte Chemical Titan, the Korean petrochemical company acquired in 2010.
LOTTE CHEMICAL, A MERGER OF HONAM PETROCHEMICAL AND KP CHEMICAL
Lotte Group Chairman Shin Dong-bin announced a plan to nurture heavy and petrochemical businesses as the group's growth engines. Shin made the remarks at a ceremony to declare the corporate identity of Lotte Chemical, established by merging Honam Petrochemical and KP Chemical Corp., at the Lotte Hotel in Seoul on Dec. 27.
Shin said, "Lotte Group plans to attach priority to nurturing distribution/service industries and petrochemical sectors as its core businesses, with the latter led by Lotte Chemical." He said Lotte Chemical will be committed to realizing the group's vision of becoming a top 10 company in Asia and one of Asia's most exemplary petrochemical firms.
Honam Petrochemical has changed its name to Lotte Chemical, 34 years after it was acquired as a petrochemical unit of the business group in 1979.
Lotte Chemical President Huh Soo-young said the company will redouble its efforts to go abroad, beyond the saturated domestic market.