Oil refiner is the first large firm to sign agreement to hold the program regularly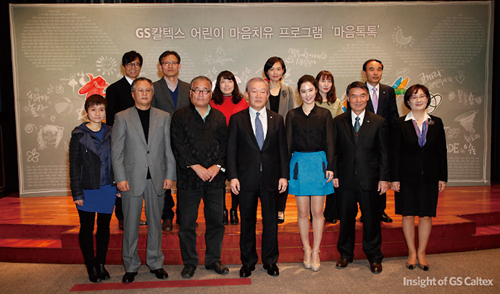 A group of GS Caltex officials and staff pose for a photo session after
participating in the oil refiner's "Healing for Children Program," as part of the social service activities.
Vice Chairman Huh Jin-soo of GS Caltex, who recently took over the helm of the oil refiner, has been making outings lately to urge corporate social responsibility. He made an appearance at an event related to "Healing for Children," a social service program run by large corporations, making GS Caltex the first large company to send its CEO to sign an agreement with Good Neighbors, a social service organization, to continue to support the program. He said the oil refiner will continue to support the program so that it will be a stable program to help children who are hurt and isolated from society.
The program is designed to provide treatment though fine arts and music and other artistic programs to heal their minds and recover their mental health. The signing took place at GS Tower in Yeoksam-dong, Seoul, on March 7.
Over the next three years, GS Caltex plans to treat about 10,000 children from poor families around the country in cooperation with 13 organizations for children at centers all across Korea including 2,000 this year.
Beginning next month, the oil refiner will run a children and families healing camp at its arts and cultural park in Yeosu, South Jeolla Province, called "Yeosu Yeul Maru."
The oil refiner said its social contribution team studied various matters last year before deciding to hold the program, although it has been holding diverse cultural programs to help the region where its oil refining complex is located. Last April, the oil refiner started to look into matters related to the social contribution program based on Vice Chairman Huh's urging that the program should be provided to those children who really need the healing treatment since they are so isolated from society.
The social contribution team contacted various organizations such as academics, the medical community, and other related organizations to gather ideas and in December 2012 the expert team was launched along with a team of professors. The advisory team included photographer Pae Byung-woo, actor Song Seung-hwan, known for his performance in Nanta, and choreographer James Jin of the Seoul Ballet Theater, all top experts in their fields.
The social contribution team was able to set up its own art treatment program, which is much better than traditional ones, on advice from the advisory team, along with the education program for those taking charge of the artistic treatment program.
GS Caltex has been providing diverse cooperative relations with its suppliers to grow together in business. Chairman Hur Dong-soo's philosophy is to always keep the other's point of view in the minds of GS Caltex executives and staff in order to form a growth partnership with its suppliers.
A representative example of the close partnership is the cash payment for services or goods provided by the suppliers within a week, which the oil refiner has been doing since its oil refineries went online. This is done to help them in general, but especially for the smaller firms to make sure they have enough cash on hand.
The oil refiner has also been fair in calculating the prices of goods and service fees for its suppliers by analyzing the prices and service charges in detail and confirming them before paying down payments and interim payments.
GS Caltex has always been determining the prices of goods flexibly to cope with sudden changes in prices, foreign exchange rates, and other factors so that suppliers will not experience sudden cost increases. Since December 1997, the oil refiner launched a banking system to transfer funds into the suppliers' bank accounts automatically so that the suppliers would not have to send their people to collect payments from GS Caltex.
The oil refiner has also launched a system for the purchase of goods and services through the internet to ensure transparency and fairness in the selection of suppliers and help the applicant suppliers cut expenses.
The oil company signs long-term contracts with suppliers who provide an excellent quality of goods and services of from two to three years to eliminate uncertainty in their operations.