The largest commercial bank in Korea sets up the banking service to help the poor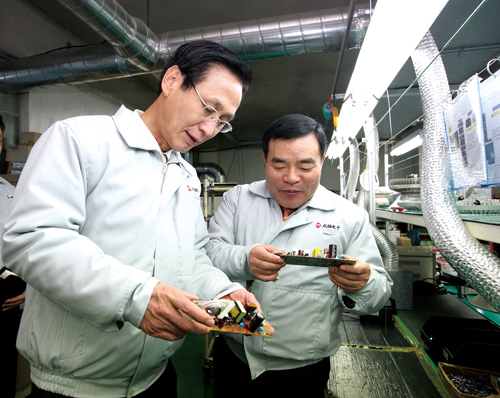 President Min Byung-dok of Kookmin Bank listens to an official of a
small company near Seoul he visited recently as he
holds a product of the company. [ Photo on courtesy of Kookmin Bank]
Kookmin Bank became the first major commercial bank in Korea to open a window for the general public at its branch in Yeongdeungpo Ward in Seoul last September to help the financially poor replace their high-interest loans borrowed from the high-interest secondary loan market.
The bank has been marketing special low-interest loans to the financially poor individuals with low credit ratings through its special account window run by specialists in dealing with low-credit borrowers.
In order to protect those who visit the window, it is located on the second floor behind an opaque window so that the visitors won't be easily seen by others.
President Min Byung-sok said, "We are preparing to give diverse help to SMEs that have viable technologies but need financial support to help get them going."
Deputy Branch Manager Paek Soon-ki, in charge of the window, said a special window for those with poor credit and with low income had to be set up separately because it takes a lot of time to find which loan products are suitable for the individual's financial conditions.
Starting with the Yeongdeungpo Branch, the bank set up such windows at 33 branches around the country so far, in addition to an online clinic for poor individuals at heemang.kbstar.com.
The bank has also been doing its part to help SMEs in financial trouble by setting aside 20 trillion won for loan funds °™ 10.2 trillion won for small business owners, 8 trillion won for SMEs, and 2 trillion won for medium-sized firms °™ to show that the bank is ready to help SMEs and business people in financial trouble.
The bank has also changed its credit analysis process in that it will examine the characters of CEOs, the company's past records, and their potential. The bank will also strengthen its advisory on foreign exchange risks, management of financials, and taking over commercial firms, as well as non-financial advice to those SMEs with healthy financials.