International Year of Water Cooperation under the slogan 'Water, water everywhere, only if we share'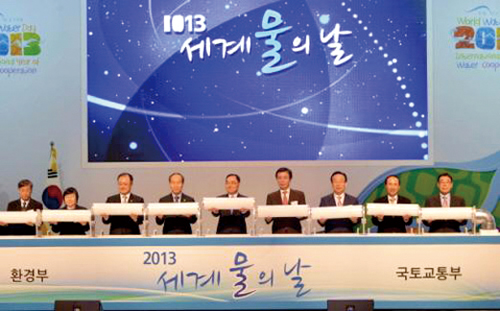 Dignitaries, including Prime Minister Chung Hong-won and Environment
Minister Yoon Seong-gyu participate in the 2013 World Water Day anniversary event in Daegu.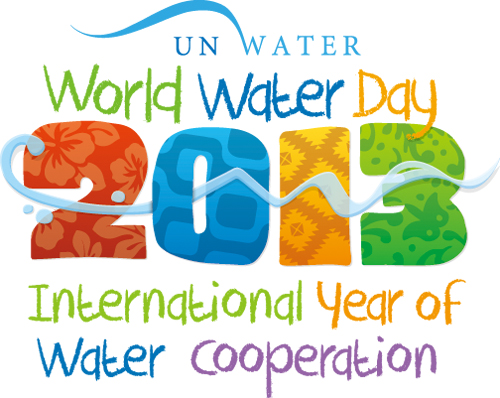 A ceremony took place on March 22 at EXCO in Daegu to observe World Water Day jointly hosted by the Ministries of Environment and Land,
Infrastructure and Transport under the theme of "International Year of Water Cooperation" as designated by the United Nations with some 1,000 people in attendance led by Prime Minister Chung Hong-won and Environment Minister Yoon Seong-gyu, as well as local autonomous organizations and representatives of related civil organizations attending the event.
This year's World Water Day theme is designed to publicize the critical importance of water and raise concern for the countries suffering from water shortage as well as to move to amend the situation through cooperation among nations and deepen the awareness of the serious water shortages in the world and work to improve it. The U.N. designates the theme for World Water Day every year since 1994.
Various events were held during March to sound off the importance of water for people around the world including an event for the love for water and a campaign to collect funds for the nations with water shortages, cultural and arts events including the movies with water as subjects, writing events with water as subjects, an exhibition of arts with water as subjects, travel events for those who want to see and learn the importance of water and what the country has been doing to preserve water and make it clean, the campaign to love water with lectures and programs to show how tap water is supplied, special media reports on water in general including its scarcity in the future, academic events on water and the Expo on Water, the Gyeongnam Water Expo, the publications on water including the need for water preservation, online public relations events on water including ads on important portal sites, blogs and SNS public relations on water and ads on subways and light towers outside, among others.