Puts or will put into practice a total of 57 tasks designed to step up the safety of nuclear power units in the wake of the Japanese nuclear disaster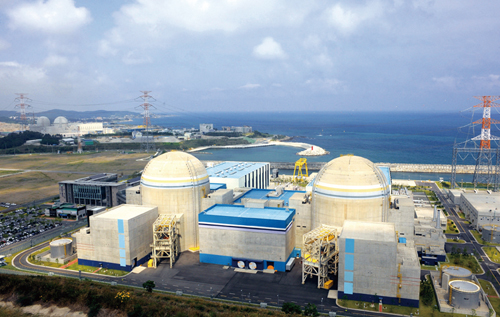 An aerial view of the Shin Kori nuclear units 1 & 2.
Countries operating nuclear power units have been scurrying for stepping up their safety in the wake of the Fukushima Daiichi nuclear disaster that took place in March 2011. Korea Hydro and Nuclear Power Co. (KHNP), which operates 23 nuclear power units in Korea, has also come up with a package of measures to heighten their safety for the past two years.
KHNP is now putting or will put into practice a total of 57tasks - 48 tasks recommended by the government's fact-finding team into the operation of Korean nuclear power units in the wake of the Japanese nuclear disaster and the remaining 10 tasks proposed by KHNP's own probe. The tasks, to be carried out in the short- and long-term perspective by 2015, will cost about 1.1 trillion won.
One of the representative tasks is the construction of a 2.1-km-long protective wall against tsunami caused by strong earthquakes along the coast of the Kori Nuclear Power Units 1&2. The 10 meter-high barrier has been already completed.
KHNP is working on the mid- and long-term tasks, including the installation of earthquake-influenced automatic stoppage systems and the securing of mobile power generation vehicles. By the end of next year, KHNP is to have all nuclear power units fitted with such waterproof facilities as watertight door installation apparatus and watertight drainage pump so as to prevent the flooding of major installation apparatuses, including emergency diesel-fired power generators in the case of contingency. Ulchin and Kori nuclear power complexes have been already installed with mobile power generators against an emergency situation, and Yongkwang and Ulchin nuclear power complexes will follow suit by next year.
KHNP plans to have all nuclear power units fitted with the latest facilities for removing hydrogen without power supply to prevent the "hydrogen build-up" the Fukushima Daiichi nuclear reactors had experienced and they are be installed with automatic shutdown systems designed to prevent accidents caused by strong earthquakes.
KHNP also plans to strengthen safety through management transparency. A case in focus is the establishment of the business process management in which information among departments is shared and unclear and unfair practices is designed to be eliminated.
In this vein, KHNP President Kim made public a shift of the company's top priority when operating nuclear power units from efficiency to safety. In the past, KHNP had been scrambling for the restarting of nuclear power units that were hampered by breakdowns and required the replacement of parts. From now on, the company is focusing on taking countermeasures to prevent the repetition of similar breakdowns and to secure enough maintenance time, rather than rushing their restarting.
KHNP has developed a manual for the integration and operation based on the IAEA's safety requirements of GS-R-3, a management system for facilities and activities which the company introduced.
KHNP aims at ensuring the reliability of operating nuclear power units and raising its overseas competitiveness by building the Quality, Health, Safety, Security Environment (QHSSE) system, its integrated management system for nuclear unity safety, departing from the past's quality-oriented process. The power company also has an Advanced Engineering Process System in which nuclear power units are able to ensure efficient equipment replacements and maintenance by predicting and conducting preventive maintenance before getting stuck with breakdowns.
Globally renowned experts in the nuclear energy field are invited to conduct an examination of its nuclear safety environment and nuclear unit operation regime to dramatically reinvent its nuclear energy culture. Last December, KHNP signed an MOU on safety consulting with the United State's biggest nuclear power operator, Exelon. Robber Hobby, an executive in charge of safety at Exelon, has been appointed to be a safety adviser for KHNP.
CEO Kim believes that at the center of ensuring the safety of nuclear power units lies with KHNP employees' faithfully sticking to principles and procedures. To this end, Kim is focusing on improving KHNP employees' awareness toward the safety of nuclear power units, so his company plans to let its employees conduct a thorough check into equipment in advance and stick to principles and procedures in the course of operating nuclear power units and conduct smooth in-house communication to ensure safety.