The 40th Commerce Day was observed in a ceremony held on March 20 at COEX in southern Seoul with President Park Geun-hye among some 1,000 attendees including government officials, business leaders, and heads of economic organizations. The event was led by Minister Yoon Sang-jik of the Ministry of Knowledge Economy and included Chairman Sohn Kyung-shik of the Korea Chamber of Commerce and Industry, Chairman Huh Chang-soo the Federation of Korean Industries, Chairman Han Duck-soo the Korea International Trade Association, and Chairman Lee Hee-beom of the Korea Employers Federation, among others. The government presented medals and citations to 275 business executives and workers to recognize their contributions to the growth of the national economy at the ceremony.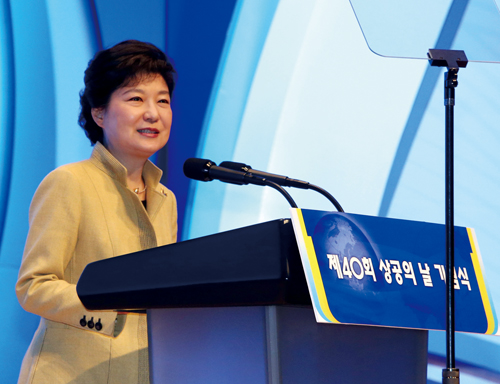 President Park Geun-hye delivers her commemorative
speech at the 40th Commerce Day anniversary ceremony
President Park, in her congratulatory speech at the ceremony, said the government will do its best to improve the business environment in Korea to spur growth by easing various regulations to take the economy to the next level.
She said the government will cut unnecessary regulations hampering business activities so that both individuals and firms with creative business ideas can develop them and produce new products and services. The new chief executive said she would like to thank those business leader who won the valuable medals and citations in recognition of their achievements in business, including those who are overseas and foreign business people in Korea.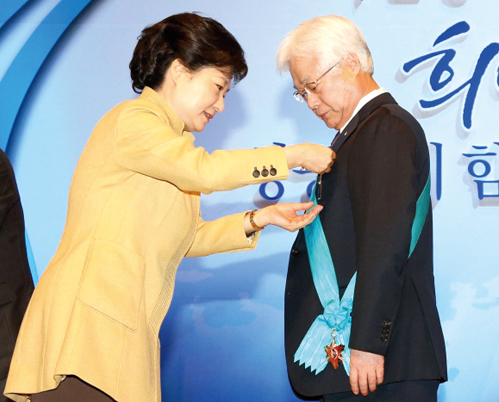 President Park presents the Order of Industrial
Service, Gold to Vice Chairman Na Wan-bae of LG Energy.
"We are a small nation, but now our economy has developed enough to rank among the 10 largest in the world as a result of your sweat and tears," Park said.
"We are faced with great challenges both at home and abroad. It is difficult to create good jobs when the link of the circulation leading to the happiness of every person of this country is being broken. This is the time that we should find a new paradigm for the resurgence of our economy because we are in an age in which individual creativity will determine the national competitiveness one way or another.
"I will push for the creation of a base where individual ideas and creativity can be fully displayed as I promote the creative economy based on scientific technologies," she said.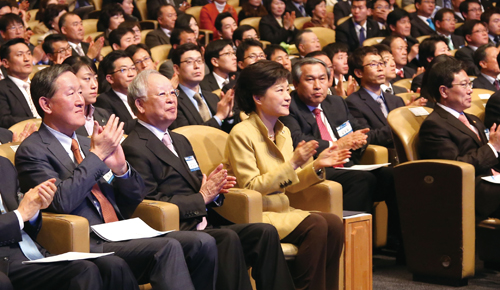 President Park Geun-hye, FKI Chairman Hur Chang-soo and
KCCI Chairman Sohn Kyung-shik applaud as the 40th Commerce Day is observed.
"I will also promote the democratic economy in which everyone will be reimbursed fairly for his or her sweat shed for their work and win over today's difficulty and achieve the second Han River miracle.
"In order to bring that about, I will see that various regulations will be removed to free up creative and reformative ideas that can be put to work intensively.
"Any creative ideas can develop and produce new commodities and services and I will reform the laws and cut regulations so that they can be introduced in the market as soon as possible," the president said.
She said she will see that an infrastructure that will mix industry and industry, culture and industry, and IT and manufacturing will be built. In order to achieve that the sections that divide government ministries will be removed to build a system for creative cooperation to implement the one-stop service as demanded by the business community.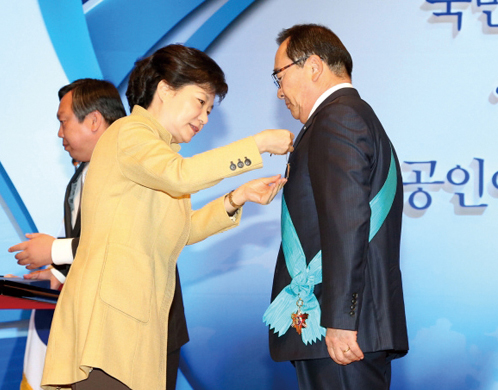 President Park awards the Order of Industrial Service,
Gold to President Han Woo-sam of Taeyang Metal Industry.
Chairman Sohn of the KCCI in his speech said when Commerce Day was designated in 1973, Korea's international trade only amounted to $7.5 billion, but now it has grown to over $1 trillion annually and per capita income expanded to over $20,000 per year now from $400 in the same period. The merits should go to commerce people and workers who toiled day and night as the country lacked in basic resources, including capital and raw material, to create the Miracle On the Han.
Sohn said the government should support the enterprises, the key players in economic growth, so they can work harder and provide a ladder for small companies to step up to be medium-sized companies, while business people should expand investments for the future despite difficulties in order to create jobs.
Winning the Industrial Merit Gold Medals at the ceremony were Vice Chairman Na Wan-bae of LG Energy and President Han Woo-sam of Taeyang Metal Industry.