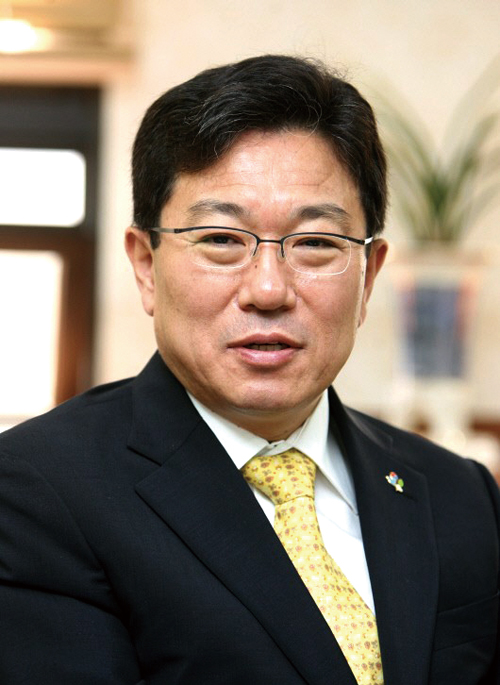 Minister of Trade, Industry and
Energy Yoon Sang-jick
Minister of Trade, Industry and Energy Yoon Sang-jick stressed the need for building a more creative economy, a new paradigm that can expand growth engines, create better jobs, and support balanced growth among industries.
Minister Yoon of the tentatively-named Ministry of Trade, Industry and Energy (MOTIE), stressed the creative economy paradigm while delivering his inauguration speech at the Gwacheon Government Building on March 11.
In an effort to make the national economy more creative, Minister Yoon enumerated five tasks: proliferating industry integration; building an amicable ecosystem between small and mid-size companies; pursuing balanced regional development; implementing trade strategies designed to ensure national and economic interests; and the establishment of an energy supply system designed to make people feel at home and feel empathy for each other.
As to the ministry's taking over the job of trade negotiations following the restructuring of the government, Yoon said his ministry would devote itself to implementing a whole cycle of establishing trade policies, negotiations, and taking domestic countermeasures so that the maximization of trade policies and the efficiency of countermeasures can be ensured.
The new minister went on saying that his ministry will give a leg-up to Korean firms' making inroads into foreign countries and creating jobs by promoting cooperation in the industry and energy fields with emerging countries, transferring the nation's experiences on economic development and technologies.
In particular, regarding energy supply and demand, Yoon said his ministry will implement energy policies based on communication with people and people's participation. He added that his ministry will attach top priority on ensuring the safety of nuclear energy and strengthen the safety of various energy facilities to gain public trust.
He said MOTIE will upgrade the energy supply-demand structure to the levels of advanced countries to ensure a seamless supply of energy.
Yoon has been mostly with the ministry since he began his official career after passing the 25th public administration examination. He held such positions as the director of exports, the director of the digital electronics industry, the secretary general of the Korean Electricity Commission, director general for industry and knowledge economy, deputy minister for planning and coordination, and vice minister for industry and technology.
New Vice Minister for Industry and Technology Kim Jae-hong said in his inaugural speech on March 15, "Such social conflict issues as shared growth between small- and large-sized companies and gaps among regions should be approached from the perspective of sharing and caring." He said his ministry will do its utmost in expanding growth engines, creating jobs, ensuring balanced growth and achieving the target of posting $2 trillion in trade.
A graduate of Hanyang University's Public Administration Department, Vice Minister Kim passed the 25th public administration examination and held such positions as the director for balanced national development policy at the ministry, the director general for cross-border investment, the director general for policy coordination, the director general for emerging industries, and the deputy minister for industries.
Vice Minister for Trade and Energy Han Jin-hyun said in his inaugural speech, "Thorough measures should be taken to cope with the ever-worsening global trade conditions and the exacerbating energy supply-demand situation." He added that he will push for trade and energy policies committed to the government's new policy paradigm for building a creative economy.
A graduate of Cheonnam National University's Economics Department, Vice Minister Han held such positions as the director for the gas industry, the director for the petroleum industry, the director general for the energy industry and deputy minister for trade and investment.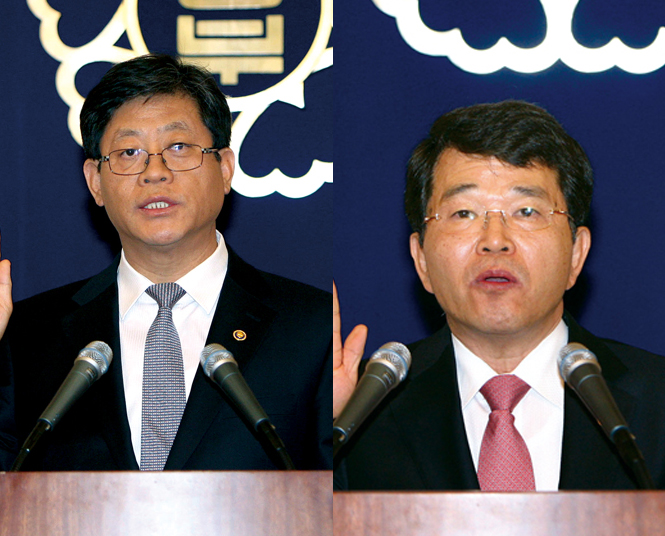 (from left) Vice Minister for Industry and
Technology Kim Jae-hong and Vice
Minister for Trade and Energy Han Jin-hyun