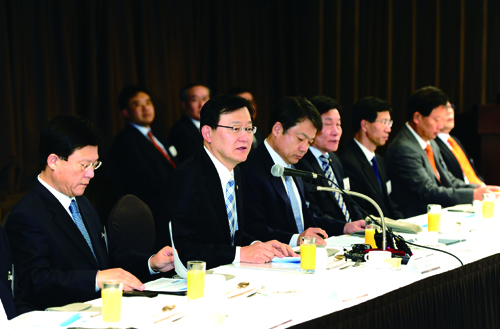 Minister of Knowledge Economy Hong Suk-woo attends a meeting with the nation's top 30 business group leaders at the Seoul Renaissance Hotel on Jan. 13.
The nation's top 30 conglomerates have decided to set aside a combined 151.4 trillion won in investments and create 123,000 new jobs during this year, 3,000 jobs more than last year.
The 2012 investment and employment plan was announced at a meeting between Minister of Knowledge Economy Hong Suk-woo and the top 30 conglomerates' CEOs in charge of planning at the Seoul Renaissance Hotel in southern Seoul on Jan. 13.
The 2012 figures represent a 12.3 percent surge over the 134.8 trillion won in 2011 investments and a 2.2 percent increase over the 2011 hiring figure. The participants also decided to raise the number of high school graduates they would hire by 7 percent to 37,000 employees this year.
The business groups plan to focus their investments on exploring future businesses for sustainable growth, including the development of next-generation memory chips and the expansion of Organic Light Emitting Diode (OLED) display manufacturing lines in the semiconductor/display sector as well as the establishment of long term evolution (LTE) networks in the telecom field. Also listed on the investment list are the development of core technologies in new cars and eco-friendly vehicles; the construction of new FINEX steel-making lines and the expansion of existing lines; the commercialization of wind power generation and the solar cell polysilicon business; the development of rechargeable battery/mid- and large-sized batteries; and thin film solar cell modules.
The participating CEOs asked the government to provide tax benefits for investments in electric charging stations and other electric vehicle infrastructure buildup and new and renewable energies as well as other R&D activities into advanced technologies.
In return, MKE Minister Hong said his ministry plans to reflect things it can accept in the short-term in a plan to boost corporate investments, to be announced in March.
Among those on hand at the meeting were Samsung Group Executive Vice President Yook Hyun-pyo; Hyundai Motor President Chung Jin-haeng; SK Group President Cha Hwa-yup; LG Group President Cho Joon-ho; Lotte Group President Chae Jung-byung; POSCO President Choi Jong-tae; Hyundai Heavy Industries Executive Vice President Kim Wae-hyun; GS Group President Im Byung-yong; Hanjin Group Executive Vice President Suh Yong-won; Hanwha Group President Jang Il-hyung; and KT Executive Vice President Kim Il-young. nw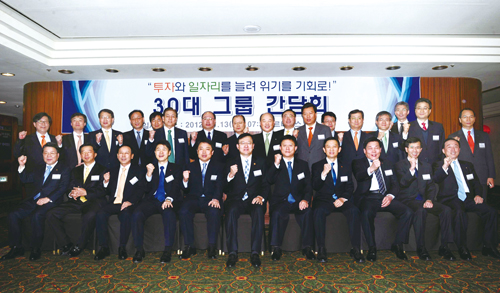 Tycoons of top 30 conglomerates gesture to pledge to boost jobs and investments at the meeting. MKE Minister Hong is also seen at the center in front row.