Cosmetics firm strives to expand shares in French, Chinese and Southeast Asian cosmetics markets; takes over Annick Goutal, a French perfume brand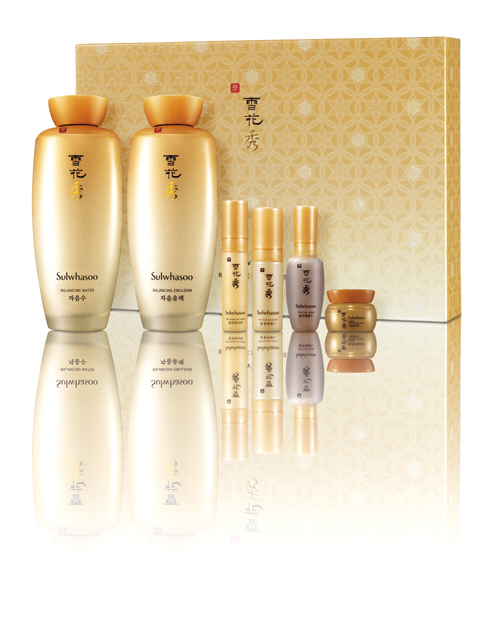 A view of Sulwhasoo, one of the best-selling cosmetics
products for the company with its Oriental herb contents.
AmorePacific continuously pushes its strategy to be the "Asian Beauty Creator," striving to spread the core ingredient of Asian beauty around the world as its given mission this year, too, as it has always been.
The popular cosmetics company has opted to give a strong push to its strategy to further open up its markets in China, the Americas, and France as the three target areas for its global operations, in addition to the traditional markets for its products including North America, Western Europe and Southeast Asia.
The Korean cosmetics company' s foray into France, the country with world-renowned cosmetics brands like Channel and Estee Lauder, sounds outrageous, but not to the company' s Chairman Suh Kyung-bae.
The company has been doing well with a number of its brands such as La Neige and Sulwhasoo in the Asian cosmetics market, especially in Singapore and Thailand, and CEO Suh doesn' t see why Amore-Pacific cosmetics brands would not sell in France with their distinct cosmetics ingredients including extracts from beans grown on top of Mt. Halla, the tallest peak in Korea some 3,000 meters high, as well as Oriental medicinal herbs.
Chairman Suh intends to reach 500 billion won in sales annually with more than 10 of its cosmetics brands in order to post global sales topping 5 trillion won annually by 2020.
Sulhwasoo, made with Oriental medicinal ingredients, was first put on the market in Beijing in March 2011 and has been doing exceedingly well with annual sales rising 40 percent. It is now sold in 20 sales outlets in a number of large cities in China, Shanghai in particular. The cosmetics product has been selling well at its five sale counters in Hong Kong, too.
Leading the ASEAN market for AmorePacific cosmetics has been La Neige, ranked in the middle of the upper level cosmetics sellers in Singapore in 2003 and has continued to maintain its popularity in the neighboring markets such as Thailand, Malaysia, and Taiwan, selling in a total of nine countries in the region. In Singapore, the cosmetics product marked 111 percent growth in sales YoY last year and 64 percent sales growth in Malaysia.
Sulwhasoo has been doing equally well in those countries since it was put on the market in Singapore in October 2003. In Bangkok, the cosmetics product is being sold at the largest department store in the city and the company plans to open five more outlets for the product this year. AmorePacific is also set to expand its markets in North America and France, focusing on the sale of its global brand, AMOREPACIFIC, which operates 45 counters in reputable U.S. department stores. In France, the company intends to expand its market for perfumes. The company took over Annick Goutal, a French luxury perfume brand in August 2011 °™ the first time a Korean cosmetics firm took over a French perfume brand.
Chairman Suh said in his commemorative speech at a ceremony for the company' s 67th anniversary that he will lead the cosmetics firm to rank the 7th largest in the world by 2020.
He unveiled the vision at the ceremony held on Sept. 5, 2012, at the company' s head office in Yongsan, Seoul, including the strategy to achieve the vision and a plan to develop 10 cosmetics brands whose annual sales would reach 500 billion won each, which will help boost the company' s total annual sales to 11 trillion won by 2020 from 3.9 trillion won now.
Sulwhasoo is the only brand by AmorePacific that brings in more than 500 billion won annually among the company' s cosmetics brands.
Under the long-term vision, the company would rank 10th largest in the world in 2015 with a 2.7 percent share of the global cosmetics market and a 3.8 percent share in 2020, bumping it up to number seven in the world and number one in Asia, even outranking Shiseido of Japan.