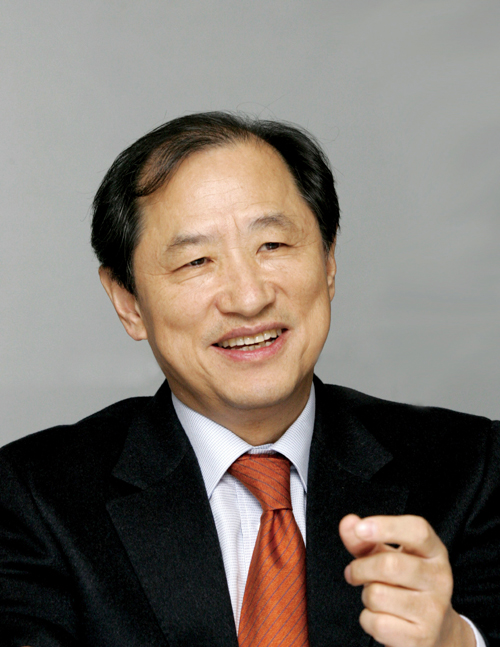 LG U+ Vice Chairman Lee Sang-chul
LG U+ Vice Chairman Lee Sang-chul said one of the 2012 national buzzwords would be "sharing," saying, "The demand for sharing in all segments of society is getting stronger, so unless the demand is fully met, politics, companies or what else can be isolated by people or consumers."
Commenting on the trends of sharing, Lee said, "Sharing is different from dispensing — the haves unilaterally doling out something to the have-nots. Sharing means the common use of something, kind of not owned by anyone. For example, it can be summed up as the likes of the Youth Concert, which made its debut last year and caused a sensation, in which people don't solicit solutions from politicians and corporate Korea, but just want to join the conversation and share together.
"The social network services (SNS) are representative means. They appears to serve as a kind of speaker in which 700 million people can communicate within 10 minutes, as all citizens gathered at the Colosseum during the Roman era. Korean society tends to shift to a direct politics ear, as people can have the experience of exchange and the sharing of views with each other at ease, and they demand greater sharing from all segments of society. Even though there is a growing at-risk tendency, minority groups are speaking up, but the quiet majority's greater engagement in sharing will ensure balance."
Asked what impact the trends are having on the industrial field, he said, "Businesses are shifting into the sharing paradigm. In the past, news agencies supplied their own contents to their clienteles through their own networks, but Apple has now broken that mold. A collection of content produced by others has been offered to customers — news agency subscribers — other than their own. iTunes, a media player program of Apple, is an example of selling content from music and filmmakers to news agency customers in which Apple receives only commissions between them."
Lee, a former minister of information and communication and former chair-professor, warned that news agencies suffered a setback in their own music, movie and other content business areas due to Apple's action. "NASA or Bell Laboratories were famous for 'on my own' strategies and technologies. If anyone fights a fight only with its own things, it eventually ends up a failure. They now have to offer new services by sharing other firms' and customers' contents — cloud services posting on-line information and data will likely accelerate sharing."
Concerning the question that convergence has been singled out as one of the current buzzwords with sharing, he said in the past there were separate devices suiting their respective uses like TVs for watching video programs, radios for listening to music, and PCs for internet use. Now, smartphones combine TV watching, radio listening, and internet surfing. All devices are unified into one like a medical tour in which people are offered medical services plus tourism and shopping.
Lee predicted that convergence between human beings and machines will ultimately take place. As is seen with the iPhone's voice recognition software, Siri, machines now have begun to recognize humans, he noted, saying that smartphones contain a person' specific information, including wake-up time, schedules, internet surfing, and the settlement of accounts, and it could further evolve into a stage in which services tailored to meet each individual's needs are offered.
He said the fourth-generation Long Term Evolution (G4 LTE), a high-speed wireless internet service, which has already made its debut in Korea, will usher in a full-fledged video era in which all information can be changed into video beyond just video calls, so active video searching will enable the kitch of a restaurant and its atmosphere. "When you visit a real estate agency, you can see all the views regarding your entry onto the porch of a house and moving into the living room. Videos could bring numerous values, and those who control the video market will be the king of kings," he said.
LG U+ is now one to one-and-a-half years ahead its rivals in building an LTE network and offering its services, Lee said, adding that telecom providers have advantages in the sharing, convergence, SNS, and cloud service areas because they have a better understanding of clients than content providers. Lee said his company plans to develop ideas and services in "run-for-money" areas such as the private touring market, valued at 30 trillion won, and the welfare field, with government budgets surpassing 100 trillion won.
LIVING WITNESS OF KOREAN IT HISTORY
Lee has been in the local IT industry for some 30 years. His resume is virtually synonymous with the history of the Korean IT industry. A graduate of Seoul National University in electrical engineering in 1971, Lee earned a masters' degree in engineering from Virginia Polytechnic Institute and State University and a doctorate in engineering from Duke University. Lee began his career as a researcher and held posts such as the head researcher at the Agency for Defense Development between 1982 and 1991; CEO of KT Freetel between 1996 and 2000; president of KT Corp. between 2001 and 2002; minister of information and communication between 2002 and 2003; and Korea University chair-professor between 2005 and 2009. nw