STX Invests in U.S. Grain Terminal
Grain storage in Long View, Washington, to allow STX Pan Ocean to ship grains to Asia and South America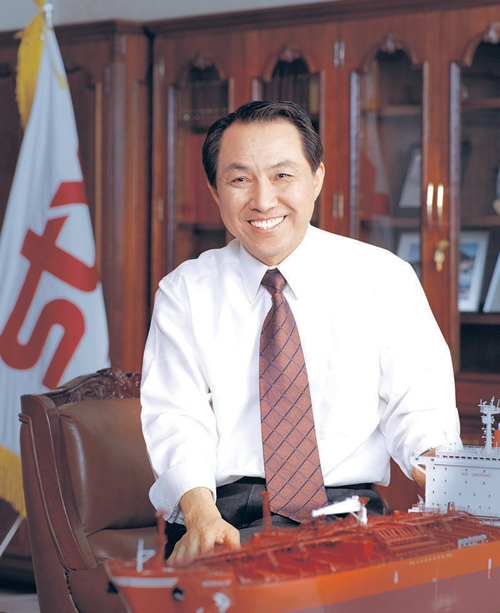 Chairman Kang Duk-soo of STX Group.
STX Group will take on the grain business in earnest from this year involving many areas including storage, transportation, and trading aimed at synergy among its affiliates now that its grain storage terminal in the United States is completed, the group said recently.
The group has decided to enter the grain business since its main businesses of shipping and shipbuilding are subject to changes in demand around the world, while the grain market is always on the move up, they said.
According to industry sources, STX Pan Ocean has built a grain storage terminal in Long View in Washington State jointly with Bunge, a global grain dealer, and Itochu of Japan. The first 57,000-ton shipload of wheat left the harbor on Feb. 14 for Korea. A grand opening ceremony will be held for the new terminal some time in the third quarter when the grain season reaches its high mark, during which a number of STX CEOs including Captain Pae Sun-ryung of STX Pan Ocean will attend.
The joint grain terminal was built at a cost of $200 million beginning in 2009. The joint venture EGT Co. will manage the terminal. STX Pan Ocean holds a 20 percent stake in the storage terminal, which is the first such facility built on the west coast of the United States since 1980 capable of handling 8 million tons of various grains annually. Bunge holds the largest stake with 51 percent and Itochu retains 29 percent.
The largest bulk carrier, STX Pan Ocean expects to increase its shipping charges with the increase in grain shipments from the new storage facility. The shipping firm handles some 130 million tons of cargo of which 15 percent are grain, making it strong in grain shipment. If STX Pan Ocean secures the right to ship all of the grain from the new storage terminal, the shipping company's grain shipment would increase by 50 percent annually, officials of the shipping firm said.
The new grain storage terminal will handle such grains as wheat, corn, beans, and animal feeds destined mainly for Korea, Japan, and China in Asia, and Chile, Peru and Columbia in South America.
STX Pan Ocean plans to take on the grain storage operation as its new growth engine and invest more in EGT and, at the same time, secure additional grain storage terminals on the U.S. west coast under its plan to create synergy among STX affiliates.
STX will take charge of grain trading while the shipping firm will take care of transportation. Under the plan, STX set up a U.S. subsidiary in 2009 to effectively run the new business package, fully aware that the grain storage terminal is a lucrative business. The joint venture EGT projects grain trading from its terminal to amount to around $2 billion this year.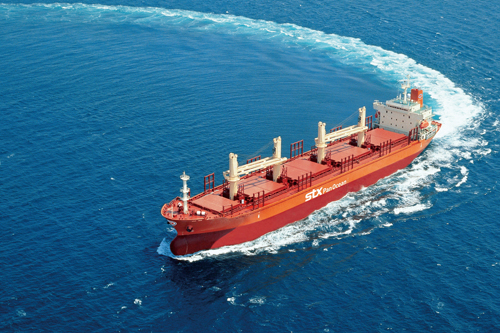 A representative cargo carrier run by STX Pan Ocean.
Industry sources said Korea relies on such U.S. grain dealers as Cargill and Bunge in addition to a number of Japanese trading companies for 70 percent of grain imports. Securing grain terminals overseas for Korean firms would be doing a lot for the country in the context of its food security. nw