The move may be interpreted as the tire manufacturer's display of pride in product technology and quality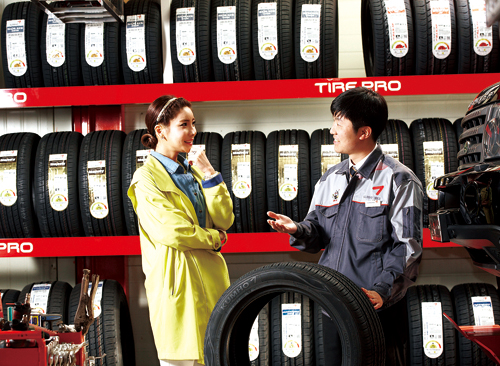 A crew member at "TIRE PRO,"
Kumho Tire's service dealership, talks with a customer.
Kumho Tire has introduced a mileage warranty in the interests of consumers for the first time in Korea.
Under the warranty, which went into effect on April 1, if drivers wear their tires down to the wear limit of 1.6mm of remaining tread depth, they will be compensated for the difference between the warranted mileage and the mileage actually received. The move may be interpreted as the tire manufacturer' s display of pride in product technology and quality, industry analysts said.
In particular, given worse road conditions encountered across the nation, Korean motorists are expected to benefit from the warranty. The system is designed to enhance drivers' satisfaction by guaranteeing the tread life, which has been shortened by friction caused by repetitive braking and sudden stoppage, Kumho Tire said.
The 60,000km warranty applies to Kumho Tire' s Majesty Solus, City Venture Premium, City Venture APT, Solus XC, Solus Xpert, ecowing S, and Super Mile. Drivers who purchase at least two tires will be given a mileage warranty of up to 60,000km. Motorists buying such tires as the Sense, Sense SUV, and replacements for new vehicles, including KH16, KH25, KL16, KL21, and 798 Pattern will be given a warranty of up to 50,000km. Tires for all imported cars are applicable for a 40,000km warranty.
Kumho Tire Executive Director Shin Yong-shik, said, "The mileage warranty for tread wear is a quality warranty for enhancing customer satisfaction based on product reliability, and it has been introduced in consideration of the recent economic conditions and clients' consumption trends." The warranty will not only expect consumers to recognize the importance of tire management by letting them check tire air pressure and rotate tires on a regular basis, but also save costs, he added.
The warranty applies to all Kumho Tire dealerships across the nation, and in order to benefit from the warranty, consumers are required to undergo regular checks, including rotation every 10,000km as well as to register their warranty at Kumho Tire' s website and update their management records on a regular basis.
'TIRE PRO'
Kumho Tire has been devoting itself to enhancing consumer satisfaction since 2001 as part of its efforts to differentiate itself from others. The company launched "TIRE PRO," a service dealership, in June 2001.
Unlike ordinary dealerships retailing tires, TIRE PRO offers all tire checks and maintenance services, including air pressure, inching up, wheel alignment, and other professional diagnosis services.
In an effort to ramp up expertise of service crewmembers, Kumho Tire has been carrying out a technical training program to dispatch them to the Hunter headquarters in the United States, one of the world' s major car lower body service providers.
The education program for dealership managers is one of Kumho Tire's customer-oriented management practices. It is based on the company' s philosophy that technical expertise and a management mindset should co-exist to provide the dealership's best services.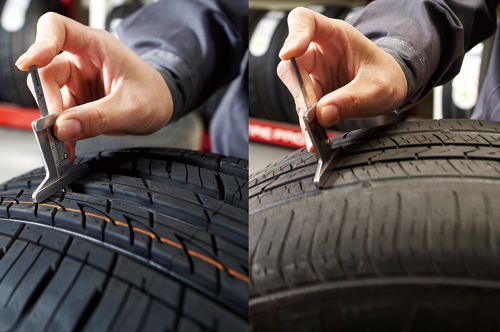 Kumho Tire has become the first Korean tire maker to
introduce a mileage warranty in the interests of consumers.