Calling for expanding its operations in Southeast Asia, China, and Turkey by building plants and opening more eateries and sales outlets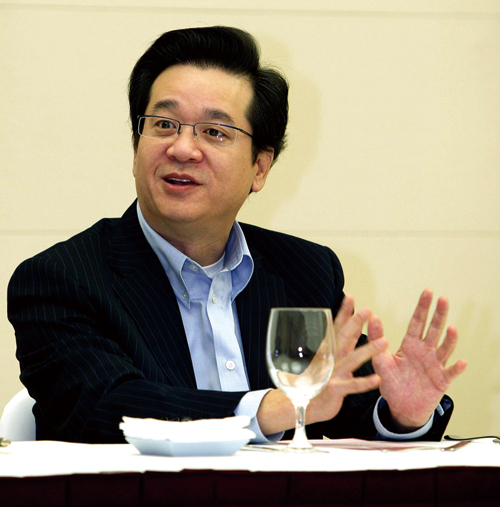 Chairman Lee Jae-hyun of CJ Group.
"Great CJ" is the keyword of the CJ Group' s strategy of reform and innovation designed to push global growth and growth in partnership with cooperative firms.
The group announced its investments allocated for this year including in facilities and R&D activities amounting to 3.24 trillion won.
The investment is nearly double the figure of 2011, up 91.7 percent, for the first time rising over 3 trillion won in annual terms.
The investment will go to both its domestic and foreign operations, 2.34 trillion won at home and 900 billion won for overseas operations, representing increases of 170 billion won and 200 billion won respectively.
Domestic investments will be divided for facilities and R&D activities to mainly shore up the contents of entertainment and media businesses as well as supplement the facilities to enhance their competitive edges.
All the planned investments are intended to boost the group' s sales to 30 trillion won annually this year. Its annual sales broke the 10 trillion won level in 2007 and reached 20 trillion won level in 2011.
The group has been engaged in a number of projects to boost its operations abroad. CJ Cheiljedang plans to secure a top position in the bio sector by producing environmentally friendly methionine and risin at its green-bio plants in Malaysia and the United States, which are being built.
CJ Cheiljedang has decided to secure half of its annual sales from abroad beginning next year to upgrade its position as a trailblazing global food and bio enterprise.
The makkoli rice wine native to Korea, "CJ Bibigo Oishi Makkoli," which was exported to Japan in cans for the first time by the company early this year, posted 3.5 billion won in sales in the first quarter and the company projects sales for this year will reach 10 billion won because the drink is being sold in an increasing number of major supermarket chains in Japan. The special canned rice wine is like a cocktail in its form and is tailor made for the tastes of Japanese customers, especially younger customers, as it is mixed with up to 15 percent grapefruit juice. The Hallyu fad in Japan has been helpful to the sale of the CJ Bibibo Oishi Makkoli, boosting its popularity among Japanese rice wine lovers.
"Hatban," the instant cooked rice that created a large market in Korea, has been successfully sold at major supermarkets overseas cutting the time needed to reach overseas customers.
The company has successfully been selling its foodstuff including Hatban and other packaged foods such as mandu and red pepper paste for broiled beef in Mexico, thanks to its success at Costco supermarkets in the North American country. The company expects to put them on the shelves of 170 Mexican Sam' s Club stores, which is an affiliate supermarket chain of Wal-Mart.
"It' s the result of the company' s marketing strategy to sell them at supermarket chains in major foreign countries directly. The company' s export unit members flew to many countries around the world to discuss the sales of our foodstuff products with major supermarket chains in those countries, even if they were only allowed 30 minutes for their talks," CJ said.
The company is building a plant to produce lysine to take a leap toward becoming a leading global firm in the bio business with continued investments and global territory expansion. The company will produce lysine from the new plant starting next year. The company' s Shenyang plant in China, built at a cost of $400 million, has already been turning out lysine and other amino acids for animal feeds, and expects to dominate the global markets for those products. The company plans to corner 48 percent of the global hexane market to close the gap with Japan' s Ajinomoto by just 10 percent.
CJ Foodville has 140 outlets in 140 countries including Tous Les Jours, Bibs and Twosome Coffee. The company also operates CJ Food World in China amid great welcome from local customers. Its affiliates like CJ Oshopping, GLS, and CGV have been at work exploring overseas operations in countries like Thailand, Turkey, China, and Vietnam.
The group has been well aware of corporate social responsibility as the group takes up hiring, welfare, and social contribution with special concern for those economically depressed people under its management strategies.
Last year, the group put 600 contract employees on the regular pay list and set up a scholarship fund for children of vendor companies and hourly workers under its mutual survival policy with vendor firms.