Signs a business agreement to give support to mid-sized enterprises and exporters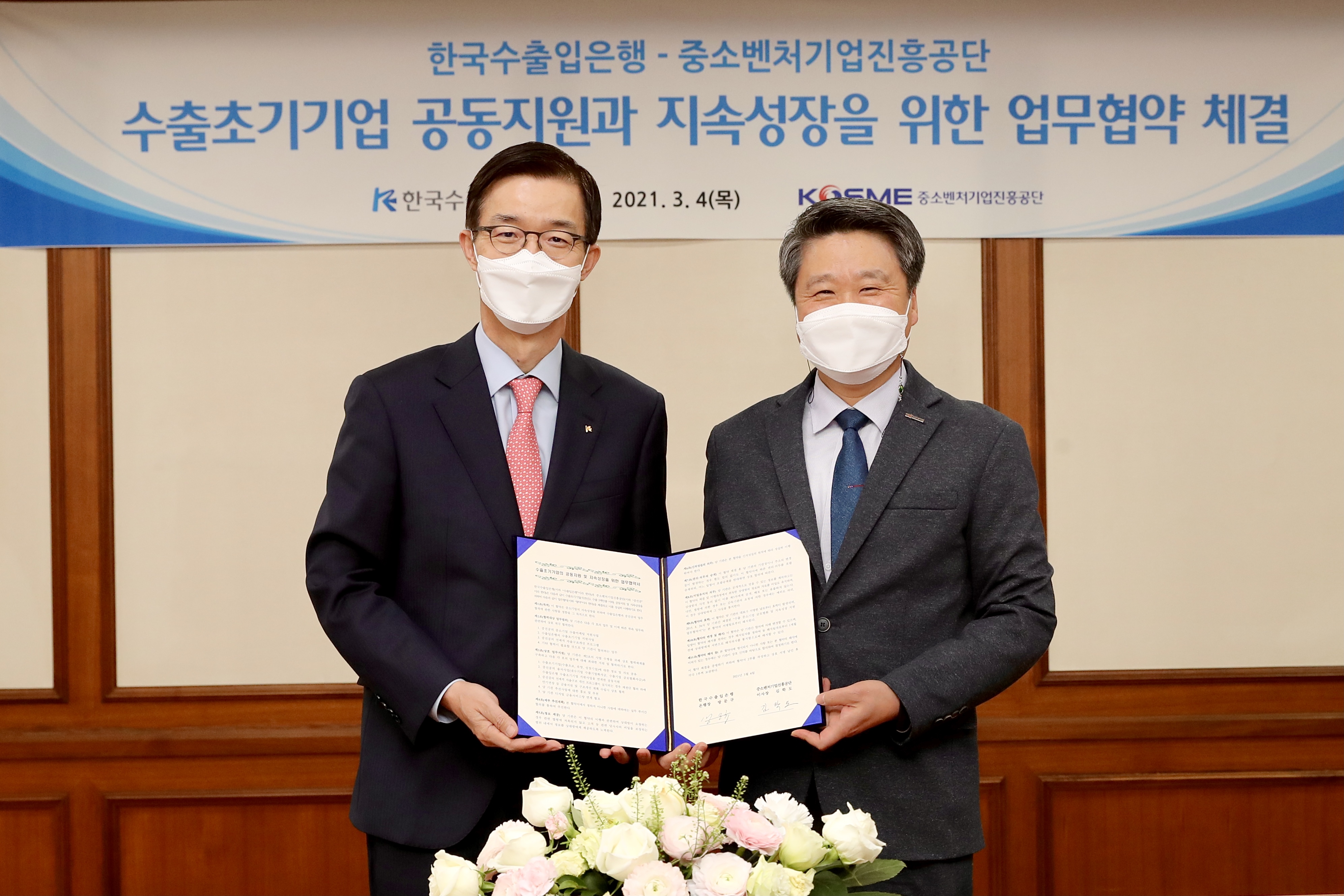 On March 4, Bang Moon-kyu (left), president of Korea Eximbank signs a business agreement on jointly supporting small Korean exporting companies and promoting their sustainable growth with Kim Hak-do, chairman of the KOSME at Korea Eximbank Headquarters in Yeouido, Seoul. (Photo: Korea Eximbank)
The Export-Import Bank of Korea (Korea Eximbank) has implemented a massive reorganization since the start of 2021.
State-run companies are often slow in making or accepting a change. However, Korea Eximbank, a state-run financial company, revamped itself to respond more quickly and flexibly to rapidly changing financial demand from various industries following the outbreak of the novel coronavirus.

At the heart of the reorganization has been strengthening digital organization. It expanded the Digital Services Department to the Digital Financial Group.
The group will be tasked with developing and managing digital financial products. In order to systematically fulfill its responsibilities, Korea Eximbank set up the Information System Department and the Digital Transformation Team under the Digital Financial Group.

Through these moves, the bank will simplify the submission of documents, including the automatic receipt of documents from customers, and completely reorganize homepage functions and contents.
Also on the drawing board is a digital platform between commercial banks and Korea Eximbank, which will empower even regional small and medium-sized enterprises (SMEs) to use Korea Eximbank's financial services through their main banks.

"This measure is aimed at improving customers' accessibility by setting up online non-face-to-face services and automatic screening systems in a timely manner," said an official of Korea Eximbank.
"We expect the measure to significantly improve the financial accessibility of more than 95,000 small and medium-sized Korean exporters." Korea Eximbank set six major goals and 13 major tasks to transform itself into an organization powered by digital innovation.

The goals are innovating customer experience through digital financial services, improving work productivity using digital innovation technology, advancing data utilization systems, steadily developing work systems, opening a data center and setting up stable IT infrastructure.

The 13 major tasks include establishing non-face-to-face platforms, building data analysis and utilization platforms, strengthening IT organizations and manpower, upgrading knowledge utilization systems, systemizing IT resources management, and fostering digital talent.

The Loan Department has also been reorganized into an industry-specific system. The Sales Department for SMEs has been established to promote business with them.
Korea Eximbank divided the Innovative Growth Finance Headquarters into the Innovative Finance Department, the Ministry of Information and Communication Finance Department, the Mobility Finance Department, the Bio-Service Finance Department and the Investment Finance Department.
In the meantime, Korea Eximbank announced on March 4 that it has signed a business agreement with the Korea SMEs and Startups Agency (KOSME) in an effort to support exporters.

Under the agreement, the two organizations will support small and medium-sized export companies by linking the bank's financial business and the KOSME's marketing business, and cooperate in self-restructuring programs for companies having temporary management difficulties.

Currently, Korea Eximbank is running a support project to examine the stability and feasibility of export contracts to help finance small and medium-sized companies with annual exports of less than $5 million.

In addition, the KOSME is continuing its export marketing business which focuses on services such as finding overseas buyers and public relation activities, supporting the diversification of export methods and providing financial services to small and medium-sized companies.

In the future, Korea Eximbank plans to expand quick reviews and joint financial support for companies participating in the KOSME's export marketing.
The KOSME will also actively cooperate with companies recommended by Korea Eximbank through additional services such as overseas promotion and online market development.

"If Korea Eximbank and the KOSME combine their capabilities, they will be able to help create many competitive small and medium-sized exporters with strong competitiveness," said Bang Moon-kyu, president of Korea Eximbank.
"We will further expand and sincerely play our roles as a growth incubator for small and medium-sized exporters such as venture companies and startups."

"We will also support companies having difficulties by supporting preemptive self-restructuring programs to help them normalize their management and business," said Kim Hak-do, chairman of the KOSME.