Posts 1.3 trillion won in net profit despite unfavorable business environment in 2020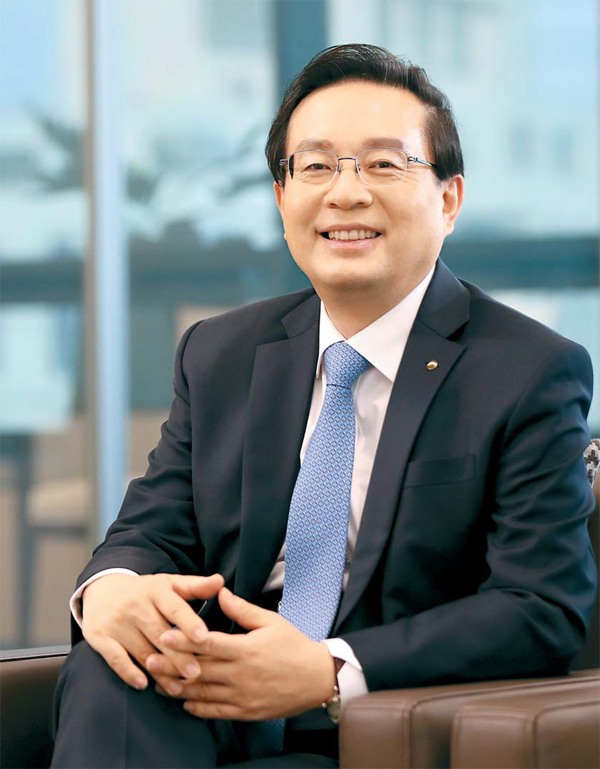 Chairman Sohn Tae-seung of Woori Financial Group. (Photo: Woori Financial Group)
Woori Financial Group announced on Jan. 27 that it applied to be selected as an entrusted company to manage a policy-type New Deal Fund as its first project for 2021 in order to support the Korean New Deal Project of the government.

Woori Financial Group will actively participate in and support the three sectors of policy-type New Deal Fund projects — corporate investment, infrastructure investment and the people's public participation — through its subsidiaries, with high expertise in each asset management sector.

First of all, Woori Private Equity Asset Management, which has strengths in corporate finance, proposed the establishment of a 200 billion won New Deal growth blind fund in the corporate investment sector.
Woori Global Asset Management, which specializes in alternative investments, proposed the creation of a 150 billion won infrastructure fund as its main investment in the infrastructure investment sector.

In the corporate and infrastructure investment sectors, subsidiaries such as Woori Bank and Woori Financial Capital will participate as fund investors and support New Deal financing at the group level.

In addition, Woori Asset Management plans to establish a private equity indirect public offering fund in which the general public participates as investors after March when the New Deal business pool is secured in the public participation sector.

Earlier, Woori Financial Group established an organic support system for New Deal Finance at the ESG management level through the New Deal Financial Support Committee, with the participation of Woori Financial Group Chairman Sohn Tae-seung and other key executives.

"Chairman Sohn cited strengthening ESG management as one of the group's key management strategies for 2021," said an official of Woori Financial Group.
"This is a strategy to pursue becoming a financial group that creates a sustainable society by leading the creation of social and environmental values in line with the government's 2050 carbon neutrality and Korean-style New Deal."

Woori Financial Group announced in its earnings report on Feb. 5 that it posted 1.3 trillion won in net profit in 2020.

In 2020, the financial group successfully completed the acquisition of a capital company and a savings bank, and laid the foundation for an earnings turnaround for 2021 by maintaining strong fundamentals such as an improvement in financial soundness and actively responding to future uncertainties despite difficulties triggered by the COVID-19 pandemic.

The financial group racked up about 6.8 trillion won in net operating income. Despite two cuts in the Bank of Korea's benchmark interest rate, it kept its operating profit at the level of 2020 through an improvement in its profit structure including the growth of assets centered on corporate loans and an increase in low-cost core deposits.

In particular, the soundness sector improved further thanks to a risk-oriented sales culture continuously pursued over the past three years. The NPL ratio and delinquency rate stood at 0.42 percent and 0.27 percent, respectively, with improvements compared to the end of 2020.

The blue-chip asset ratio and NPL coverage ratio also reached 87.5 percent and 151.9 percent respectively, strengthening the group's future loss absorption capability.

Based on this improvement in soundness, Woori Financial Group eliminated future uncertainties by preemptively setting aside loan-loss provisions in preparation for the extension of the COVID-19 pandemic period, and fully reflecting private equity-related costs in advance.

The proportion of the non-banking sector's profits rose with the full-fledged generation of the effects of the financial group's acquisition of new affiliates after its transition into a holding company.
Woori Financial Capital with about 100 billion won in annual profits was incorporated as a subsidiary. Therefore, Woori Financial Group looks to enjoy huge positive M&A effects down the road.

"This year, we will secure strong momentum for mid- to long-term development based on the group's governance structure and clearly making a turnaround with a recovery in profitability and the active management of cost," said an official of Woori Financial Group.
Meanwhile, by affiliates, Woori Bank posted 1,363.2 billion won in net profit on a consolidated basis, Woori Card 120.2 billion won and Woori Investment Bank 62.9 billion won.