Outclasses SK Broadband and KT in the IPTV TV market by focusing on specialized content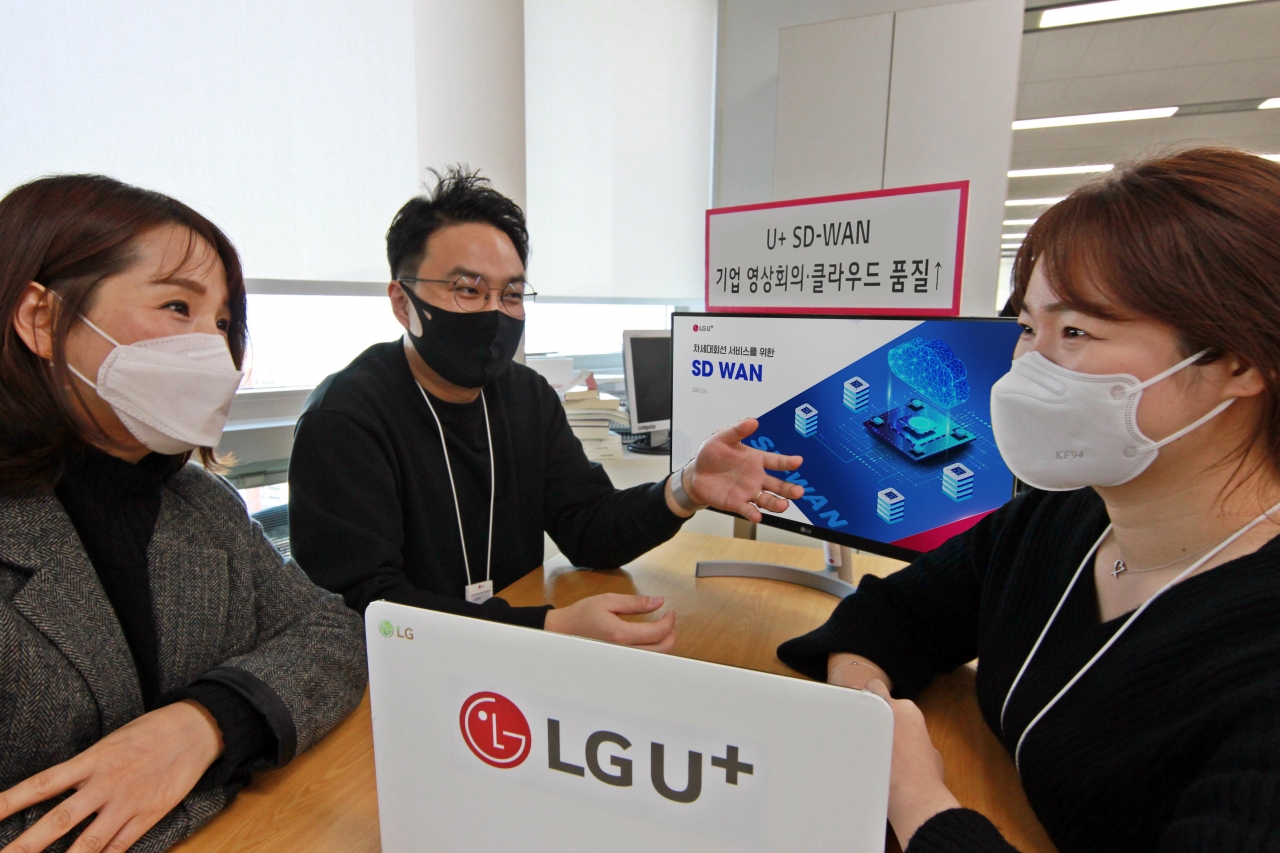 LG Uplus launches the U+ SD-WAN Service, a company-only solution that provides various additional functions such as cloud access. It also flexibly manages quality with software along with VMware. Employees of LG Uplus introduce the U+ SD-WAN Service. (Photo: LG Uplus)
LG Uplus announced on Feb. 14 that it has released the U+ SD-WAN Service, a company-only solution that provides various additional functions such as cloud access.
It also flexibly manages quality with software along with VMware, an IT virtualization company.

U+ SD-WAN stands for U+ Software Defined Wide Area Network and is a solution for companies to upgrade their line services using SD WAN platforms and dedicated terminal equipment.

This solution enables corporate customers to use the SD-WAN Platform to enhance the quality of line services and use various additional services without having to change existing business networks.
While ensuring the stability of corporate-only lines, it can flexibly respond to business services that generate large amounts of traffic such as video conferencing and cloud computing.

It will automatically control terminals connected to a corporate network from the center and provide one-stop services from construction to maintenance.

Unlike general network and security equipment, this solution can maintain safe service from various security threats by separating data areas and control areas, and provides VPN tunneling and firewall functions with U+ SD-WAN only.

Moreover, it can control traffic to maintain optimal quality for each application used by corporate customers.

U+ SD-WAN can upgrade service capabilities through network function virtualization and extend service functions by applying new next-generation communication technology.
Earlier, LG Uplus completed the verification of an improvement in application quality and efficient operation of networks through the verification of services for U+ SD-WAN's domestic and foreign commercial customers and customers to whom the solution is tentatively applied.

Through the U+ SD-WAN Service, LG Uplus provides integrated services from opening to maintenance to corporate customers with overseas branches by cooperating with DACOM Crossing, an LG Uplus subsidiary offering international broadband services and VMWare, a U.S. software developer.
It improves the quality of international communications and enables domestic corporate customers to remotely control equipment immediately without having to send employees to overseas branches or factories or use partners.
This way can save companies costs for overseas dispatches or business trips.

In the meantime, LG Uplus succeeded in improving business performances in its home service segment by chalking up a 10.4 percent increase in subscribers of its IP TV service compared to last year.
LG Uplus attributed the increase to its strategy of focusing on specialized contents in line with a trend where people generally preferred to stay at home due to the spread of COVID-19.

The number of LG Uplus' IPTV subscribers stood at 4.944 million in 2020, up 10.4 percent from the previous year, according to LG Uplus' IR data released on Feb. 12.

The growing number of LG Uplus' IPTV subscribers led to an improvement in its business performances. In 2020, LG Uplus' IPTV sales amounted to 1,014.5 billion won, up 10.9 percent from a year earlier.
Thanks to the growth of its IPTV business, LG Uplus' Smart Home Business Division in charge of IPTV and high-speed internet businesses racked up 2.13 trillion won in sales in 2020, up 9.9 percent from a year before, recovering to two trillion won in sales in two years.

Securities industry sources say that LG Uplus' double-digit growth in sales in the IPTV business is quite significant at a time when the IPTV market growth has slowed down and competition has intensified among IPTV service providers.
In Korea, the IPTV business which grew 40 percent annually in the early 2010s, has seen its total number of subscribers grow significantly slowly since 2015.
In 2020, SK Broadband's IPTV subscriber growth rate hit 8.9 percent, while that of KT only 4.9 percent.

LG Uplus is planning to ramp up the number of its IPTV subscribers by focusing on its competitive edge in contents this year.
Due to the spread of COVID-19, it will differentiate its service portfolio based on idol groups and educational contents, which have been gaining popularity among service users and will also launch target marketing by customers, including single-person and two-person households.

It will also expand its subscription-type service lineup and increase cumulative subscribers through package products with overseas partners and strengthen its content portfolio through XR Alliance, a joint project with global companies.