In his New Year's message, President Kim stresses need to strengthen health insurance coverage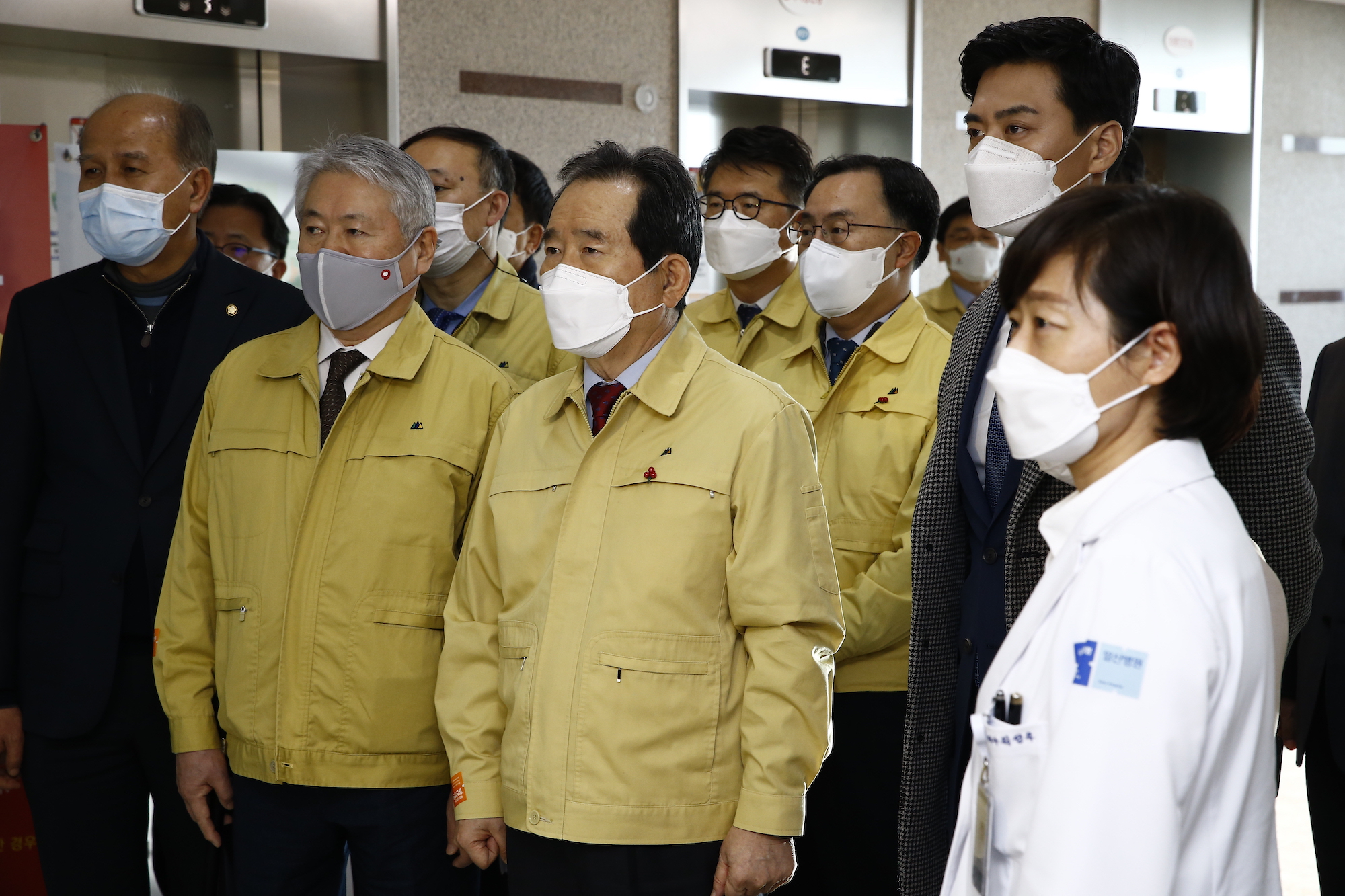 Prime Minister Chung Sye-kyun and President Kim Yong-ik of the National Health Insurance Service tour Ilsan Hospital in Goyang, north of Seoul, to look at the hospital's preparations for treating COVID-19 cases and give words of encouragement to its medical staff last Dec. 16. (Photos: NHIS)
President Kim Yong-ik of the National Health Insurance Service (NHIS) called for changes in the near future to usher in an era of surpassing the 100 trillion won threshold in health insurance finances.

"As brackets shouldering health insurance premiums have declined, costs of treating chronic diseases and the elderly have been on the rise, and medical uses have increased on the back of expanded health insurance coverage, a time is predicted to come soon in which health insurance finances will top 100 trillion won."

NHIS President Kim made the remarks while delivering his New Year's message.

"As the execution of the policy of strengthening health insurance coverage enters its fourth year, more efforts need to be made to achieve a goal of raising the coverage rate to 70 percent," he said.
Even though the coverage rate has improved and the blind spot in health insurance coverage has eased, the benefits of these policies have been offset by rising non-insurance coverage costs, he said.

Non-coverage medical costs will be closely monitored for systematic management and securing materials on unit prices. Analyses will be upgraded to make due reimbursements, President Kim said.

A second-phase plan to overhaul the system of imposing health insurance premiums will have to be worked out next year, Kim said. Pending issues such as how to readjust the irrational imposition of premiums between office- and district-insured people needs to be further examined and overhauled, he said.

President Kim called for sustainable health insurance finances. He demanded the revision of a related law, which would raise the insurance premium rate by more than 8 percent on top of stable support from national coppers.

A new generation with its own economic and social tendencies is entering the elderly demographic and demanding new services. Last year. NHIS established "K-Long-Term Care Project" to respond to the changing environment and raise institutional sustainability, he said.

NHIS should reinvent on-site surveys and grade evaluation regimes, and carefully implement projects. NHIS has three responsibilities for health insurance, insurance for long-term care for the elderly, and collecting premiums for integrating society.
NHIS plans to assign additional responsibility as an institution specializing in health and medical data management.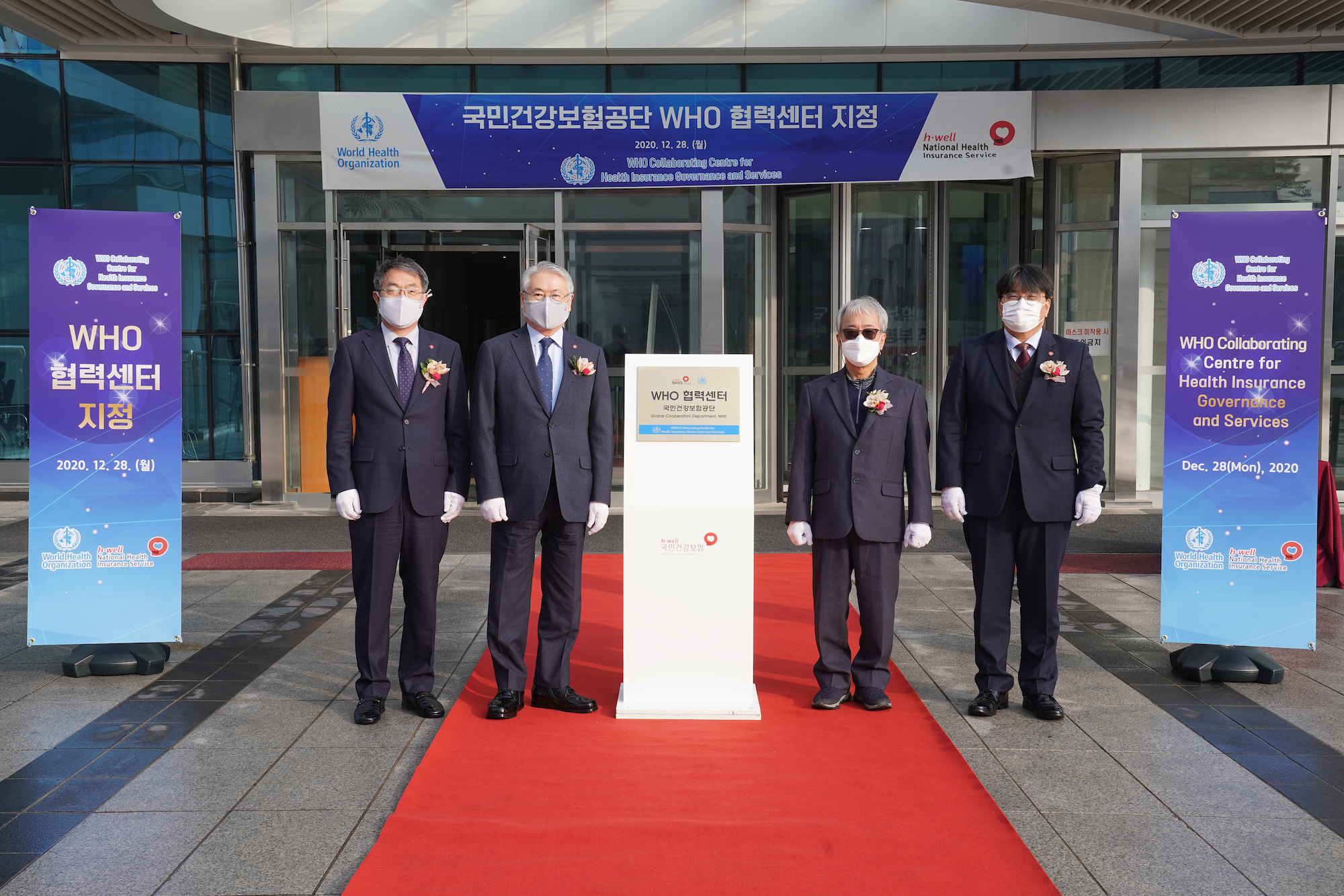 President Kim Yong-ik of the National Health Insurance Service attends a ceremony to unveil a signboard for WHO's Collaborating Center for Health Insurance Governance and Services last Dec. 3.

NHIS President Kim stressed the utilization of data to comply with the government's "Digital New Deal."

NHIS has been designated as the first institution responsible for combining datasets in the health and medical sector. "The quota of manpower responsible for matters related to big data has been increased by 200 employees this year, so big changes need to be made in the utilization of bid data and informatization," he said.

IDB Hosts Webinar on Implementing Long-Term Care Insurance for the Elderly

NHIS participated in a webinar, hosted by the Inter-American Development Bank (IDB) on Jan. 21, in which Korea's regime of implementing long-term care for the elderly was introduced.

IDB is an institution, established for the purpose of development of the economy and society and supporting technology cooperation in the Central and South America region. IDB has helped Central and South American countries take steps to cope with the aging population. IDB has held eight webinars on the topic of long-term care for the elderly since February 2020.