Gangwon-do is 1st Metropolitan Govt. to Pay Farmers' Allowance
Gov. Choi says 'It takes on significance beyond the monetary grant because it implies the recognition of the farming industry from the public interest perspective'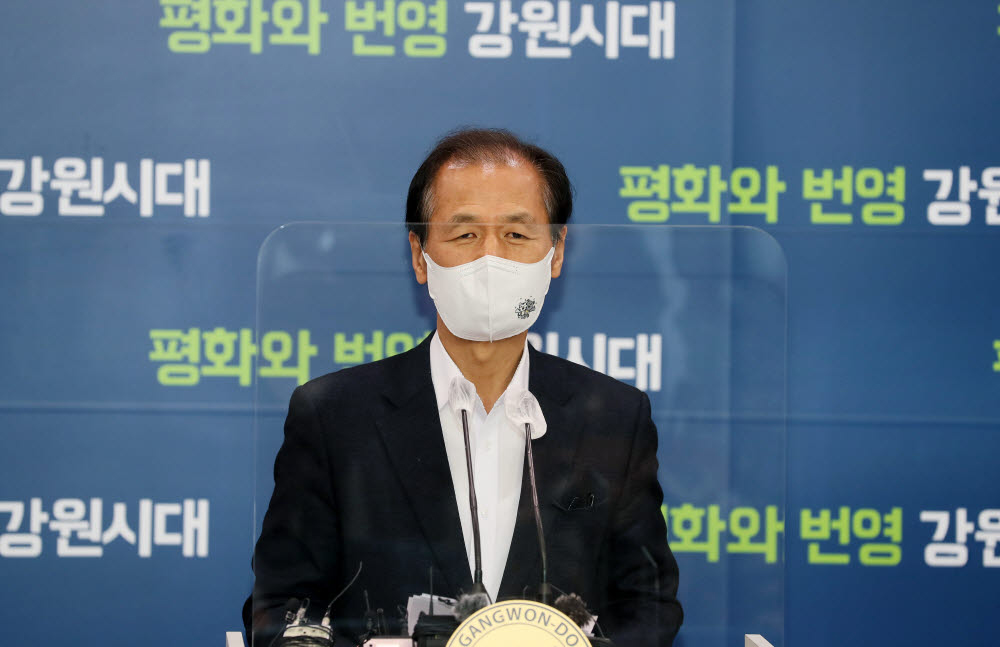 Gangwon-do Gov. Choi Moon-soon announces strategies to implement a vision of realizing carbon neutrality by 2040 at the provincial government building on Feb. 18.
"Gangwon-do will be the first among metropolitan local governments across the nation to disburse farmers' allowance," Gov. Choi Moon-soon promissed.

Even though the 700,000 won per household is a small amount per year, he said. Gov.Choi said it takes on significance beyond the monetary grant because it implies the recognition of the farming industry from the public interest perspective.
He made the remarks while delivering his New Year's message.

"Gangwon-do is challenging five absolute tasks: The first one is about climate change and responses to disasters; the second is about low-birth and aging population,' the third, about gaps between the rich and the poor and job creation; the fourth, about inter-Korean peace, and the fifth, about the 4th Industrial Revolution, and climate change and responses to disasters are the most significant one," he said.

"The recent spread of the COVID-19 pandemic has promoted countries to ban grain exports on their own, food security has emerged as a new issue and the farming industry has getting more important," he said.

In particular, he said, since food can be by no means irreplaceable, it was proven historically that a failure to build an ample production base in normal times would cost dearly.
"Climate change will change the way we live, and it will revolutionize the farming industry, and as time passes by, these changes will be spread in a fast and wide fashion," he said.
An bird's eye-view of the soon-to-be opened Legoland Korea Park, a global theme park in Chuncheon, which is to be dedicated in June. (Photos: Gangwon-do Provincial Govt.)
Gangwon-do Aims to Attract 1 Trillion Won in Investments in 2021

The Gangwon-do provincial government aims to attract more than 1 trillion won in investments this year. The provincial government attracted a record 792.2 billion won in investments last year. Gangwon-do wants to repeat last year's track record this year.

To this end, the provincial government plans to implement projects to attract companies from the Seoul metropolitan area and firms related to the soon-to-be Legoland Korea Park, build training institutes of public entities, construct additional 24 industrial complexes, and build mainstay businesses at each region of the province.

Legoland Korea Park, a global theme park in Chuncheon, is to be dedicated in June.
The park is under construction at the Hajungdo area covering 916,989 sq. meters at a cost of 527 billion won - 447 billion won by Merlin Entertainments and 80 billion won by Gangwon Jungdo Development.

The full-scale theme park resort will also incorporate a fully themed LEGOLAND Hotel upon opening.