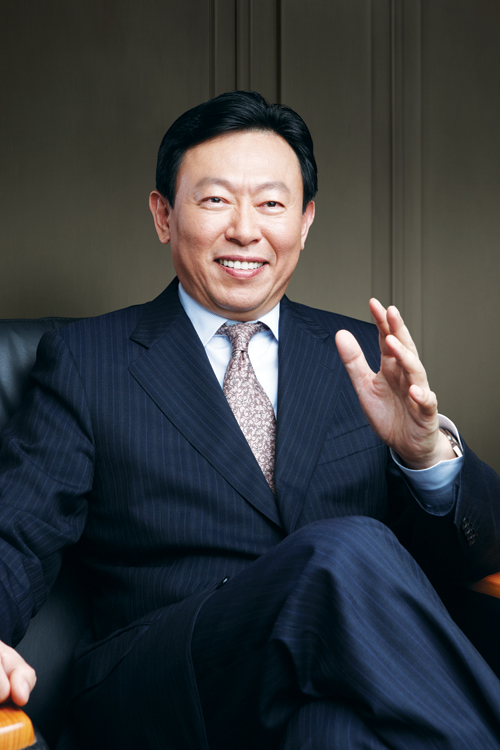 Lotte Group Chairman Shin Dong-bin
Lotte Group Chairman Shin Dong-bin unveiled a plan to raise its annual investments by 40 percent in a meeting with reporters following a New Year meeting of businessmen at the Korea Chamber of Commerce & Industry (KCCI) on Jan. 5.
Later, the group officially announced a plan to invest 6.73 trillion won in its facility investments during this year. Out of the total, the group set aside 5.3 trillion won for domestic investments, representing a surge over the 4.6 trillion won invested during 2011.
Chairman Shin said, "Lotte Group will concentrate on the growth of the petrochemical business, one of its mainstay business areas, and our expansion of the Malaysian operation, a new investment project will be in high gear."
Last year, the group announced a plan to expand the capacity of Titan, a Malaysian petrochemical firm acquired by Lotte Petrochemical, a subsidiary of the business group, for 1.5 trillion won. Titan is currently producing 450,000 tons of polyethylene (PE) and 38,000 tons of BOPP, raw materials for synthetic resin. If the new facility is built in Merak Port, Lotte bets that it could achieve an economy of scale in the region.
Honam Petrochemical set its sights on becoming a top global company with its investments in Indonesia, said Honam officials, adding that its bid to strengthen its presence abroad is part of efforts to achieve 40 trillion won in sales in 2018 on a consolidated statement basis.
But Chairman Shin would not confirm the current speculation that Lotte might take over HiMart, a Korean on-line shopping mall and chain of electronics stores.
BIGGEST KOREAN BEER IMPORTER SEEKING TO VENTURE INTO BREWING
Lotte Group, which commands an upper hand in the Korean beer importing market, intends to make inroads into beer making in Korea.
Business sources said Lotte Chilsung Beverage Co. a subsidiary of the business group signed an MOU on the establishment of a beer brewery with Chungju City on Jan. 18 after submitting an application to obtain a liquor-making license within this year.
Rep. Yoon Jin-shik, of the ruling Grand National Party, said in his New Year message posted on his website, "Lotte Group is seeking to sign an MOU with Chungju City after applying for a permit in connection with the establishment of a beer brewery." Rep. Yoon said the group's plan calls for the construction of the group's first beer making facility on a site covering somewhere between 60,000 sq. meters and 90,000 sq. meters in the city's urban-type corporate complex and a second facility nearby on a lot of 330,000 sq. meters.
Chairman Shin confirmed his group's plan to make inroads into the domestic beer-making markets at the New Year meeting at the KCCI building. "We're going for it, and we think it may be difficult to launch the beer-making business this year, but we'll definitely enter it."
Shin disclosed his group's intention at a ceremony marking his group's selling of 1 million cases of Asahi Beer, saying that the beer-making business is a business area in which the group has long wished to enter.
The Korean beer market, whose value is estimated at 4 trillion won, is controlled by the Hite and Oriental Brewery (OB) brands. Lotte Group takes the biggest share in the beer importing market in a partnership with Japan's Asahi Breweries. But Lotte suffered a setback in its unsuccessful bid to acquire a controlling stake in Oriental Brewery, which lost to KKR, the U.S. private equity fund. nw