SK Group to invest over 19 tln won this year, the most in its history, including 3.4 tln won for Hynix takeover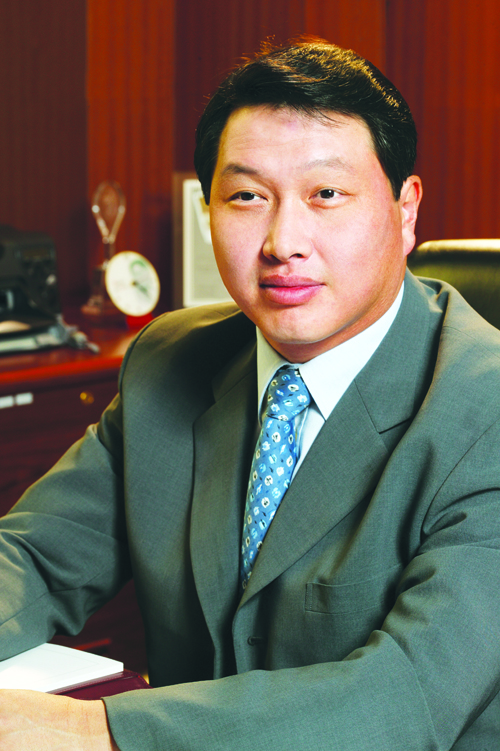 Chairman Chey Tae-won of SK Group
Chairman Chey Tae-won of the SK Group said the group should invest more and create more jobs when the economy is going badly to put it on the right track for growth through aggressive management.
During his New Year meeting with the group's key executives on Jan. 3, the chairman said each affiliate of the group should complete the drawing up of their management plans for this year, although the group did not hold a New Year ceremony for the first time in its 59-year history due to the prosecution's investigation of key officials of the group including the chairman for alleged misuse of company funds by creating secret funds.
The group, however, will invest 19.1 trillion won this year, the largest annual investment ever in its history, and hire 7,000 new employees, the group said on Jan. 5.
The third largest conglomerate in Korea will invest more than Hyundai Motor Group's 14.1 trillion won, as Chairman Chey has decided to allay concerns the market might have on the outcome of the secret fund investigation and normalize the management of the group to speed up its global operations this year.
The group has been expanding its investments in R&D activities by two digits every year since 2004 to secure the base for its expansion.
In particular, some 2.1 trillion won has been allocated to overseas natural resources exploration projects, strengthening the sector by investing 800 billion won more than last year.
The group has been following its chairman's directions based on his idea that no company or country can secure competitiveness without natural resources. The chairman would go anywhere to explore for natural resources and to make Korea an oil producing nation even without oil wells within its boundaries.
Last year, Chey spent 140 days travelling around the world to visit the group's overseas units, mostly oil exploration sites to spur oil production by the group, especially by SK Energy.
The group believes it will have no trouble securing investment funds for this year, especially the 3.4 trillion won to pay for a majority stake in Hynix Semiconductor, with SK Telecom using its own financial resources.
The group recorded 120 trillion won in sales in 2011 and 8 trillion won in profit, the largest in its history. The group will also hire a record number of new employees, more than double what they hired in 2010 (3,200). The new employees will include 2,100 high school graduates, twice the number they hired last year.
The group's operational strategy is keyed on Chairman Chey's leadership for global growth in the group's operation, the national economy's smooth pace of growth, and sharpening the group's competitive edge, said Managing Director Lee Man-woo, who is in charge of the group's public relations. nw