New management system to cut costs and promote development of new steel products to get steelmaker rolling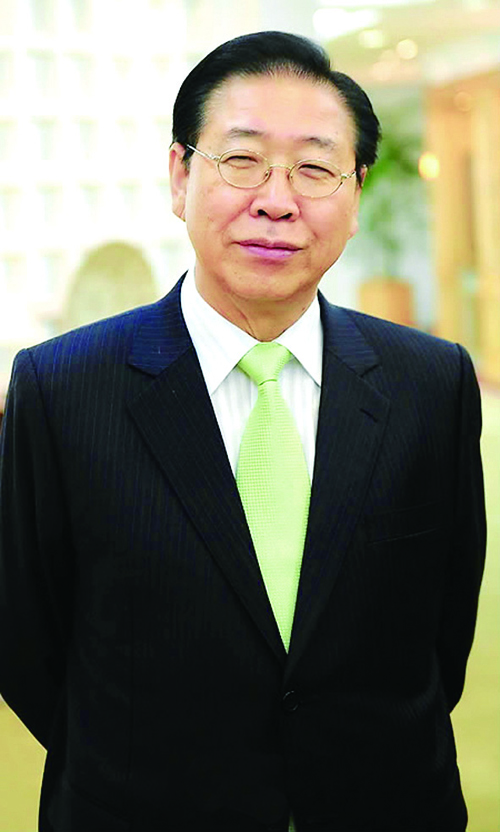 Chairman Chung Joon-yang of POSCO
Chairman Chung Joon-yang of POSCO said the steelmaker will try to increase its operating profit 2 percent more than its closest rival steelmakers this year through the development of new steel products and cost cutting mixed with global total solution marketing under the so called "POSCO Paradox Management."
At the New Year's meeting held on Jan. 2 at the Grand Conference Room at its Pohang Steel Complex, Chung said POSCO Paradox Management aims at boosting profit and winning public love in society with a warning that the business environment for the steel industry worldwide would be turbulent at best this year.
The POSCO chairman called for the development of more than 40 new steel products this year while cutting costs through real time management, which manages speed and risks effectively and simultaneously so that no time is wasted in realizing cost cuts, quality management, and safety in real time.
Paradox Management means integrating differentiation and cost leadership, the two irreconcilable elements, in harmony to boost performance results.
The chairman also stressed that they should work harder to win the public's love, strengthening its mutual growth program network both inside and outside of the company.
Chung also said he will always wear a smile, as he wants to make this year the Year of Smile, and he is calling on everyone in the group to smile every minute, give thanks once daily, and do good once a week under the smile campaign throughout this year.
Chung said in order to boost profits and win the public's love, he will push the selection of personnel to promote the POSCO Family New Business, totaling 2,000 by 2014. POSCO will train those personnel to help POSCO realize its goal to become a smart company, a futuristic company through POSPIA 3.0, a futuristic management system for a global operation with creative cooperative undertakings, in fact a new management paradigm represented by knowledge workers, Chung said.
"POSCO will be the only survivor among the largest steelmakers in the world no matter how difficult the situation is," so say many experts on steelmaking both at home and abroad in describing the competitive strength of the Korean steelmaker.
The fourth largest steelmaker in the world in terms of steel output capacity, POSCO is building an integrated steel plant in Indonesia targeted for completion in 2013 and is still working on its plan to build a blast furnace steel plant in India with an annual production capacity of 12 million tons. The steelmaker also completed the construction of a 200,000-ton capacity cold rolled steel plant in Turkey in September 2011, and took over a stainless steel plant in Thailand in July, all part of its strategy to build a steel belt linking Korea, India, Indonesia, Vietnam and countries in Central Asia under the "U" plan. Its "I" plan connected North and South America with its steel production plants in those regions to be built in the future. The "A" belt plan will mean the construction of steel plants in Africa in the future, which will complete its UIA global strategy designed to catch up with Arcelor-Mittal, the current top steelmaker in the world.
Initially, Chairman Chung wanted to increase POSCO's total steel output to 65 million tons annually — 45 million tons at home and 20 million tons overseas — but now he wants to expand more than the initial plan.
Furthermore, Chung wants to diversify POSCO's businesses, taking up such new businesses as using cortar to produce black lead for semiconductor chips, LEDs and solar batteries. POSCO has also been doing research to develop and mass produce bed cokes, a raw material for secondary batteries.
POSCO signed an agreement with Bokwang Group to set up a joint venture firm to produce lithium secondary batteries for use in electric cars and various smart phone equipment. nw