Conglomerate ups the figures by half YoY in a daring move to find growth amid a sluggish economy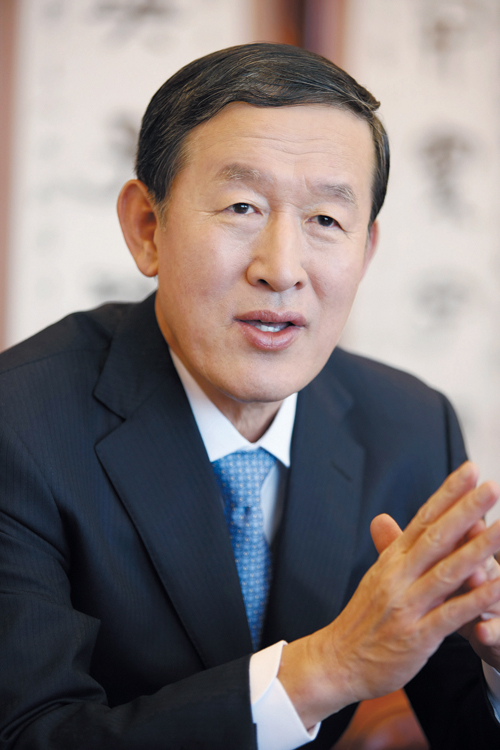 GS Group Chairman Huh Chang-soo
GS Group will invest 3.1 trillion won, up 48 percent from last year, in such areas as energy, retailing and construction so that its turnover this year would increase by 7 trillion won from last year to 75 trillion won, the group said recently. The group said that the massive increase in investments this year is to firmly build a reformative, segregated futuristic business structure for the group in order to create a sustainable growth base.
The group will also hire 2,900 new employees this year, including 250 high school grads, up 100 from last year as ordered by Chairman Huh Chang-soo, who is also chairman of the Federation of Korean Industries (FKI).
Chairman Huh said the group ought to be ready to cope with any changes in the business environment this year to continue to grow by coping effectively with changing business trends through a system, and not be shaken up by the difficulties created by the global economic crisis.
More than 1.8 trillion won will go to the energy sector, including the construction of the No. 4 heavy oil cracking facility at the GS Caltex refinery complex in Yeosu, South Jeolla Province, targeted for completion next year. The oil refiner will be able to produce 53,000 barrels of light oil annually for exports, bringing the total light oil exports from the refinery complex to $27 billion per year.
The oil refiner counts on creating 1 million jobs while building the new heavy oil cracking center. The oil refiner aims at securing a top competitive edge and the highest-profit operational structure in the industry to prepare it for a healthy future despite uncertain economic conditions by building its fourth heavy oil cracking facility, which will enable the oil refinery to output 268,000 barrels of light oil daily from 2013 when it goes on line.
GS Caltex will also continue to focus on the development of new energy and new materials with stepped up R&D activities including the production of both ying and yang materials for the second battery, carbon materials for EDLC, plasma method waste material treatment technology, and next generation bio fuel, among others, which are in the visible range of their R&D efforts.
The group plans to take on oil exploration in Central Asia, Southeast Asia and the Middle East, and invest in stakes in a lithium mine in Argentina and a rare earth mine in South Africa to expand its investments in the natural resources exploration area.
GS Energy, to be launched this year, will take up such businesses as an integrated system for gas and power supply under its strategy to achieve Total Energy Solution as a base for its future growth and also engage in the exploration of oil and strategic minerals mines. The company will also work on developing new energy by securing leading technologies through segregated investment plans.
GS EPS will work on the construction of the 400 Mw LNG complex thermal power plant unit No. 3, which was kicked off in 2010 for completion next year, and the project to build a 30 Mw bio-mass power plant in Shandong Province, China, for completion this year with an investment of 210 billion won.
GS Global will continue to invest in natural resources exploration projects such as Indonesia's anthracite coal mines and oil exploration projects overseas. The company will also focus on the development of new and recycled energy using wood pellets as its mid- and long-term new growth engine.
The group set aside 600 billion won to invest in the expansion of GS Retail's shops and the strengthening of GS Shop's overseas businesses. GS 25 will work on boosting profits at its retail outlets this year, while GS Supermarket will focus its operations on expanding its high-profit outlets.
As the most important unit of the GS Group, GS Construction will invest 700 billion won this year in new growth projects such as softwater plants, liquefied natural gas plants, and power plants by conducting M&As where some 500 billion won will be spent. nw