CEO Shin runs away with top prize in savings bank category of the 2020 Korea Financing Grand Awards
CEO Shin Hong-sup of KB Savings Bank (Photos: KB Savings Bank)
CEO Shin Hong-sup of KB Savings Bank received the top prize in the savings bank category of the 2020 Korea Financing Grand Awards.

The savings bank has been credited with "Kiwibank," a mobile banking platform in which the bank has executed "inclusive financing" with loans with mid-level interest rates.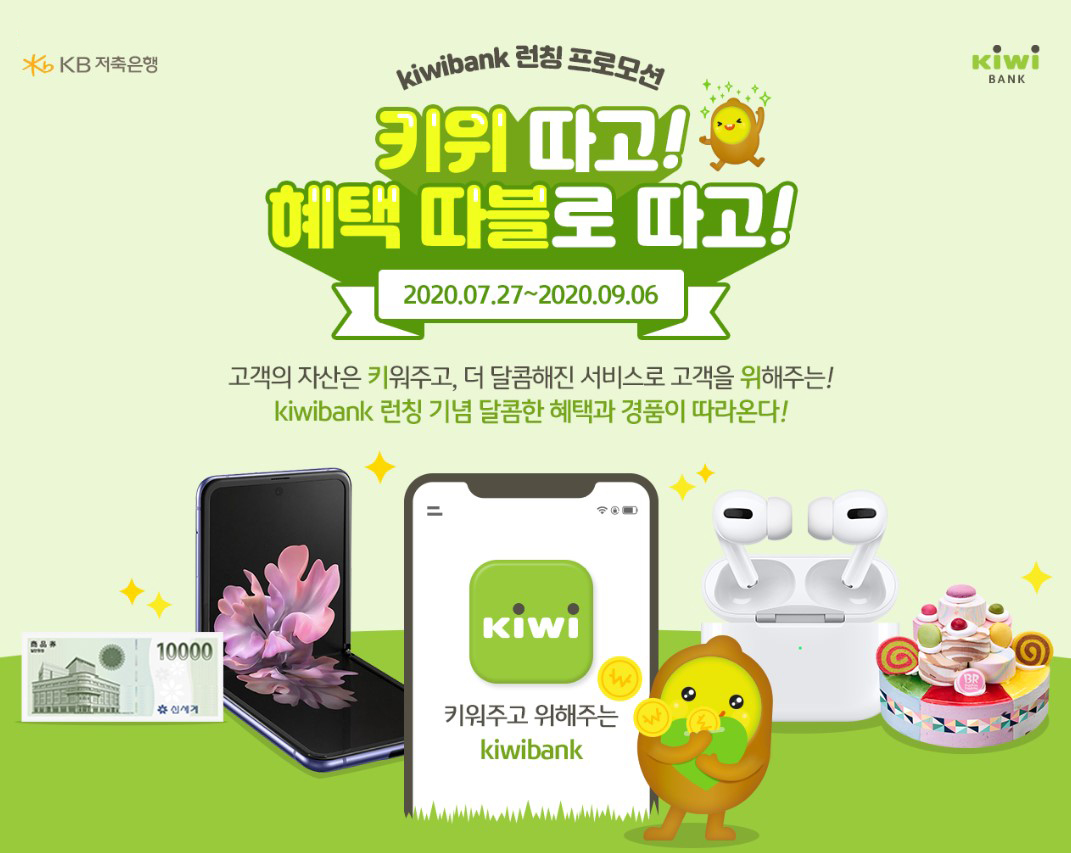 "Kiwibank," a mobile banking platform released by KB Savings Bank.
The mobile banking platform saw cumulating visits surpass the 500,00 mark within five months of its launch, establishing itself as a representative mobile banking app of the savings bank industry.

CEO Shin has established a mobile channel-oriented business structure through process innovation by digital transformation. Kiwi bank is characterized with the improving of customers' approach.
Kiwibank, which made its debut in July, is KB Savings Bank's independent mobile app brand.

CEO Shin stresses three S's - "Speed," "Simple" and "Secure" - as the key values. KB Savings Bank has now secured a competitive edge in the non-face-to-face channel sector, comparing quite well with that of commercial banks.
Kiwi bank, differing from the conventional app of savings banks, employs digital technologies to make a difference.

It has minimized customers' document submission through diversifying certifications and process automation, as well as realizing high levels of security.
A non-face-to-face identity confirmation service, jointly developed by KB Savings Bank and the Korea Federation of Savings Banks, has enabled customers to utilize any savings bank's app around the clock all year around.

It offers diverse services such as "voice banking," "Shake it service," designed to move to a predetermined menu by shaking a smartphone and a service tailored to inquire of the cap of any loan.

KB Savings Bank provides the lowest loan interest rate among savings banks by reducing unit prices through digital transformation innovation.
The savings bank serves as a bridge to allow low-income people to resume credit lines with commercial banks. Loans carry a weighted average interest rate of 13.1 percent as of September, lower than 17 percent, the average interest rate of savings banks.

Loans are characterized by improving financial products with differentiation interest rates and loan caps tailored to meet customers' needs.

KB Savings Bank strives to raise the value of the brand "KB" by offering lower loan interest rates than rival savings banks.
KB Savings Bank's representative loan product is "kiwi mid-level interest rate loan," designed to offer cheaper interest rates to customers with mid- and low crediting ratings than its rival savings banks.

Shin is trying to proactively embrace digital ideas from younger bank officials through a horizontal communication environment. The step is leading to positive changes by injecting a sense of pride.

Of late, work ideas are being embraced through an in-house channel for younger staffers.
As a result, KB Savings Bank is pursing sustainable management by coping with financing business changes nimbly and spearheading digital financing trends in the savings bank industry.