President Son receives top prize in bank category of 2020 Korea Financing Grand Awards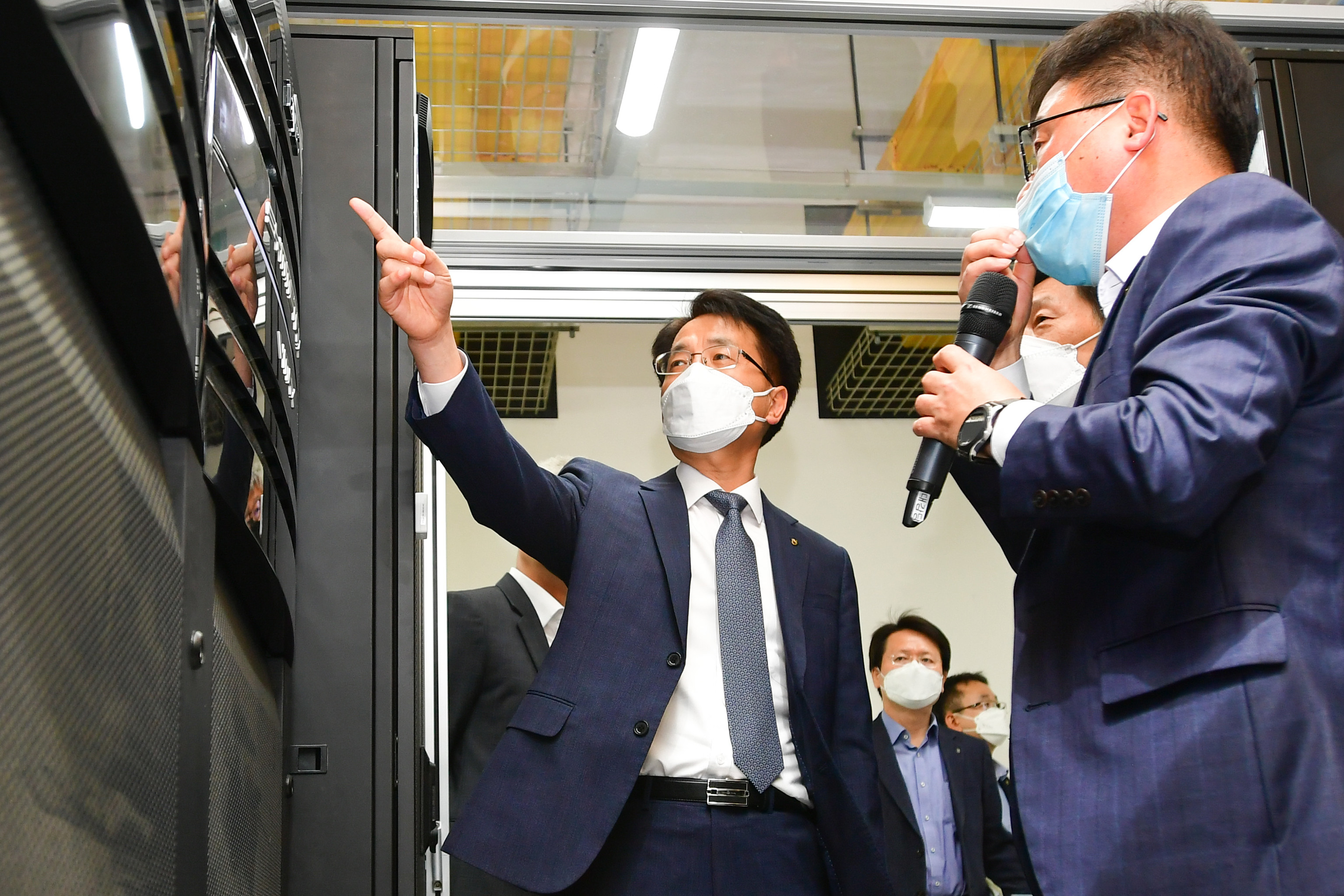 NongHyup Bank President Son Byung-hwan tours NongHyup Bank Integrated IT Center to inspect the emergency operation of major computing facilities. (Photo: NongHyup Bank)
NongHyup Bank President Son Byung-hwan was presented with the top prize in the bank category of the 2020 Korea Financing Grand Awards in recognition of his achievements in strategies related to digital financing and global businesses.

President Son took office in March. He began his term in a simple fashion without an inauguration ceremony, in accordance with social distancing guidelines to prevent the spread of the COVID-19.
His first onsite inspection was in support of clients such as farmers, mom-and-pop shop owners and SMEs, suffering from the ramifications of the COVID-19.

In his first month, Son toured GNST, an automotive SME and a tenant company at the Baekseok Industrial Complex in Cheonan, Chungcheongnam-do, as part of efforts to provide financial support to the financially strapped automotive parts industry. He is seen to be living up to raising NonHyup Bank's public values, experts say.

President Son's strength has to do with digital financing. When Son was named as president in March, a board member said Son was considered the most qualified person since he was armed with digital environment expertise he accumulated while heading NongHyup Bank's Digital Division.

At that time, he introduced "NH Fintech Open Platform," designed to support fintech firms. NH Fintech Open Platform is an environment in which financing application program interface (API) and support are offered to help fintech companies develop financial services.
NongHyup offers 15 services to its cooperative companies through open API, the biggest number in the financing industry.

"NH Smart Financing Center," an online, specialized non-face-to-face marketing channel, was conducted with his involvement.
After taking the helm of NongHyup Bank, President Son has been devoting himself to pursing digital transformation with a mid- and long-term goal of realizing a "digital human bank." To this end, an outside expert had been appointed to head NongHyup Bank's digital financial division in July.

The step, a departure from the conventional "pure-blooded" personnel management paradigm, is designed to raise its digital financing capabilities to cope with the 4th Industrial Revolution and post-COVID-19 pandemic era.

Lee Sang-rae, former Samsung SDS vice president, now serves as senior executive vice president in charge of digital matters. It marks the first time Lee has been tapped as a senior executive vice president-level manager from outside except law-biding monitors.

President Son plans to step on the gas to explore foreign financing markets after the COVID-19 pandemic is over.

NongHyup Bank has expertise in developing of the Korean agriculture industry over the past 60 years.

NongHyup Bank has established differentiation strategies, combining commercial banking and agriculture banking, to target Southeast Asian agriculture countries with rising demand on agriculture banking.

It took the shortest period of time among Korean commercial banks for NongHyup Bank to be given the green light to establish an incorporated entity in Myanmar. Myanmar authorities rated high NongHyup Bank's commercial banking and agriculture banking capabilities.

The bank plans to implement differentiation projects, such as agricultural machinery financing projects in Myanmar and other Southeast Asian countries.
NongHyup Bank has local entities in six countries - two incorporated entity in Myanmar and Cambodia, two branches in New York and Hanoi, and three representative offices in Beijing, New Delhi and Ho Chi Minh, Vietnam.
The bank's global network is expected to be expanded as it is implementing the financing business in areas such as Beijing, New Delhi, Yangon, Myanmar, Hong Kong and Sydney.

President Son has been praised for living up to financing fundamentals. NongHyup Bank topped an evaluation of district reinvestments to support the growth of the regional economy, introduced by the Financial Services Commission and the Financial Supervisory Service this year.

The bank has been recognized for offering financial support to SMEs and low-income citizens, as well as making infrastructure investments.
It ranked first among commercial banks in terms of social contribution expenditure volumes for the seventh consecutive year, and in terms of social contribution expenditures vs. net profit in 2018.