Launches non-face-to-face foreign exchange reporting service for overseas investment
Hana Bank President Ji Sung-kyu. (Photos: Hana Bank)
Hana Bank announced on Dec. 1 that it was honored as the "Best Foreign Exchange Provider in Korea 2021" by Global Finance Magazine, a global financial and economic media outlet.

This means Hana Bank has won the Best Foreign Exchange Bank Award in Korea for 20 years in a row, cementing its position as the best foreign exchange bank in Korea.

"Hana Bank is maintaining its undisputed lead in foreign exchange and trade finance as it is engaged in foreign exchange transactions with foreign banks in 135 countries around the world," Global Finance said.

"Its market dominance is also growing thanks to the continued growth in the size of foreign currency transactions," Global Finance added.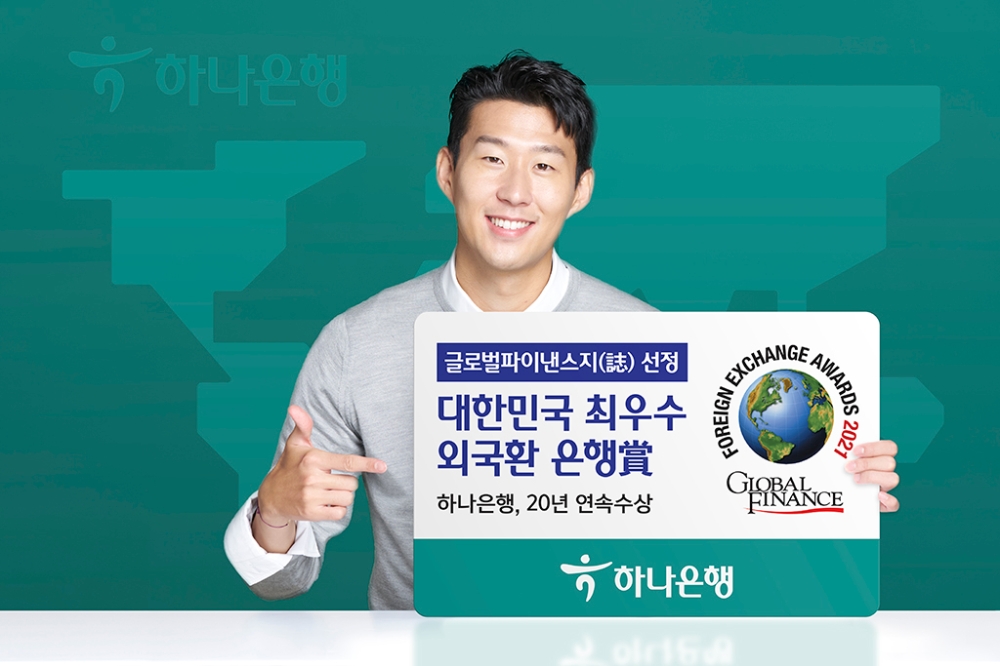 Hana Bank wins the Best Foreign Exchange Bank Award in Korea for 20 years running.
Its 'With Loan Export Finance' Service has been highly praised for its contribution to the revitalization of trade finance to support exporters suffering from the COVID-19 pandemic."

"Hana Bank's foreign exchange capacity has been proven the best in the world once again," said an official of the Foreign Exchange Department at Hana Bank.

"We will continue to lead the market with our capabilities and know-how as an unrivaled foreign exchange bank in Korea. We will lead the rapidly changing foreign exchange market with the 'With Loan Export Finance' Service to support exporters and 'Hana EZ,' a digital non-face-to-face overseas remittance app that boosts user convenience in overseas remittance."

Since its foundation in New York in 1987, Global Finance Magazine has been a world-class financial and economic media outlet subscribed by more than 50,000 CEOs and financial experts in 190 countries.

The financial magazine has selected and announced the best banks by financial segments every year through detailed surveys on the growth, innovation and profitability of financial institutions in each country.

In the meantime, Hana Bank has launched an online overseas investment service that allows non-face-to-face foreign exchange reports for overseas investment.

Hana Bank has introduced a new service that allows it to quickly handle the foreign currency reporting work required for overseas investment by allowing customers to prepare non-face-to-face reports.

Customers may also submit evidence documents online without hassle, the bank said on Dec. 3.
Hana Bank plans to provide customized services for overseas investment by enabling smooth non-face-to-face reporting through easy reporting functions, automatic guidance on required documents for each report, and direct reviews by a consulting team specializing in foreign exchange.

The bank will also provide specialized Vietnamese investment information through BIDV, Vietnam's largest state-run commercial bank which Hana Bank invested in for a stake.

"We will continue to make efforts to expand channels available and increase customer convenience, starting with the non-face-to-face foreign exchange reporting service," said an official at Hana Bank's Foreign Exchange Division.

In a related development, Hana Bank said on Nov. 23 that it will launch a direct overseas money transfer service to Vietnam that allows money transfers to Vietnam in real time in honor of the first anniversary of its equity investment in BIDV in Vietnam.

The direct overseas remittance service, which is provided through Hana EZ, a specialized smartphone app for overseas remittance of Hana Bank, can verify the validity of receivers and accounts before money transfers, and check the progress of money transfers in real time, which can prevent wrong remittance.
The direct remittance service allows users to easily register receiving foreign exchange transactions, which is a mandatory condition for overseas remittance through the Hana EZ App, and transfer money to a receiving foreign exchange bank without visiting an offline branch.

Hana Bank plans to add a service to enable customers to receive transferred money at BIDV branches in Vietnam even if the customers do not have a receivable account.
The lender will hold an event to reduce direct overseas remittance fees from 5,000 won to 3,000 won and apply a higher exchange rate by the end of May next year in commemoration of the launch of the real-time service for money transfer to Vietnam.