KB New Deal and Innovation Finance Council has been in high gear for the fulfillment of its responsibilities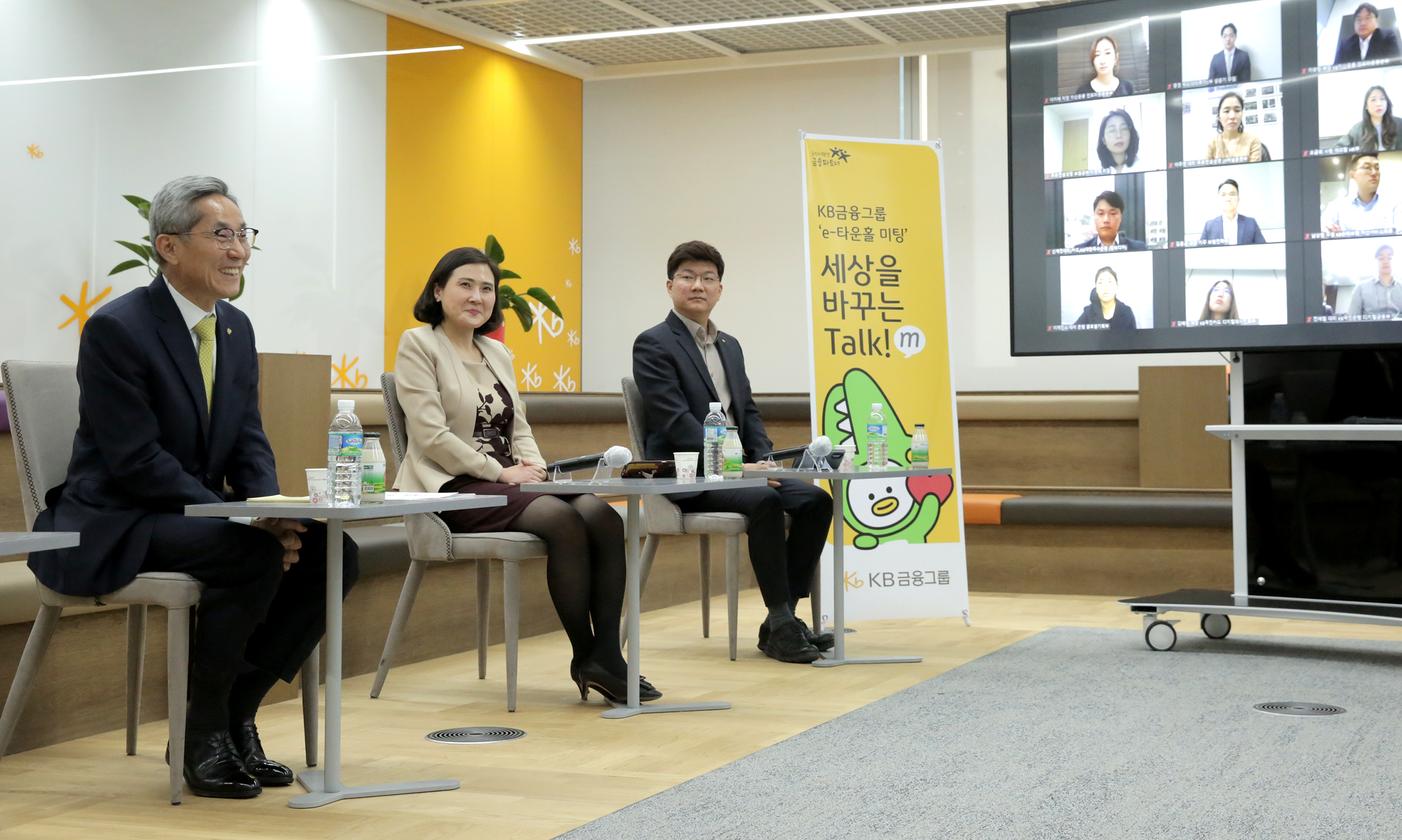 KB Financial Group Chairman Yoon Jong-kyu (first from left) talks to employees in e-Town Hall Meeting held in New KB Kookmin Bank Building in Yeoido, Seoul on Dec. 2. (Photo: KB Financial Group)
KB Financial Group Chairman Yoon Jong-kyu had a chat with employees about a wide array of news regarding the group in 2020 YouTube e-Town Hall Meeting on Dec. 2.

The town hall meeting, which has been held since 2018, is part of KB Financial Group's representative communication culture in which CEOs and employees share opinions through free and honest discussions regarding various pending issues.

In the e-Town Hall Meeting, they talked about six keywords — ESG Management, No. 1 Financial Platform, Smart Working, Prudential Life Insurance, Global, and Future New Growth — which received much attention from employees this year.
Moreover, various questions and answers were exchanged through a real-time chatting window.

"I am not unfamiliar with 'Melang Koli' which takes after a broccoli, but I felt it was important to listen to the opinions of the new generation I felt that it is important to listen to the opinions of the new generation after hearing that the character was popular with young employees," Yoon said when asked about what he thinks of the KB Financial Group's characters "Star Friends."

Some employees preparing to set up KB Kookmin Bank's Myanmar subsidiary also participated in the event through a video conferencing system. Chairman Yoon Jong-kyu expressed his gratitude for the employees for their passion and hard work in Myanmar.

"Would you tell us about smart working?" an employee on parental leave asked Yoon. Chairman Yoon Jong-kyu answered, "I think it is true smart working for employees to fulfill their responsibilities on their own in order to boost their work efficiency as much as possible."

"The foundation of ESG management is sustainability and employees, shareholders, and customers worked together in the past," Yoon said, when asked about ESG management by another employee.
"But now the nub of ESG management is to grow together with respect for society and the consideration of the environment. This means that we need to work together for the purpose of making ESG management successful at the KB Financial Group."

"KB employees' interest and participation in the Town Hall Meeting is on the uptick year after year," said an official of the KB Financial Group.
"We will spare no efforts in spreading KB's own corporate culture where KB members understand and care more about one another based on free and honest communications."

In the meantime, KB Financial Group held the third meeting of the KB New Deal and Innovation Finance Council which consists of executives of the group and major group affiliates including Chairman Yoon and KB Kookmin Bank president Huh In on Nov. 27.

KB Financial Group has been operating the KB New Deal and Innovation Finance Council since July by expanding the KB Innovative Financial Council into it.

The KB New Deal and Innovation Finance Council has been in high gear with a move to actively push forward with a total of 76 trillion won in financial support — 66 trillion won in support of Innovative Finance by 2023 and 10 trillion won in support of the Korean New Deal by 2025.

In the meeting, participants checked on the status of support for a total of five major agendas.
The five were enhancing credit support for innovative companies, expanding investment in innovative growth, supporting startups and job creation, bringing innovation to platforms linking fostering startups and finance and helping the Korean government succeed in the Korean New Deal.

As for the KB Financial Group's innovative finance, the amount of technical financing support exceeds this year's net growth target of 6.8 trillion won.
On top of that, the financial group is accelerating its innovative financing drive by achieving its annual goal early through investments of 122.8 billion won in loans to innovative companies and 174.2 billion won in investment in them.

At the same time, with an eye towards revving up the innovative finance ecosystem, the KB Financial Group carried out 6,400 start-up support consulting services and helped 3,200 people land jobs by holding the KB Good Job Fair in 2020.

The KB Financial Group's support for the Korean New Deal is zeroing in on eight of the top 10 tasks of the "Korean New Deal" project.
They are "Green Smart School", "People's Safety SOC Digitalization", "Green Remodeling", "Green Energy", "Green Future Mobility", "Data Dam", "Intelligent Government" and "Smart Medical Infrastructure."