KDB Chmn. Lee honored with the Financer Award of the Year at the 2020 Korea Financing Grand Awards ceremony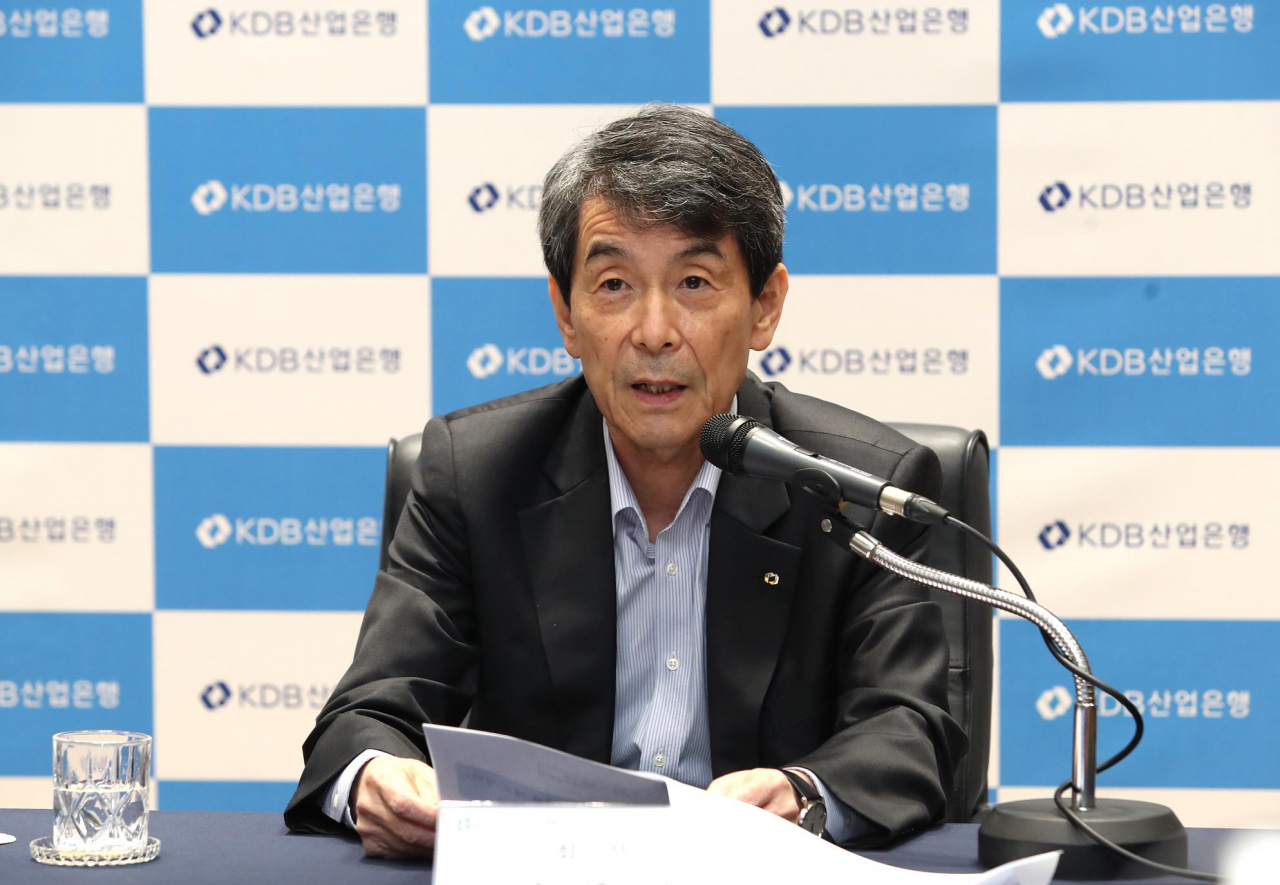 KDB Chairman Lee Dong-gull speaks about Korean Air's deal to acquire Asiana Airlines at an on-line news conference on Nov. 16. (Photo: KDB)
Korea Development Bank's plan to restructure the Korean aviation industry is being accelerated.

KDB's plan to let Korea Air merge Asiana Airlines into a sole national flag carrier overcame the first hurdle to the mega deal as a Seoul court rejected an injunction against the issuance of shares of Hanjin KAL, the holding company of Korean Air on Dec. 1.

With the verdict, KDB, the main credit bank of Asiana Airlines, will inject 800 billion won in form of Hanjin KAL's rights offerings and acquisition of exchangeable bonds worth 300 billion won.
Under the megadeal, Hanjin KAL will participate in Korean Air's rights offerings worth 2.5 trillion won to acquire Asiana Airlines, and Korean Air will become the biggest shareholder by taking over Asiana Airlines' new shares and perpetual bonds worth 1.8 trillion won.

The megadeal will shift the nation's full service carrier structure from two national flag carriers to a sole national flag carrier for the first time in 32 years.

But there are still lots of hurdles to be overcome before the successful consolidation can happen, like seeking approval from the Korea Fair Trade Commission.

At an economic ministers' meeting, presided over by Deputy Prime Minister and Minister of Economy and Finance Hong Nam-ki on Nov. 16, government and credit bank officials approved a plan to merge Korean Air and Asiana Airlines this year.

If Korean Air is integrated with Asiana Airlines as planned, the merged entity will rise to the 7th place in the global aviation industry.
An analysis of the 2020 Global Aviation Transportation Statistics, released by the International Air Transport Association (IATA), the integrated airline would place 10th in the world in terms of passenger transportation and third in terms of cargo volumes.

KDB Chairman Lee Dong-gull said in an online message, "The integration of the two national flag carriers will be armed with the competitiveness to rise to the global top 10 global carrier." The megadeal came after HDC Hyundai Development's bid to acquire Asiana Airlines ended in failure.

In a statement, Korean Air Chairman Cho Won-tae said his company made the decision to maintain sustainable growth of the domestic aviation industry and lessen the burden and minimize financing of public funds.
The megadeal prompted shareholders, including a shareholders' group, led by Korea Corporate Governance Improvement (KCGI), as well as labor unions from the two airliners to put up opposition against the projected merger.

KDB said it will ensure sound management and oversee it to accomplish the successful restructuring of the aviation industry.
To this end, Hanjin KAL and airline subsidiaries would be required to hold prior negotiations on major management agendas with KDB and obtain its approval.

According to KDB, Hanjin Group Chairman Cho Won-tae agreed to offer all of his own stake in Hanjin KAL as a security for violating the investment deal and to resign from management if post-merger integration and management performance are insufficient.
Market prices of Chairman Cho's shareholdings stood at 273 billion won, but its real price except collaterals against loan debts fetches about 170 billion won.

Hanjin Group management side, including Hanjin KAL and Korean Air, are in charge of management, based on its management expertise, however.

KDB will appoint three outside directors and an auditor to each Hanjin KAL and Korean Air to perform check and surveillance against management.
The upcoming appointees will be selected among professionals specializing in financing and aviation industry.

A management evaluation committee, consisting of credit bank representatives and outside experts, will evaluation management performances, including how to carry out post-merger integration.
An ethics management committee, comprising an outside director, recommended by KDB, and outside prominent notables, will oversee ethic management of Hanjin KAL and major subsidiary management sides.

A KDB official said KCGI side should put partisan brawls and allegations behind themselves and get out of a management rights dispute frame, and it ought to join forces in overcoming a crisis of the aviation industry, a national mainstay industrial field and strengthening its competitiveness as well as stabilizing job security of those in the aviation industry.
KDB will redouble efforts to become a new integrated national carrier to meet public expectations and do its best as an overseer to ensure sound and ethics management, the official said.