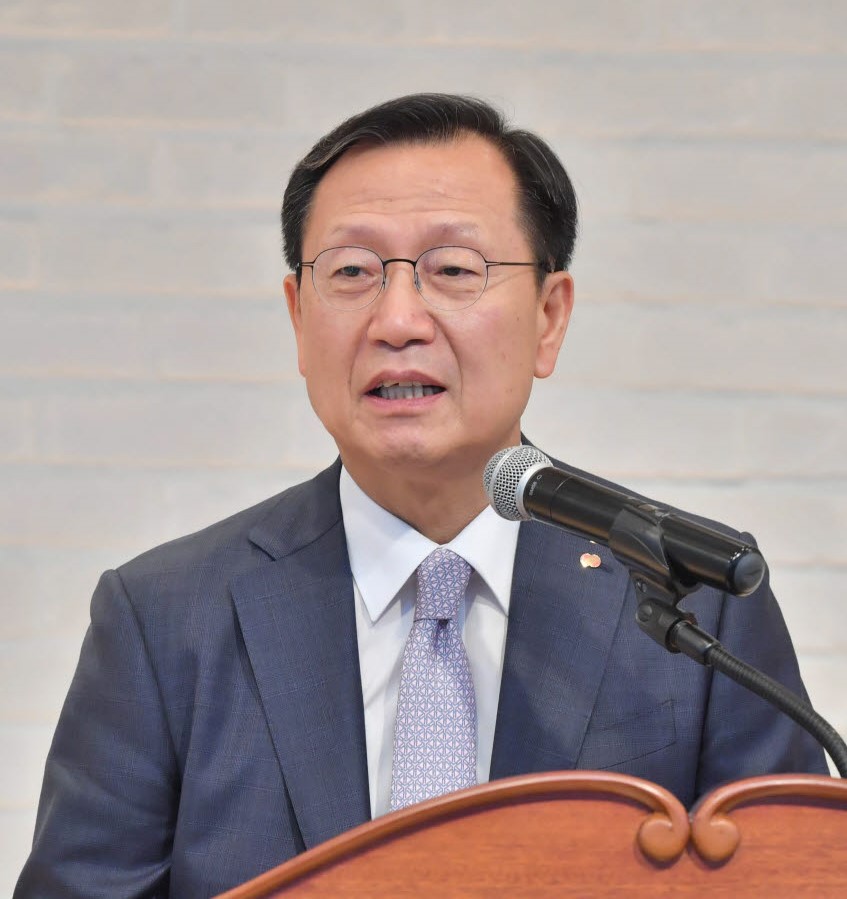 President Kim Jong-kap of Korea Electric Power Corp. (KEPCO). (Photos: KEPCO)
Korea Electric Power Corp. earned about 3 trillion won in operating profit for the first nine months of this year. KEPCO's business performance was its biggest in three years on the back of a steep drop in international fuel prices.
The power company posted 310.7 billion won in operation profit during the same period last year.

KEPCO said on Nov. 12 the power company chalked up 3.152.6 trillion won in operating profit during the January-September period, a 915 percent jump over a year earlier. KEPCO logged 2.332.2 trillion won in 2020 Q3 operating profit.

KEPCO posted 43.877 trillion won in sales during the same period, a decline of 354.6 billion won over a year before. A rise in operating profit is owed to a plunge in fuel purchase prices thanks to lower crude oil prices.

KEPCO saw fuel costs for its subsidiary power companies and purchase costs from private power operators plunge by 3.4 trillion won. The fuel costs nose-dived 2.3 trillion over a year earlier on the back of a drop in bituminous coal and liquefied natural gas prices.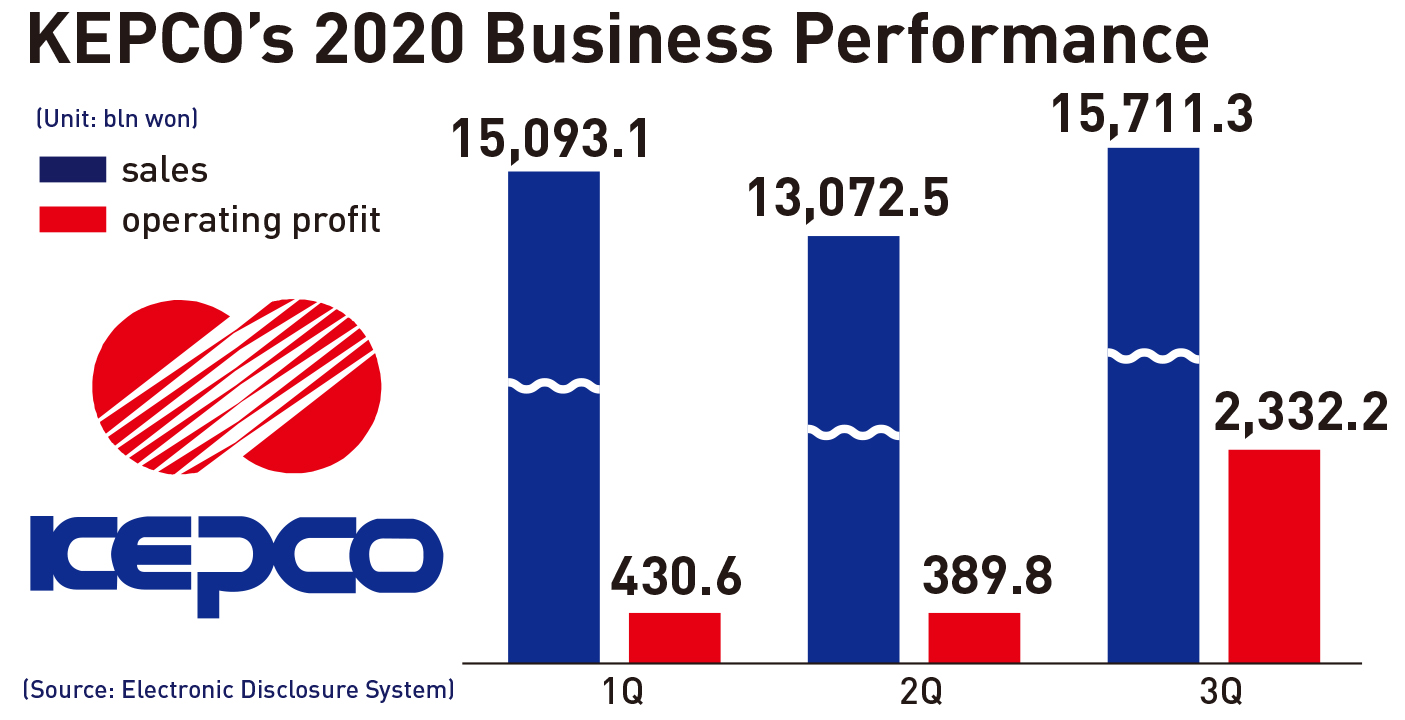 A decrease in coal purchases, caused by constraints against coal-fired power plants in compliance with steps to reduce fine dust, adversely affected KEPCO's business performances.
The coal-fired power utilization rate dropped to 63.2 percent during the first nine months of the year, 7.5 percentage points lower than a year before.

Power purchase amounts from private power operators omcreased1.1 percent, but power purchase costs dropped by 1.6 trillion won over a year before on the back of declining crude oil prices.
KEPCO said losses the power company sustained were not caused by declining nuclear power utilization. Nuclear power utilization rate stood at 73.8 percent, 0.7 percentage points lower than a year before.

A KEPCO official said nuclear power utilization remained at levels similar to last year's, but a drop in fuel costs, related to lower crude oil prices, and a decline in power purchase prices had an effect of contributing to improving its business performances.

Losses KEPCO suffered in 2018 and 2019 were caused by crude oil price hikes, and some people's claims that a drop in nuclear power utilization in accordance with the government's policy of weaning nuclear power off the nation was behind the losses were unfounded, the official said.

Power amounts sold during Q3 dropped 2.5 percent due to shrank power consumption, caused by a long-time rainy season and the spread of the COVID-19 pandemic, causing revenues from power sales to plunge 400 billion won.
A view of Korea Electric Power Corp. headquarters in Naju, Jeollanam-do.

KEPCO Seeking to Enter Power Generation Business

Rep. Song Kap-suk of the ruling Democratic Party with the Trade, Industry, Energy, EMEs and Startups Committee, submitted a bill on the revision of the Act on Electric Business, which would allow KEPCO to resume power generation for the first time in 20 years.

The move may be construed to the government's attempt to give a go-ahead to KEPCO's entry into the power generation business in order to achieve new/renewal energy goals related to "green new deal," and acceleration of anti-nuclear power steps.