2020 Korea MICE Expo an Opportunity to Share Industry's Responses in COVID-19 Era
Exhibition was held at Songdo Conventia in Incheon from Nov. 24 to Nov. 27 on- and offline under the theme 'Challenging for Innovation'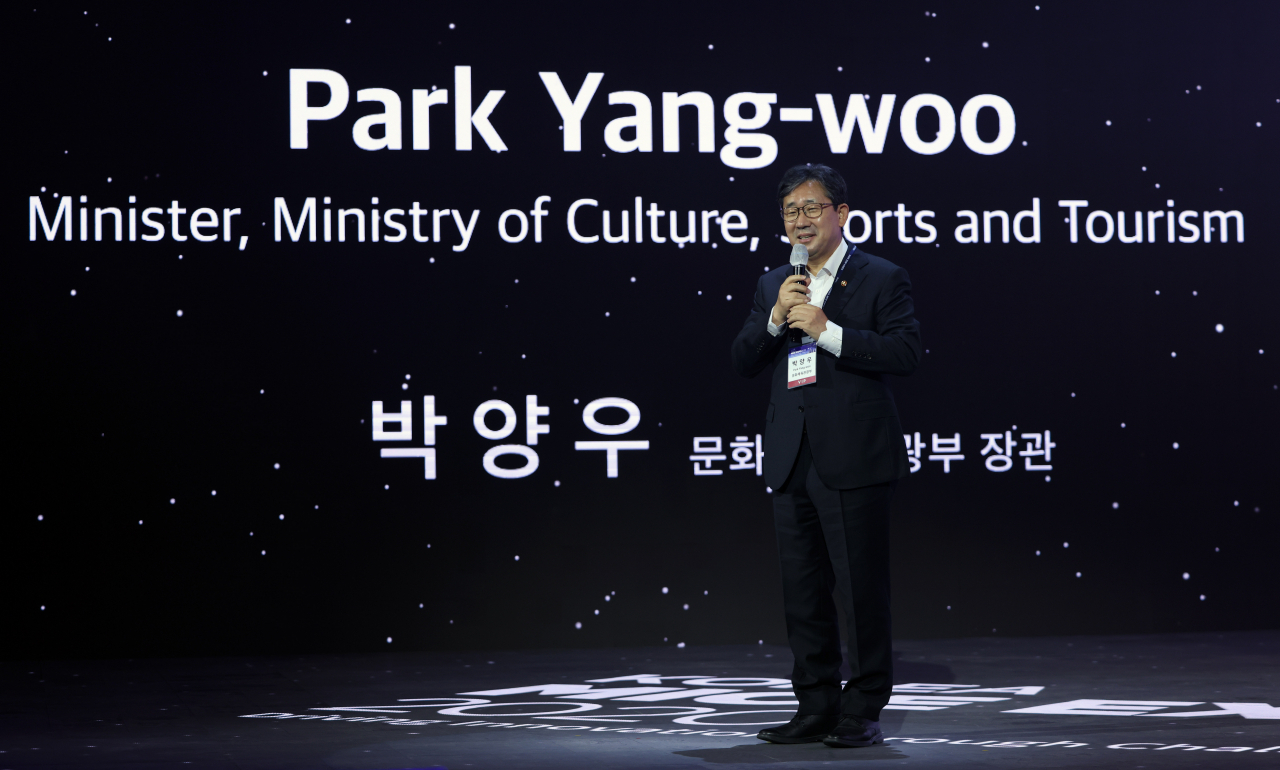 Minister Park Yang-woo of the Ministry of Culture, Sports and Tourism delivers a speech at a ceremony to open 2020 Korea MICE Expo at Songdo Conventia in Incheon on Nov. 24.
The Ministry of Culture, Sports and Tourism (MCST) and Korea Tourism Organization (KTO) hosted and organized 2020 Korea MICE Expo at Songdo Convensia in Incheon from Nov. 24 to Nov. 27.
The expo was also held virtually at its official site (koreamiceexpo.com). 2020 Korea MICE Expo, the 21st rendition, was held under the theme "Challenging for Innovation."

The exhibition, designed to give a in the arm of the MICE industry, which has been buffeted by the global spread of the COVID-19 pandemic, were held on- and offline.
It consisted of trade negotiation teleconference meetings among Korean and foreign MICE firms, international conferences, MICE companies' online exhibition, and the demonstration of conference technologies and publicizing tourism venture companies.

Participants at an opening ceremony and international conferences were required to follow safety guidelines against the COVID-19 pandemic, such as confirming electronic entry certifications of preapproved people to make 2020 Korea MICE Expo an exemplary exhibition in the pandemic era.

At an opening session on Nov. 24, Executive Vice President Karen Chupka of CES Consumer Technology Association delivered a keynote speech in which she spoke about "experiences and expanded possibilities: CES is going all digital."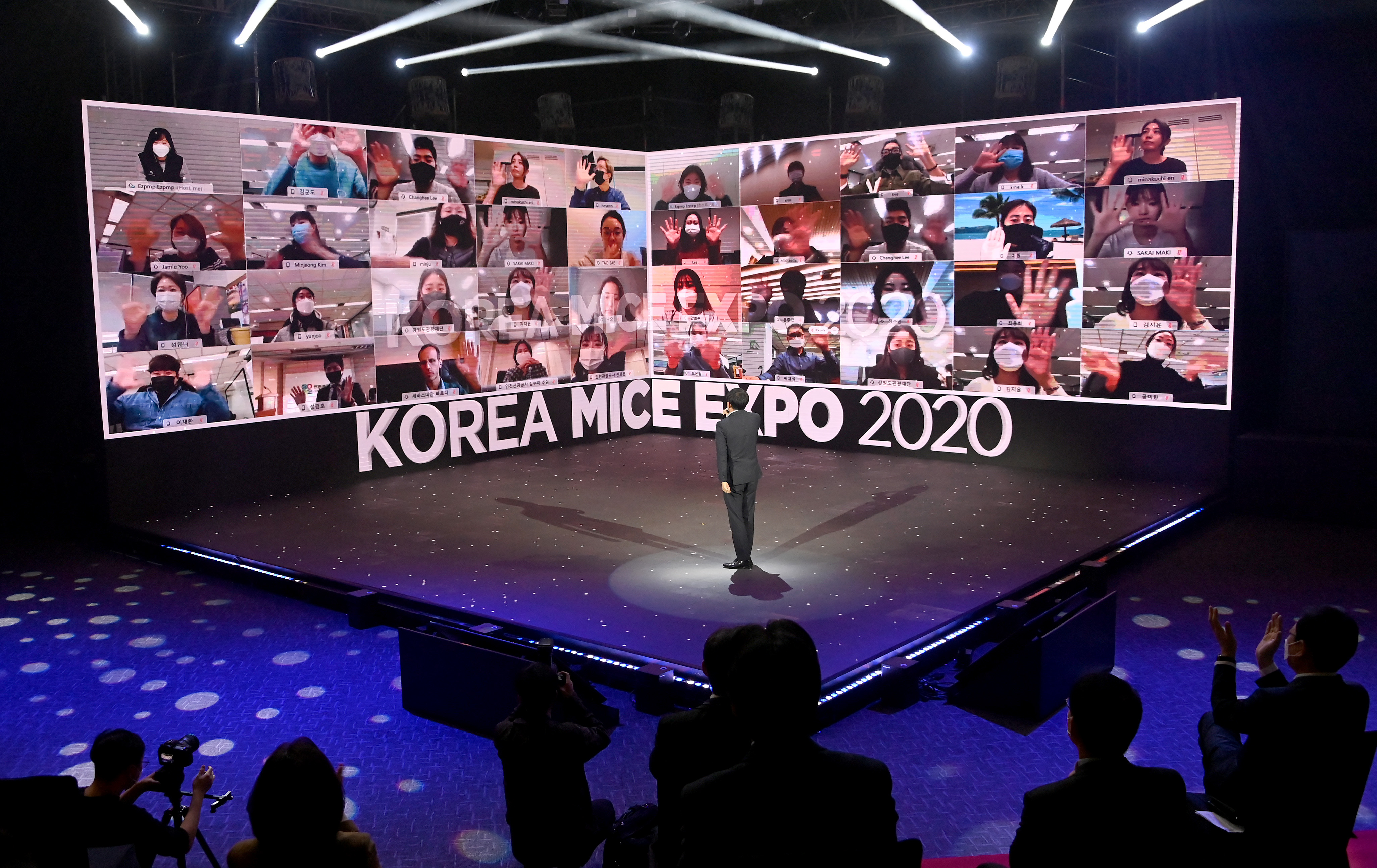 A view of 2020 Korea MICE Expo.

In particular, as non-face-to-face contacts were on the rise, advanced technologies such as guidance by information robots and the registration of participants via face recognition technologies and 3D photo technologies were demonstrated during the exhibition.

Korea MICE grand prizes were presented to those who contributed to the development of the MICE industry. International conferences held on Nov. 24 and Nov. 25 were televised live via its official site and YouTube channel.

Korean and global IT experts such as Eric Bailey, Microsoft's Global Director of travel, meetings and payment and Hermione Joye Hermione, head of APAC Travel team for Google's Large Customer Sales business, participated in the international conferences to share the technology trends of the MICE industry and possible expansion of conference technologies and late development.

About 300 people from 30 countries partook in on-line trade negotiation sessions. Korean MICE businesses participated with teleconferences with foreign buyers so that they can explore new marketing opportunities.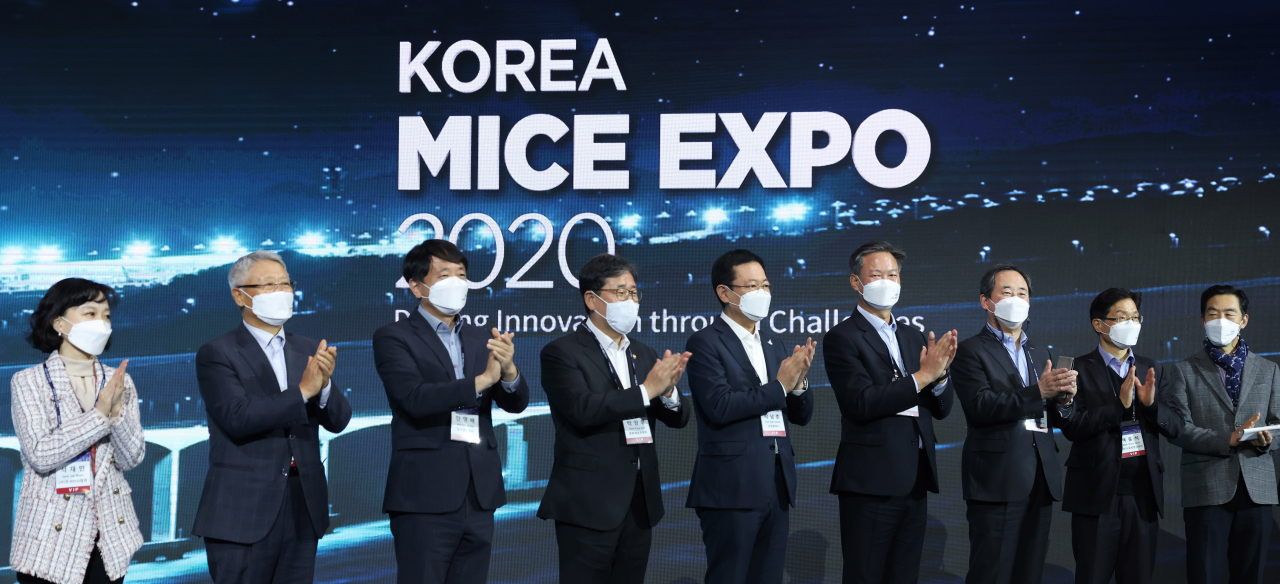 Dignitaries, including MCST Minister Park, President Ahn Young-bae of Korea Tourism Organization and President Min Min-hong of Incheon Tourism Organiztion, clap their hands as they participated in 2020 Korea MICE Expo. (Photos: MCST)
About 300 buyers, including those from Trip.com, China's largest travel agency, held teleconferences with 220 Korean MICE industry and company representatives.

MCST Minister Park Yang-woo said, " 'Challenging for innovation' is a task we all have to unravel with one accord in the wake of the spread of the COVID-19 pandemic, and I believe we can achieve changes and development corresponding to a new era by surpassing the current crisis as we have abundant experiences such advanced technologies based on excellent digital foundation."