Allows virtually unlimited calls among KT subscribers in return for a monthly rate of 100,000 won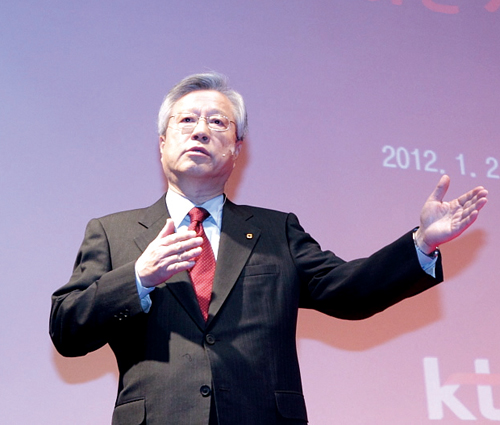 KT Chairman Lee Suk-chae announces a plan to introduce a full-fledged 4G Long Term Evolution (LTE) service across the nation. (right, above) Models show off the latest LTE handset versions.
KT Corp. will launch a full-fledged 4G (Fourth Generation) LTE (Long Term Evolution) service, adopting a new concept of virtualization technology, developed by the company on its own, departing from today's standard.
KT Chairman Lee Suk-chae, announced the release of a qualitative, stable LTE service at a meeting with reporters at the KT office in downtown Seoul on Jan. 2. KT's release of the 4G LTE service is expected to ignite competition for faster smartphone services among Korean telecom carriers.
KT said it will offer the LTE WARP (Wireless Open-Access Research Platform) service, the innovative technology system for improved capability at base stations and faster transmission speed, differing from the conventional virtualization based on the 3G Cloud Communication Center (CCC) technology.
Lee said KT will offer the service in Seoul starting within this month after finishing the laying of the LTE network, followed by 25 more cities by the end of the first quarter and 84 other cities across the nation by April.
KT said subscribers who sign up by June 30 will be allowed to exchange voice communications with other KT subscribers free of charge. Those who subscribe with the LTE 620 pricing option in return for a monthly basic rate of 62,000 won will be offered 350 minutes of voice service, 350 text messages, and 3,000 minutes of calling among KT subscribes free of charge. Customers who sign up for the LTE 1000 option for a monthly rate of 100,000 won will be allowed to make virtually unlimited free calls among KT subscribers — up to 10,000 minutes.
KT's LTE service has been delayed for more than a month, but its pricing system is offering more benefits to customers with an additional 20 to 40 minutes of free calls compared to other rival telecom providers, which KT said is attributable to the adoption of the LTE WARP.
KT said its goal is to lure 4 million LTE subscribers within the year by expanding the LTE network to 84 cities by April, the same level of coverage as SK Telecom, the nation's largest telecom provider, which launched the LTE service earlier.
4G WIBRO-EMBEDDED NOTEBOOKS
KT announced on Dec. 26 its plans to release various types of 4G WiBro embedded notebooks including 5 types and 39 models such as the Slate PC Series 7 that maximizes the advantages of tablets and notebook PCs; the Series 3 300V with its various, attractive color designs; the slim and light notebook PC 350U; the practicality-consolidated series 3 300E; and the high performance graphic-specialized RC530. The 4G WiBro module is basically embedded in all of these products.
In particular, Samsung Electronics' strategy is to expand customers' selection range and consolidate high speed internet user convenience by basically embedding 4G WiBro to various lineups, from general to premium products, unlike existing general type-centered 4G WiBro modules. ?
Using the 4G WiBro-embedded notebooks, users can enjoy high speed wireless internet anywhere, anytime, all across Korea through the 4G WiBro network established in 82 cities, eight main expressways and Jeju Island.
Also, huge benefits have been prepared for buyers of 4G WiBro-embedded notebooks. KT plans to offer all 4G WiBro-embedded notebook PC buyers a 5GB capacity of 4G WiBro each month for a year for free (about 180,000 won) in partnership with Samsung Electronics. KT also plans to provide 4G WiBro-specialized, service-related information, various content including movies, music, cartoons, eBooks, a variety of events and an online customer service center, on the 4G WiBro connection page.
Meanwhile, KT, Samsung Electronics and Intel have been continuously strengthening their cooperation for Korea's 4G WiBro activation, such as a nationwide 4G WiBro network and WiBro embedded notebooks, since October 2010.
The notebooks embedded with 4G WiBro have been sold at Samsung Electronics stores and distribution channels since Dec. 27, 2011. When a user wants 4G WiBro service, he or she can click the 4G WiBro icon on the wallpaper and apply for 4G WiBro from the internet page.
KT President Pyo Hyun-myung said, "KT will lead 4G WiBro activation through diverse cooperation with the global hit PC maker, Samsung Electronics, and the computing technology innovation leader, Intel." He added, "We will expand synergy between customer benefits and industries by using 4G WiBro as industrial convergence infrastructure, including M2M, after embedding 4G WiBro to various devices such as notebooks."
Samsung Electronics Vice President Nam Sung-woo said, "KT's diverse and economical services to disseminate 4G WiBro, together with technological cooperation with Samsung and Intel, are expected to provide a huge synergy effect. We expect 4G WiBro notebooks to be diffused nationwide, starting from the first half of this year."
Intel Asia-Pacific Sales and Marketing General Manager Navin Shenoy said, "The increase in demand for high quality content and new and innovative applications requires a faster mobile network than the current one being used. Cooperation between Intel, KT and Samsung Electronics will consolidate Korea's status as the wireless internet global leader as well as fulfilling Korean users' desire for a fast, mobile internet." nw