The project completion period cut to support 2012 Yeosu World Expo opening in May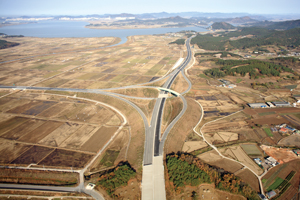 The Mokpo-Gwangyang Highway in South Jeolla Province is expected to open in April after 10 years of construction of the 106.8 km long highway.
Kwon Hyuk, head of the Mokpo-Gwangyang Construction Site of the Korea Expressway Corp., said the Mokpo-Gwangyang Expressway(106.8 km) now under construction will be officially open at the end of April.
The project kicked off in December, 2002, and is taking about 10 years to complete at the cost of 2.264 trillion won mobilizing some 400,000 manpower and 100,000 construction equipment, the team said.
The project originally set to be completed in December, 2012, will be pulled up by 8 months to April, this year in support of the 2012 Yeosu World Expo scheduled to open in May.
Important installations include interchanges totaling eight in such locations as West Youngam, Haksan, Kangjin, Janghung, Bosung, Kohung and Suncheon, among others and two rest areas at Youngam and Posung, in addition to 109 bridges and 33 tunnels, the longest of them being at Kyungbaek Tunnel, 2.2 km long, the team said.
The new highway will cut the travel length from Youngam to Suncheon by 39.6 km(146.4 km to 106.8 km) and an actual travel time by an hour(131 minutes to 64 minutes) if including a rest stop at the resting facility.
The new highway will save the logistics costs by 41.9 billion won annually as well as reduce the Co2 gas exhaust by 36,000 tons annually equivalent to planting 3.04 million pine trees with a positive contribution to the low-carbon green growth policy of the government at the same time improving living environment for towns along the highway, the team said.
With travel time from Youngam to Suncheon cut to an hour from two hours, the two large industrial development areas of Mokpo and Gwangayng will be connected directly for simultaneous development of the two industrial complexes in South Jeolla Province.
The new highway will also make the accesses to the Muan International Airport easier and other areas in southwest of the province including the tourism belt in South Coast speeding up their development, not to speak of its positive effect on the 2012 Yeosu World Expo to open in May.
The construction team has taken special measures in carrying out the project in the areas of ecology and preservation of nature along the highway being built. The team built Eco Bridges in 31 locations for wild animals to pass through and animal guide fences some 95,486 meters long.
The team also has taken special care in designing the entrances of tunnels so that they would be in harmony with the topography of their locations
The bridges on the highway have special lights so that birds can see the bridges and void collision at night. The bridges and sections of highways that pass through the Suncheon Harbor Salt Flats and Swamp Protection Area were built so that no harm will be done to both the area and the construction project. For example, wood walls were built for soundproof effects and pavements were specially covered with special material to reduce noises and installed lights.
Under the Flower, Tree and Road 1,000 Project, when building highways 529,000 trees are to be planted along the highways to reduce CO2 by more than 5,000 tons per year and also take care of landscapes of the sections that have beautiful sceneries in response to demands by motorists.
The project has 12 sections four sections between Mokpo and Jangjung and seven sections from Jangjung to Gwangyang. The sections linking Mokpo and Jangjung are 97 percent complete as of Dec. 13, last year with 3 percent more to go to finish by April, this year and sections between Janghung and Gwangyang are 93 percent complete as of Dec. 13, last year and seven percent more to finish. The installations along the highway are 50 percent complete as of Dec. 13, last year with 38 percent more to go.
The project includes the construction of 109 bridges and 105 of them were completed with four being built as of Dec. 13, last year with the completion percentage of 96 percent and all 33 tunnels were completed as of Dec. 13, last year and 156 km of highways have pavements as of Dec. 13 with 30 km to go until completion with 84 percent completed.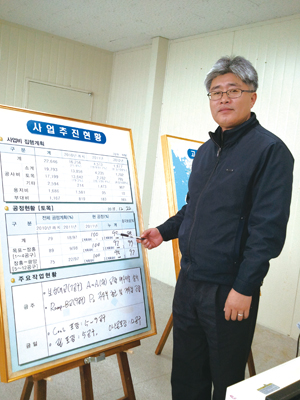 Kwon Hyuk, head of the Mokpo-Gwangyang Construction Site of the Korea Expressway Corp.
Out of 20 installations, 60 percent was completed as of Dec. 13, last year and one electrical work to be finished with 51 percent completion percentage. 40 percent of landscape work is to be finished as of Dec. 13, 2011. There will be three resting facilities in the new highway including one in Youngam, Janghung and Posung.
Out of the 2.264 trillion won total costs to build the highway, 1.979 trillion won has gone to the construction work, while 168.6 billion won was spent to buy land and 156.7 billion won in overhead. About 72 percent of the costs was spent until 2010 to pay for construction work done up until then and 447.3 billion won spent during 2011 and 191.7 billion won will be spent this year to wrap up the entire project by April this year. nw