Winning order for Qualcomm's next-generation Snapdragon 750 comes after the Korean electronics giant was awarded an order for 'Snapdragon 875'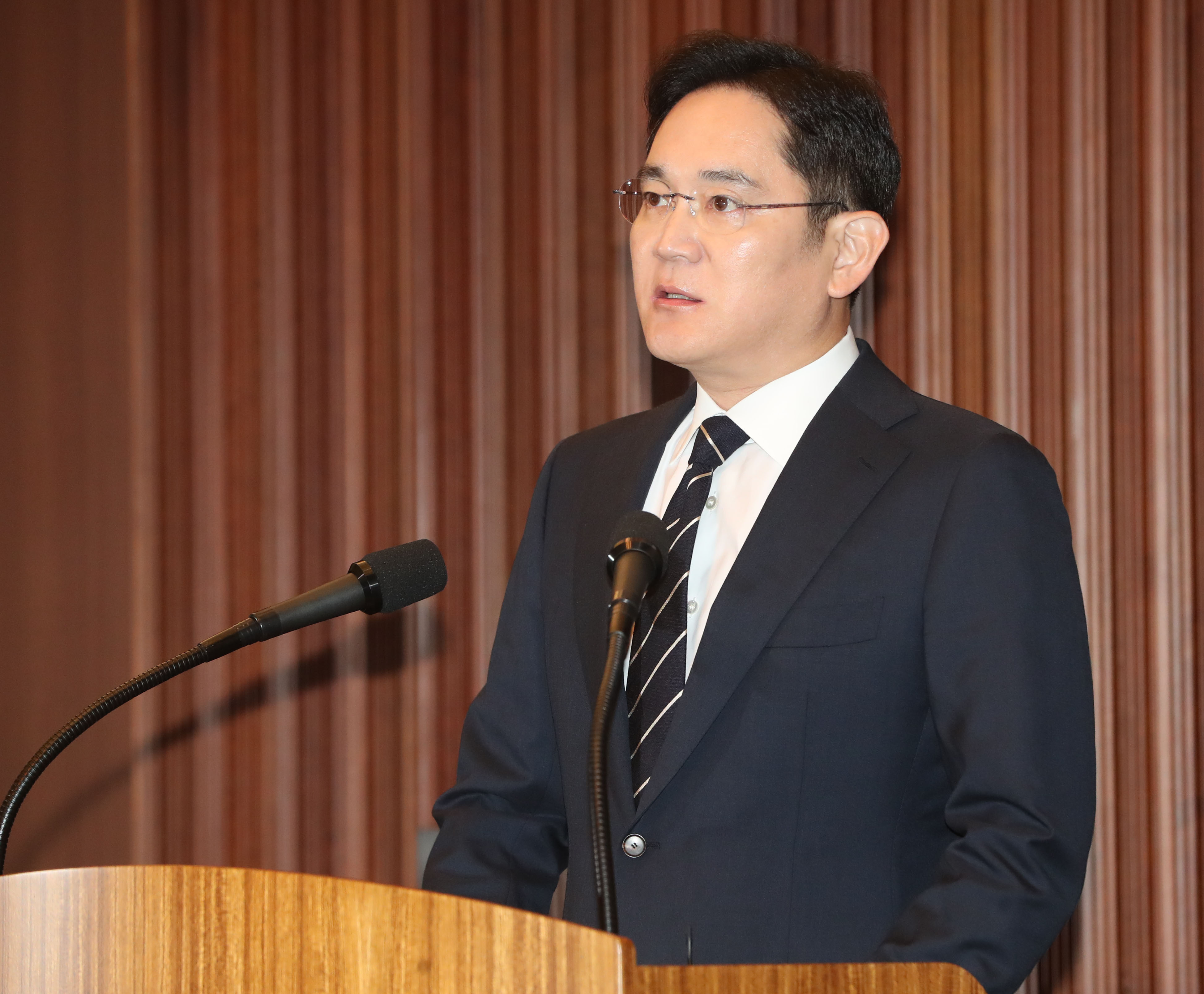 Samsung Electronics Vice Chairman Lee Jay-yong. (Photos: Samsung Electronics)
Samsung Electronics has won orders on next-generation chipsets from Qualcomm Technologies in quick succession, outbidding Taiwan Semiconductor Manufacturing Company (TSMC).

The victory for Samsung is noteworthy. Samsung's latest feat comes after the Korean electronics giant was awarded an order for the Snapdragon 875, a premium AP for 5G smartphones, by Qualcomm. Samsung's back-to-back orders were owed to its massive technology and facility investments in niche markets, not tapped by its rival TSMC, coupled with aggressive marketing activities.

Business sources said Samsung Electronics will produce Snapdragon 750, a 5G smartphone AP for Qualcomm, using an 8nm technology manufacturing process, and supply it to the U.S. company. But details, including the exact value of the order, were not divulged.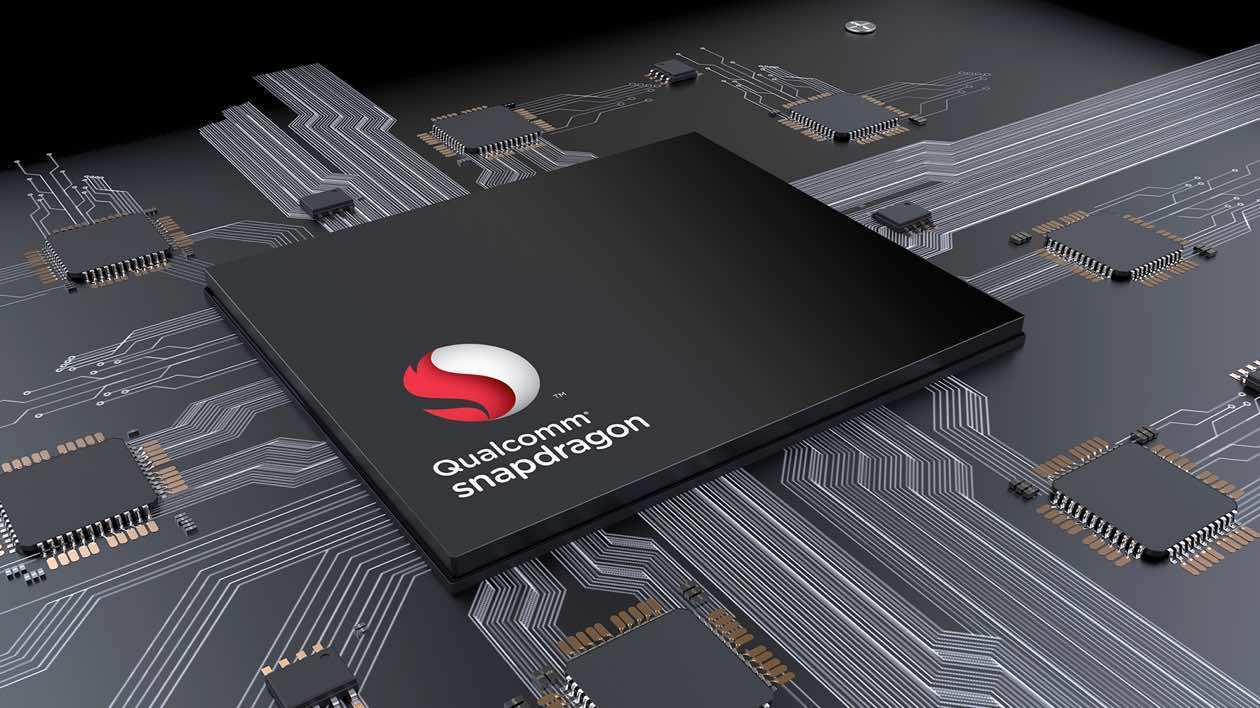 A view of Qualcomm's next-generation Snapdragon 875, to be produced by Samsung Electronics.

Samsung Electronics' winning the latest AP order by beating its rival TSMC is meaningful, the sources said.
Qualcomm unveiled Snapdragon 750, a medium-level 5G smartphone AP on Sept. 23. Xiaomi of China and Samsung Electronics are expected to adopt the application processor in their medium-level 5G smartphones. AP is dubbed as the brain of the smartphone for its primary task of data processing.

U.S. fabless giant Qualcomm has assigned chip production to foundry makers such as TSMC and Samsung Electronics. Of late, Samsung Electronics has snatched foundry orders by outbidding TSMC.
Qualcomm's next-generation 5G smartphone AP, tentatively named as "Snapdragon 875" is one of the representative products being produced from the latest 5nanometer extreme ultraviolet (EUV)-based process offerings.

Experts say Samsung's strategy to tap niche markets by pinpointing the weak parts of TSMC has worked.

Samsung Electronics is the sole foundry maker to have an 8-nanometer EUV technology process in place. The Korean electronics giant is capable of meeting customers' needs by producing smaller and higher power efficiency chips than those on a 10-nanometer technology process instead of turning to the expensive 87-nanometer technology process.

On the back of its continued technology investments, Samsung Electronics is evaluated to have foundry capabilities matching those of TSMC. Samsung Electronics has funneled between 5 trillion won and 10 trillion won per year to buy foundry equipment and development technologies.

As a result, Samsung Electronics ranked second in the world by taking a 17.4 percent share in the global foundry market as of 2020 Q3, surpassing conventional U.S. foundry juggernauts.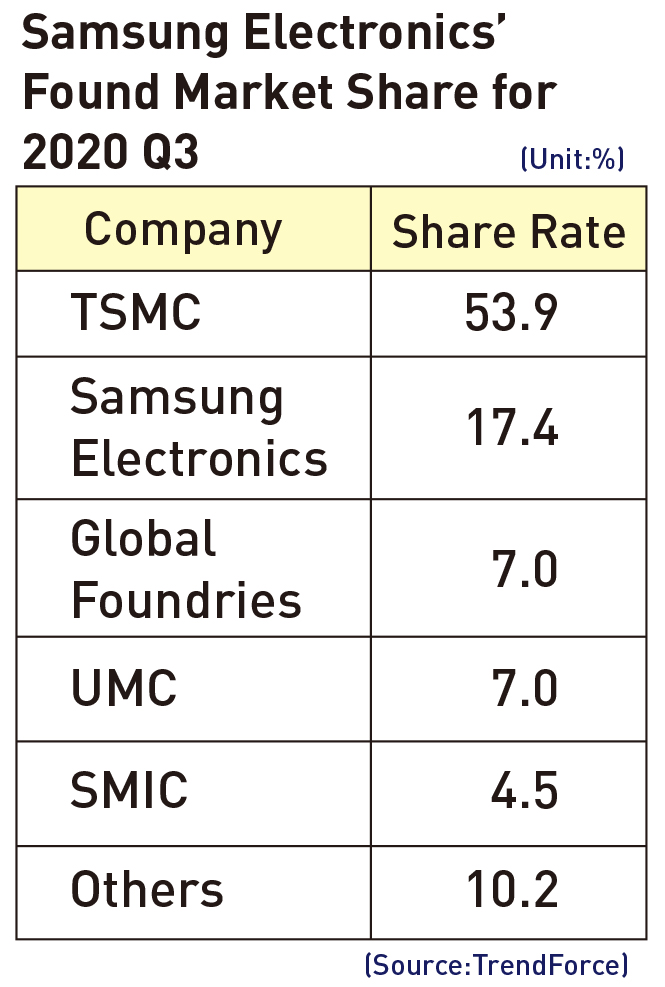 Samsung Electronics is the sole foundry maker to take on TSMC in a competition of the 10-nanometer or less manufacturing process.

Samsung Electronics is also accelerating efforts to ramp up packaging capabilities. Packaging is emerging as one of the most critical elements in semiconductor design.
Samsung Electronics Co. has succeeded in producing test chips with its silicon-proven 3D integrated circuit (IC) packaging technology, dubbed "eXtended-Cube" or simply "X-Cube."

The solution can improve speed and power efficiency of logic semiconductors. TSMC is also developing a 3D packaging technology, dubbed "SoIC," but the Taiwanese foundry maker is expected to lag behind Samsung Electronics in the commercializing the advanced packaging technology.