Lim takes helm of KGS; emphasizes KGS's responsibilities: gas safety and creation of social values
New President Lim Hae-jong of Korea Gas Safety Corp. (KGS) takes office as the 17th KGS president) on Sept. 17 at KGS headquarters on Setp. 17. (Photos: KGS)
Former director general Lim Hae-jong of the Public Institution Policy Bureau at the Ministry of Economy and Finance (MOEF) took office as the 17th president of Korea Gas Safety Corp. (KGS) on Sept. 17.
New KGS President Lim's inauguration ceremony was cancelled for the prevention of COVID-19. His inaugural speech was broadcasted in an on-line channel, hooked up from KGS headquarters in Eumseong, Chungcheongbuk-do.

In his on-line inaugural speech, new KGS President Lim declared management tenet "Back to the Basics." He stressed KGS's responsibilities: gas safety and creation of social values.
New KGS President Lim has filled up a nine-month vacuum, caused by his processor who resigned on Jan. 2 for his running for the general elections. His term is three years until Sept. 23, 2023.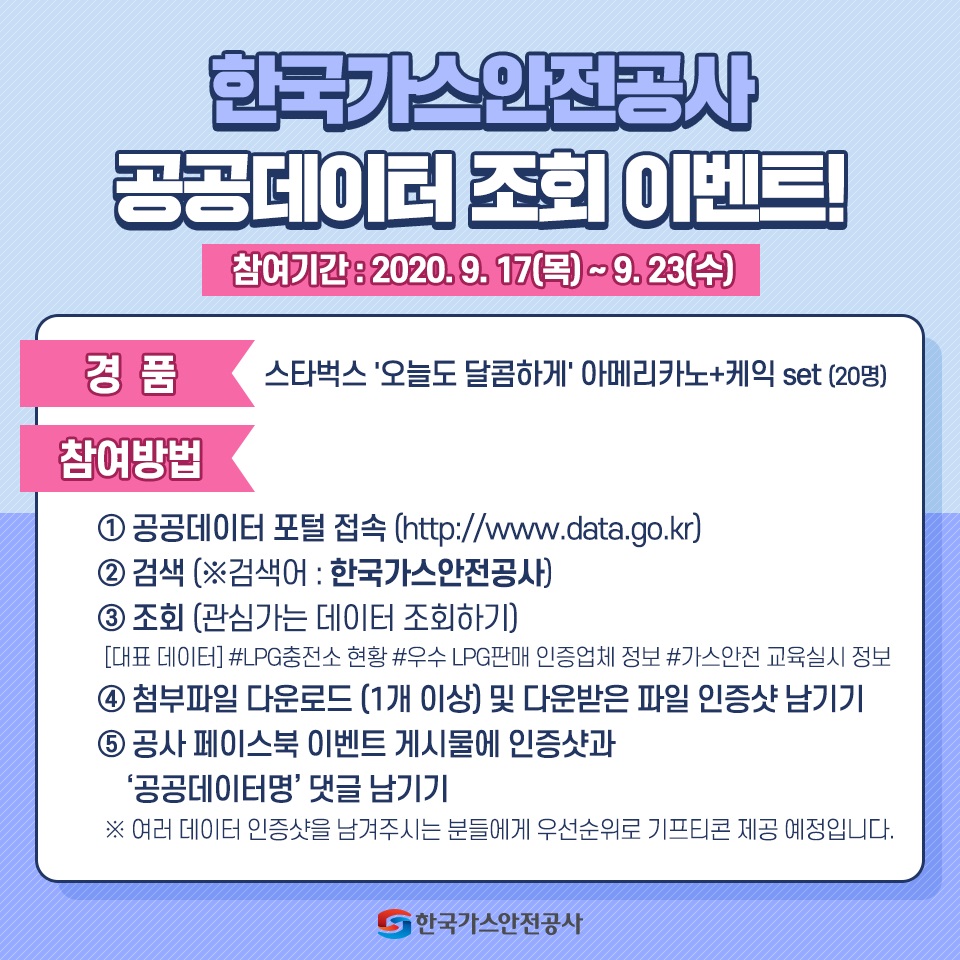 A poster to publicize a lottery event on the disclosing useful public data on gas safety by KGS Gas Safety Via a public portal.

KGS Discloses Useful Public Data on Gas Safety Via Public Portal

Korea Gas Safety Corp. (KGS) provides 47 core gas safety data points, including gas accident prevention cases and a database for gas safety-related industry intellectual properties. The information is available through the public data portal of the Ministry of the Interior and Safety (MOIS).

The new information comes in accordance with the purpose of KGS's establishment — realizing gas safety goals and the development of the gas safety industry — in keeping with the government's "Digital New Deal" policies.

Among the data that are made public are those related to gas accident statistics, four kinds of gas prevention and five more. Information on companies certified with LPG sale certifications and gas safety education trainees, useful to the public, is also public.

KGS is making every effort to explore public data tailored to meet public demand. The corporation has been updating public data by collecting and reflecting beneficiaries' views through meetings or recommendations' window of KGS's website, going beyond the disclosure of data to the public.

The corporation is also focusing on releasing new data by studying consumer trends. KGS plans to release data related to the status of charging stations, now that a majority of data users for LPG and compressed natural gas charging stations are motorists.

The current status of gas safety sheriffs and outcomes of the supply of gas safety apparatuses will be also divulged to the public. KGS is also endeavoring to disclose data in cooperation with other government agencies and institutions.

The KGS data sharing initiative, including for gas systems with the National Fire Agency (NFA), has enabled the prevention of gas accidents caused by fires.

The establishment of G-Topia, a system designed to share gas safety data such as gas facility inspection traceability with local governments, has enhanced administrative efficiency.
KGS plans to reveal outcomes of mandatory gas facility checks in cooperation with the MOIS, designed to not only guarantee people's right to know, but also to help businesses improve gas facilities. KGS is holding an event to look at KGS's public data, which gets under way until Sept. 23.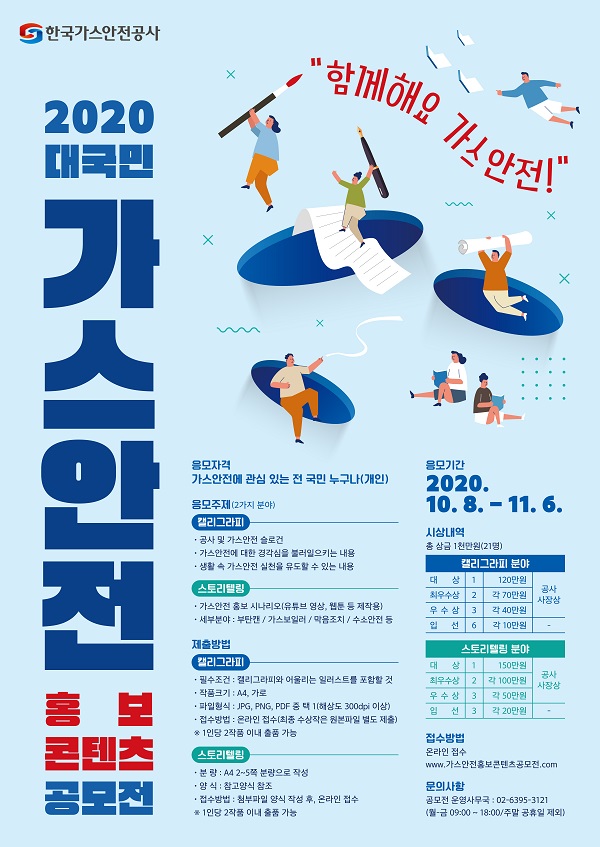 A poster to publicize a content contest to promote gas safety of Korea Gas Safety Corp.