New Hyundai Motor Group Chmn. Chung Spearheads New Era
Sews 'innovation DNA' into group; spearheads a shift into horizontal corporate culture and open innovation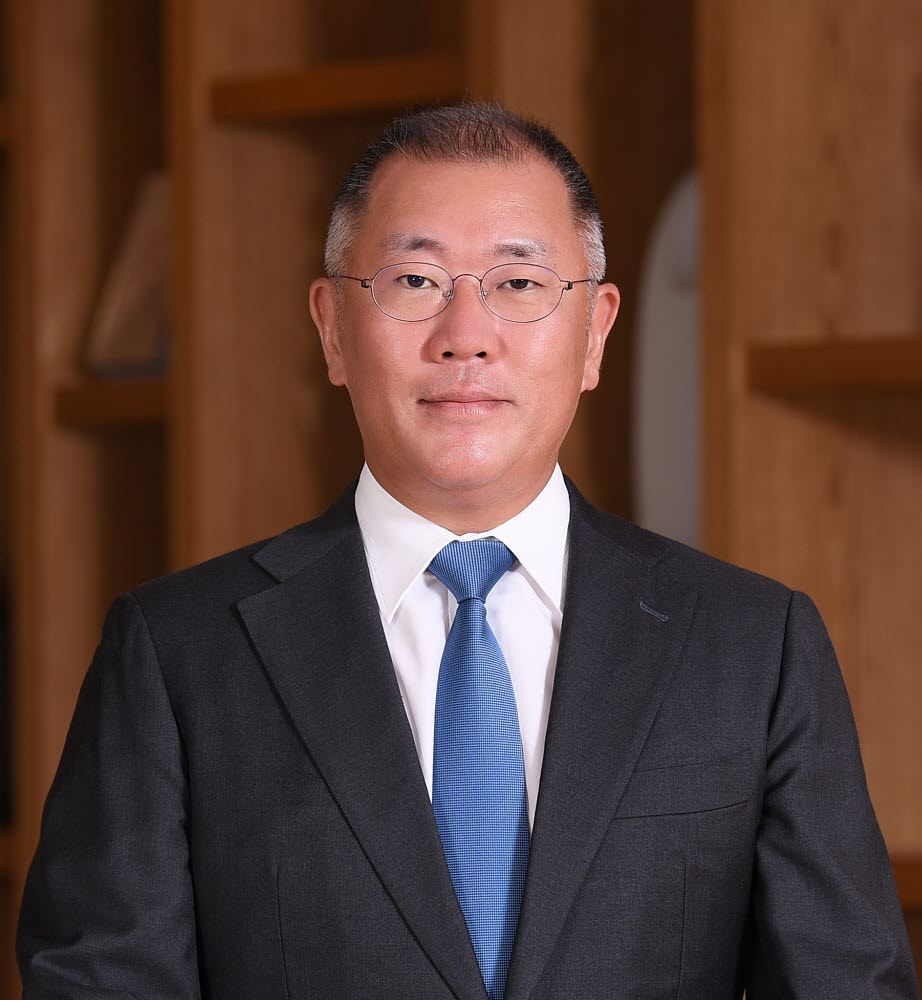 Hyundai Motor Group Chairman Chung Eui-sun. (Photos: Hyundai Motor Group)
Hyundai Motor Group Executive Vice Chairman Chung Eui-sun has been promoted to chairman of the automobile conglomerate, succeeding his father Chung Mong-koo.
Hyundai Motor, Hyundai Mobis and other subsidiaries of Hyundai Motor Group held their respective board of directors meetings on Sept. 14 to appoint Executive Vice Chairman Chung to head of the automobile group.

His father, ailing Chung Mong-koo, now honorary chairman, has officially stepped down from management. The junior Chung's ascent to the chairmanship may be construed as the automobile group's efforts to accelerate innovation and "responsibility management" to cope with hardship caused by the COVID-19 pandemic.

New Chairman Chung is a third-generation offspring of the late founder Chung Ju-young. The junior Chung has proved his stuff to take over the helm of the automobile group by demonstrating his excellent management capabilities.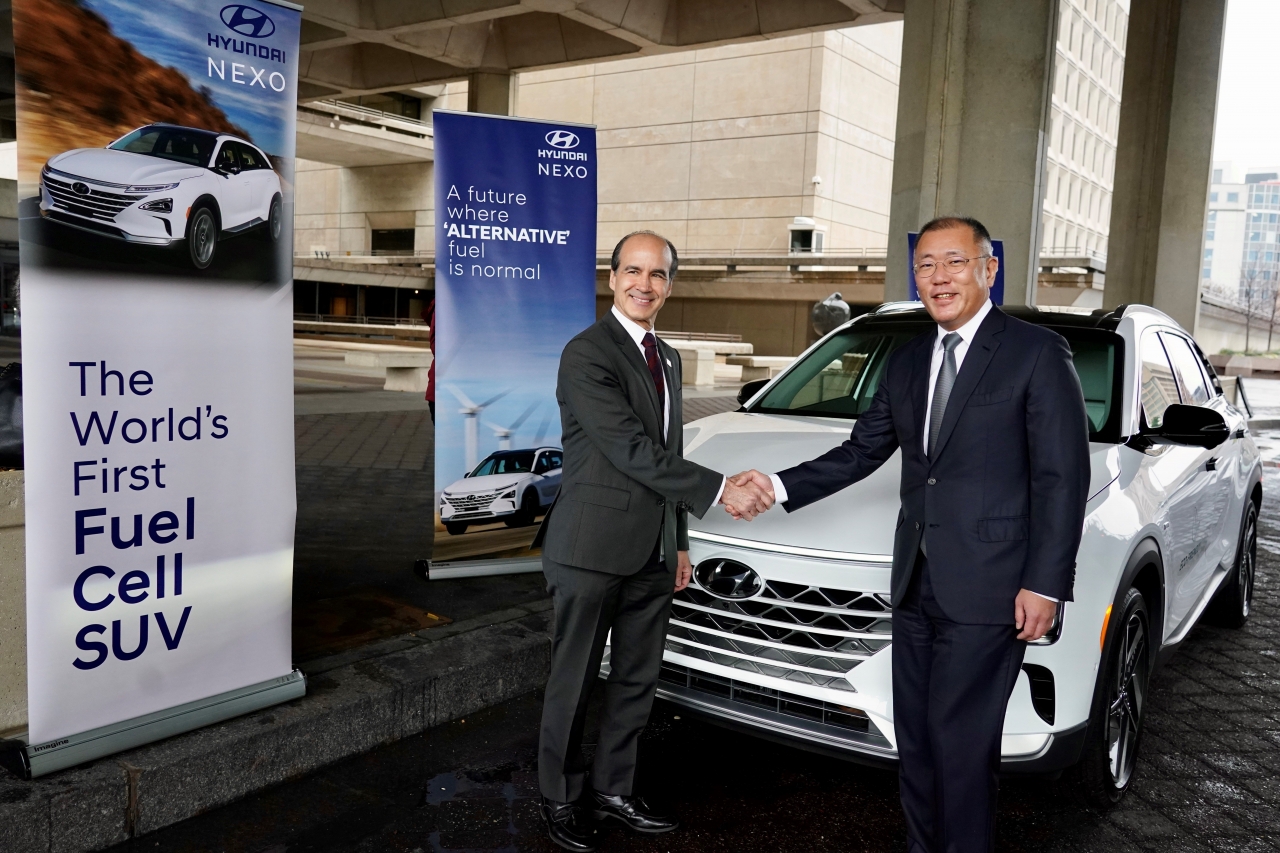 Hyundai Motor Group Chairman Chung Eui-sun meets with U.S. Under-secretary of Energy Mark W. Menezes at the U.S. ministry in Washington D.C. on Feb. 10. Hyundai Motor Group signed an MOU on partnership on hydrogen fuel cell research with the U.S. Energy Department.

Newly inaugurated Chairman Chung was promoted to head the automobile group two years and one month after he was named as executive vice chairman of the group in September 2018 and seven months after becoming chairman of the board of Hyundai Motor, the nation's biggest automaker by sales this past March.

The junior Chung became the de-facto head of Hyundai Motor Group when he took office as executive vice chairman of the group. Under the stewardship of new chairman, the company has sewn "innovation DNA" into the operation of the group.

On behest of his initiative, the group has become more autonomous and horizontal, a departure from the traditional structural paradigm. In particular, Hyundai Motor Group has taken offensive investment strategies to become a game changer in the future car sector.
The company has stepped on the gas to expedite open innovation strategies.
New Chairman Chung has restructured personnel management.

Delivering his 2020 New Year's message, he said, "Hyundai Motor Group will purse change and innovation from a perspective of thinking and working."

He called for exploring new growth by mobilizing the group's capabilities to cope with management tasks at a swift pace, and make preparations for the future, departing from the conventional growth paradigm.

Doing away with "pure-blooded" personnel management was a striking departure from the conventional personnel management and structural operation of the group.

Hyundai Motor saw the number of president-level executives surge from five two years ago to 10 in 2020 H1. Among them are three foreign executives: President Albert Biermann, director of R&D Division, Peter Schreyer, president and chief design officer (CDO) of Hyundai Motor Group, and Jose Munoz, Global Chief Operating Officer of Hyundai Motor.

Hyundai Motor has hired outside executives as well. Some include Hyundai President and Chief Innovation Officer Chi Young-jo of Hyundai Motor, who is also a former Samsung Electronics executive; former NASA expert Shin Jae-won, an executive vice president and head of urban air mobility (UAM) division; and Executive Vice president Yoon Gyeong-lim, head of Hyundai Motor's Open Innovation Strategy.

Hyundai Motor Group has liberalized its dress code. The group simplified the general grade classification. That had the result of making an operational structure a flexible and horizontal one.

Chairman Chung has spearheaded open innovation of the group, a department from the conventional paradigm.

In this vein, the so-called "K-battery alliance" is shaping up to build the battery ecosystem of the EV sector. Chung has had a series of meetings with Samsung Electronics Vice Chairman Lee Jay-yong, LG Group Chairman Koo Kwang-mo and SK Group Chairman Chey Tai-won to ramp up collaboration among Korean companies. Korea's representative company in tapping the hydrogen economy market is Hyundai Motor Group, a "virtual first mover."

Hyundai Motor invested $2 billion to establish Motional, a joint venture with Aptiv, a U.S. self-driving technology leader.
Thirteen new companies have been established since Chung took office as executive vice chairman. Out of the total, seven companies specialize in the mobility business.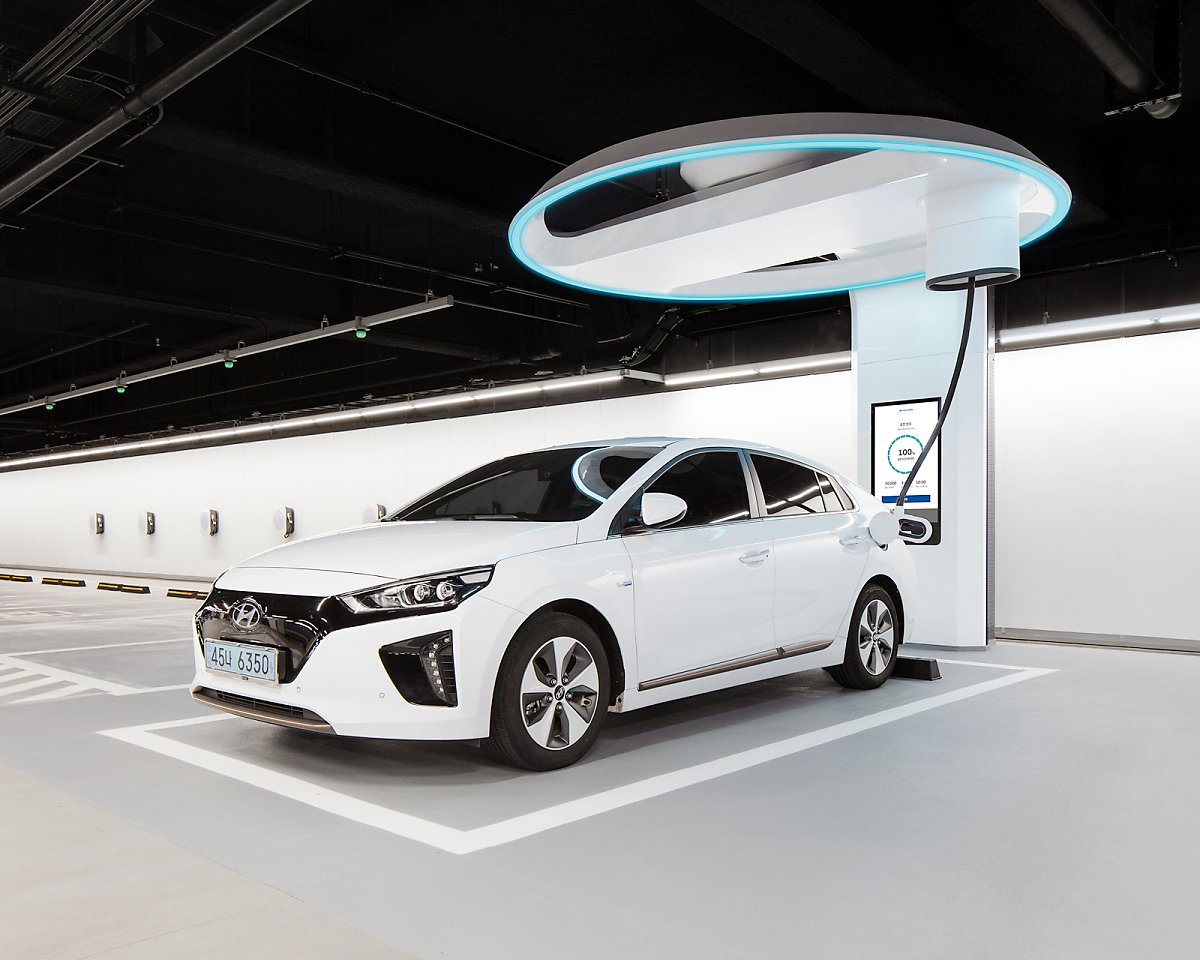 Hyundai Motor unveiled "Hi-Charger," a rapid charging system, capable of charging 80 percent of the battery within 20 minutes, last November.

Hyundai Motor Gets Nimbler in Tapping Energy Businesses Related to Hydrogen

Hyundai Motor Group, expanding the production of eco-friendly cars, is stepping on the gas to nurture energy-related businesses in a more aggressive way.
The group's initial goal is to secure EV and hydrogen fuel cell car infrastructure.
As related businesses expand, the group's business portfolio will diversify into areas ranging from auto production, steel, construction and financing to new businesses.

Of late, Hyundai Motor registered "Hi Charger" and "I.O.N," the new brand for EV charging and related trends, according to trademarks registered with the Korean Intellectual Property Office (KIPO).

The automaker has begun to overhaul brands as it is expanding its business into ones related to charging, beyond the conventional EV car production.
In a revision of articles of association earlier this year, Hyundai Motor added EV charging and related businesses to its business portfolio. The automaker plans to build 20 high-speed EV charging stations, including 12 at expressway service areas.

The group's energy businesses are becoming nimbler in the hydrogen economy sector. Hyundai Motor, the world's first automaker to mass produce a hydrogen fuel cell car, is expanding collaboration to establish the ecosystem of the hydrogen economy.

Companies in several countries around the world are scrambling to pry open the global hydrogen economy market.
The market is gearing up to be a competitive one, as the size of the global hydrogen economy market is predicted to stand at $2.5 trillion (3,000 trillion won) by 2050, and more than 30 million jobs are forecast to be created.

Figures released by the global management consulting company McKinsey & Company showed that hydrogen is forecast to take up an 18 percent share in global energy demand by 2050.

Global companies have joined in a race to explore the global hydrogen economy market. Korean companies are front-runners, as Korea ranks first in terms of supplying hydrogen fuel cell electric vehicles and installation of hydrogen charging stations.

New Chairman Chung once said his group will make strenuous efforts to develop and supply hydrogen fuel cell electric vehicles to the general public at reasonable prices, taking responsibility as a leading hydrogen mobility company.
Hyundai Motor Group will lower barriers related to the supply of FECVs by continuously ramping up technology leadership rather than a focus on short-term sales goals, he added.

Hyundai Motor Group unveiled a plan to lead the hydrogen fuel cell vehicle market by building a mass production system capable of producing 500,000 FECVs annually by 2030.
The group plans to invest a combined 7.6 trillion won in the hydrogen economy field and create 51,000 new jobs. The group has built a hydrogen fuel cell electric bus refueling station in Incheon International Airport and opened the nation's first hydrogen refueling station for commercial vehicles in Jeonju so far this year.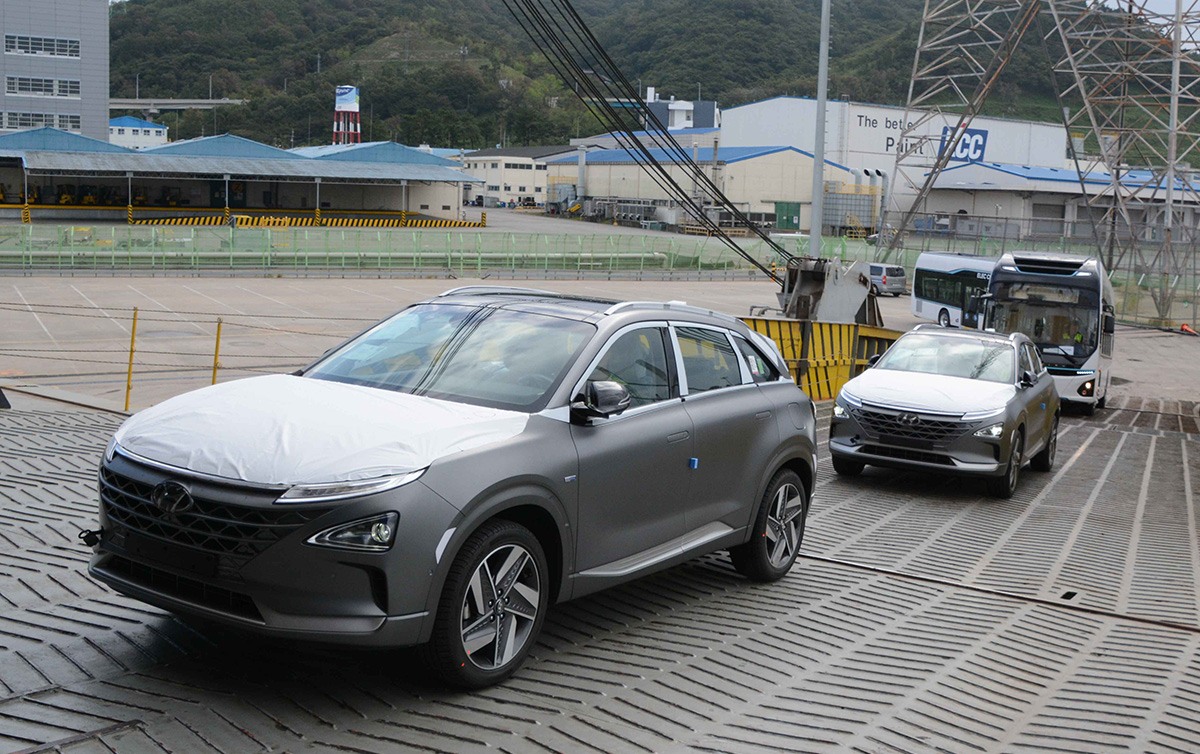 Hyundai Motor has exported Nexo, a hydrogen fuel cell powered crossover SUV, and two units of Hyundai Elec City, an FECV bus, to Saudi Arabia.

In particular, Hyundai Motor has built the world's first large-sized hydrogen fuel cell electric truck mass production system. It has begun to export the system to Switzerland.

In the latest development, Hyundai Motor has shipped two units of Hyundai Nexo, a hydrogen fuel cell powered crossover SUV, and two units of Hyundai Elec City, an FECV bus, to Saudi Arabia.
The latest shipment is part of Hyundai Motor's collaboration with Saudi Aramco to tap the hydrogen energy business sector.