MIRECO Shifts into Contactless, On-Line Mode to Ramp UP Mine Reclamation Capabilities of Emerging Countries
MIRECO participates in project to reclaim Indonesian mining areas polluted with mercury
President Lee Cheong-ryong of Mine Reclamation Corp. (MIRECO).
Mine Reclamation Corp. (MIRECO) plans to implement a project to reclaim mining areas polluted with mercury in Indonesia. The project is one of an Official Development Assistance (ODA) programs of the Ministry of Trade, Industry and Energy (MOTIE).

The ODA program is designed to help Korean small- and mid-size upstarts enter emerging markets, as well as to contribute to the capabilities of industries in emerging countries by utilizing Korea's industrial technology.
The Indonesian mining area reclamation project will be carried out to help the Indonesian government strengthen mercury pollution management capabilities. It will be done with the support of the Korea Institute for the Advancement of Technology (KIAT).

Indonesian mining areas have been polluted with serious levels of mercury to such an extent that they are included among the top 10 worst-polluted areas designated by Blacksmith Institute and Green Cross Switzerland, so countermeasures badly need to be taken.

MIRECO will restore areas polluted with mercury in a pilot project, supply materials and equipment for analyzing mercury pollution, offer consulting services, including the establishment of guidelines on mercury pollution management.
The corporation will conduct a joint project to help the public sector strengthen its capabilities in cooperation with Korean firms.

MIRECO will implement the Indonesian project by making the most of experiences and technologies the corporation has accumulated while carrying out mining reclamation projects in Korea and abroad. Based on achievements of the project, MIRECO plans to participate in mercury pollution reclamation projects, to be implemented by international organizations in the future.

MIRECO President Lee Cheong-ryong said, "Through this project, homegrown mining damage management technologies will be applied and developed at overseas sites."
With an overseas market entry by MIRECO's business of reclaiming mining damages, the corporation will endeavor to enhance social values like shared growth with the private sector and job creation, he added.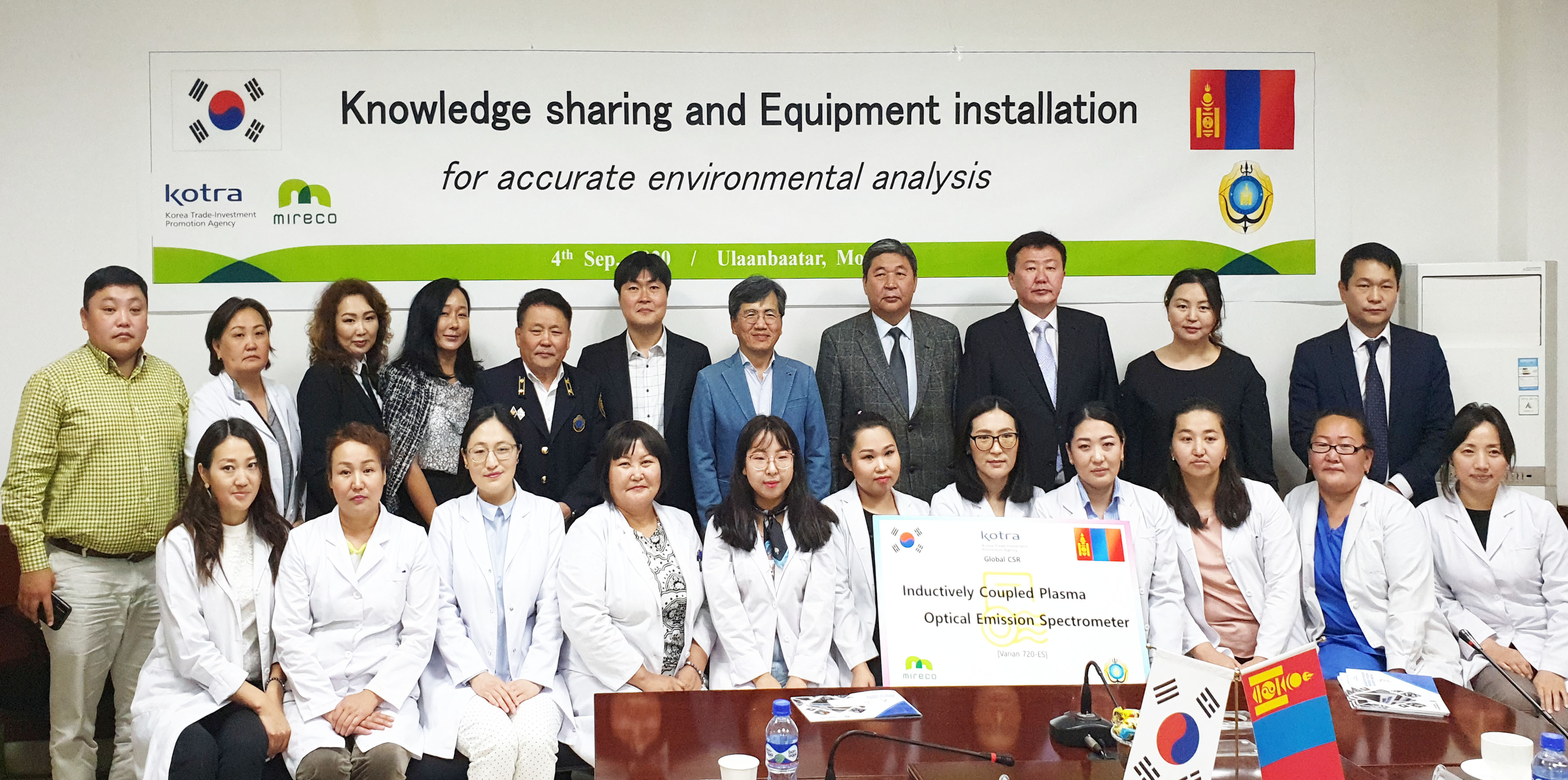 Officials from MIRECO, KOTRA and the General Agency for Specialized Inspection of Mongolia attend a ceremony in which MIRECO donated an inductively coupled plasma optical emission spectroscopy (ICP-OES), an analysis equipment, to share Korea's mining damage management technologies and experiences with Mongolia at the Mongolian agency on Sept. 4. (Photos: MIRECO)
MIRECO Share Mining Reclamation Technology & Experiences with Mongolia

MIRECO held a ceremony to donate inductively coupled plasma optical emission spectroscopy (ICP-OES), an analysis equipment, to share Korea's mining damage management technologies and experiences with Mongolia on Sept. 4.

The event was arranged under MIRECO and Korea Trade-Investment Promotion Agency's global corporate social responsibility program. MIRECO repaired the ICP-OES and offered it to Mongolia as well as conducted an on-the-job training program on the operation of the equipment and analysis methods.

MIRECO Offers On-Line Training Program to Mining Safety Management Officials in Kyrgyzstan

MIRECO conducted an on-line training program to 17 officials in the mining safety management and environment safety areas in Kyrgyzstan from Sept. 7 through Sept. 15.

The corporation has been carrying out the project, titled "Strengthening of Eco-friendly Mining Damage Management Capabilities for Sustainable Development," under the global training program of the Korea International Cooperation Agency since 2018.