Ksure to lead the way to expand Ksure total trade to $2 tln by expanding insurance coverage to 32 tln won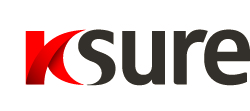 Korea Trade Insurance Corp. (Ksure) pledged to lead the nation's total trade to the $2 trillion level as early as possible as the state-run firm celebrates its 20th anniversary this year.
Ksure has been given huge credit for helping Korea's total trade reach $1 trillion last year by doubling its trade insurance coverage in 2008 to overcome the financial crisis set off by the United States, industry sources said.
President Cho Kye-ryoong said he knows the dangers that lie in the path of growth in exports this year and the next several years, the largest one being the impacts from the European debt crisis and a slowdown in exports, thus limiting the growth of large conglomerates.
Both Italy and Britain had their international trade reach $1 trillion in 2006 and 2007, but failed to maintain the level in the ensuing years. He expected this year to be a make or break year as Korea sets out to reach the $2 trillion level in the near future.
Ksure has decided to expand its support to Korean exporters in the strategically important markets around the world; help the globalization of SMEs; expand support to plant construction and natural resources exploration projects as new growth engines; and expand global ECA to create joint value to help the nation achieve $2 trillion in trade as early as possible.
Ksure will focus its strategy on carving out a big share of the emerging global trade market under its segregated and preemptive support policies for Korean companies in the strategically important markets with great growth potential in the process of global trade, which is being reformed and centered around the G-20 nations in the place of an advanced nation-centered one following the global financial crisis.
Ksure will designate 69 countries in five regions including Africa and India as special markets in which to expand insurance coverage this year to 32 trillion won, up from 23 trillion won, for Korean traders.
The insurance coverage to these areas and countries will be tailored to their specific needs and increase the number of Mobile-K Offices to strengthen credit checks at locations where deals are taking place.
Ksure will not spare its support to SMEs on the way to the globalization of their operations under its policy that it is a key element to expanding international trade to $2 trillion.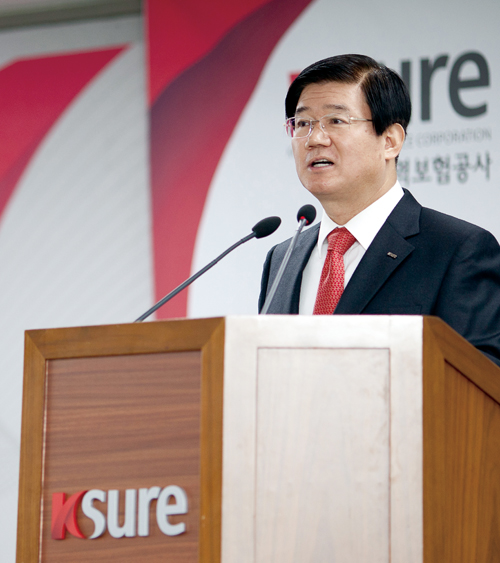 President Cho Kye-ryoong of Korea Trade Insurance Corp.(Ksure)
Ksure will also expand the number of Trade Champs Club designed to help SMEs grow and assign trade financial consultants to SMEs to help them on a one-one basis.
At the same, Ksure will help SME exporters increase their liquidity by vitalizing the use of the EFF so that SME exporters may be able to secure cash through the use of their export credit notes.
Ksure is set to increase the mid-to-long-term support from 14 trillion won last year to 19 trillion won this year to assist Korean firms engaged in plant and natural resources exploration projects in Central Asia and emerging countries with large growth potential.
In particular, Ksure plans to give support to SMEs engaged in plant construction so that they can secure many plant projects.
To help Korean firms secure large projects that require large investments, Ksure will build a cooperative financial network with Islamic finance and other wealth funds, as well as reinsurance linked up with NEXI, a Japanese reinsurance firm, ECA, and other sources. nw