KODIT to Promote Regional Employment and Support Promising Startups with Good Ideas
Will operate Content IP Guarantee with Korea Creative Content Agency to support SMEs that will utilize cultural contents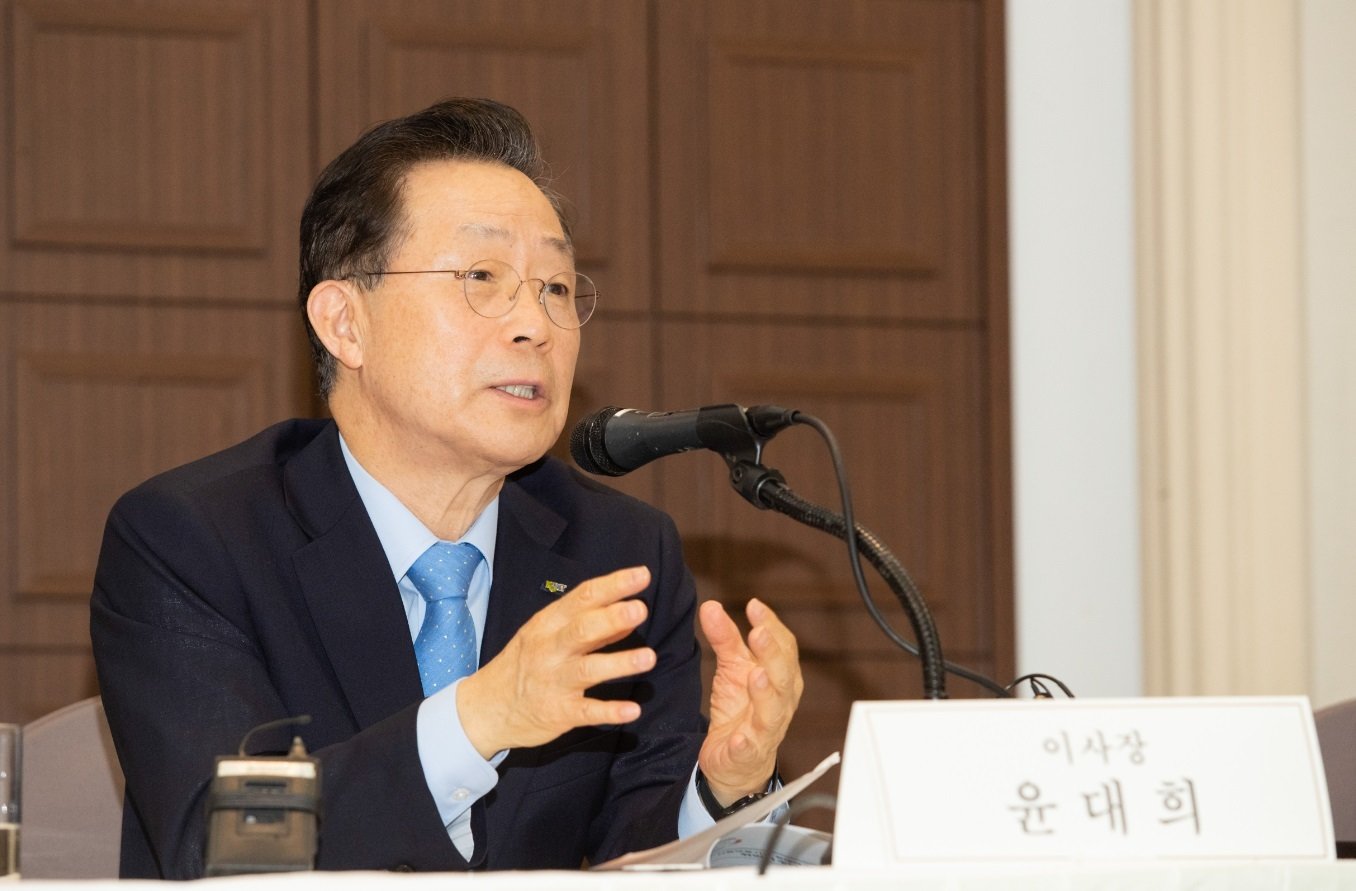 Chairman and CEO Yoon Dae-hee of Korea Credit Guarantee Fund (Kodit). (Photos: Kodit)
Korea Credit Guarantee Fund (KODIT) announced on Sep. 10 that it signed a business agreement on boosting employment in Daegu and North Gyeongsang Province with the Industrial Bank of Korea (IBK) and Korea Industrial Complex Corporation on the same day.

This agreement aims to create jobs and promote youth employment in Daegu and North Gyeongsang Province.
The three companies agreed to actively cooperate in projects to train employees at small and medium-sized enterprises (SMEs) and support such SMEs' growth, making efforts to support youth employment and sharing employment information, and strengthening financial support for the win-win growth of companies and young people.

Prior to the agreement, KODIT held the 2020 Daegu-Gyeongbuk untact Job Fair for three weeks from Aug. 17. Forty outstanding SMEs including those listed on the KOSPI, participated in the fair, and 70 percent of the participating companies were excellent companies based in Daegu and North Gyeongsang Province.
Participating companies provided recruitment information through an online public relations center and received resumes from jobseekers. The event attracted 10,000 job seekers and ended with untact interviews that started on Sep. 10.

KODIT has supported the creation of a total of 6,700 jobs for SMEs so far through the "job creation project" since 2013.
In addition, the company actively responds to the government's job creation policies by operating collaborative matching projects with a number of related organizations through the operation of Job Cloud, a job platform specializing in jobs at SMEs.

"We hope this agreement will help companies facing difficulties in recruiting people and job seekers who want to work," a KODIT official said. "KODIT will continue to do its best to promote community employment as a public institution based in Daegu and North Gyeongsang Province."

KODIT announced on Sep. 9 that it will run the "Professional Start-up Specialization Support Program" to support the development and commercialization of ideas of startups that moved into "Front One."

Front One is the world's largest start-up support center opened at KODIT's former Mapo Office Building with 20 floors above ground and five basement floors in July.

Those eligible for this program are startups that have moved into Front One. KODIT will provide up to 500 million won in preferential guarantees through the evaluation of business models.
"This program has provided a financial environment for startups in Front One to continue their challenges and growth based on innovative ideas and technologies," a KODIT official said. "We will continue to work together to spread an innovative start-up culture at Front One."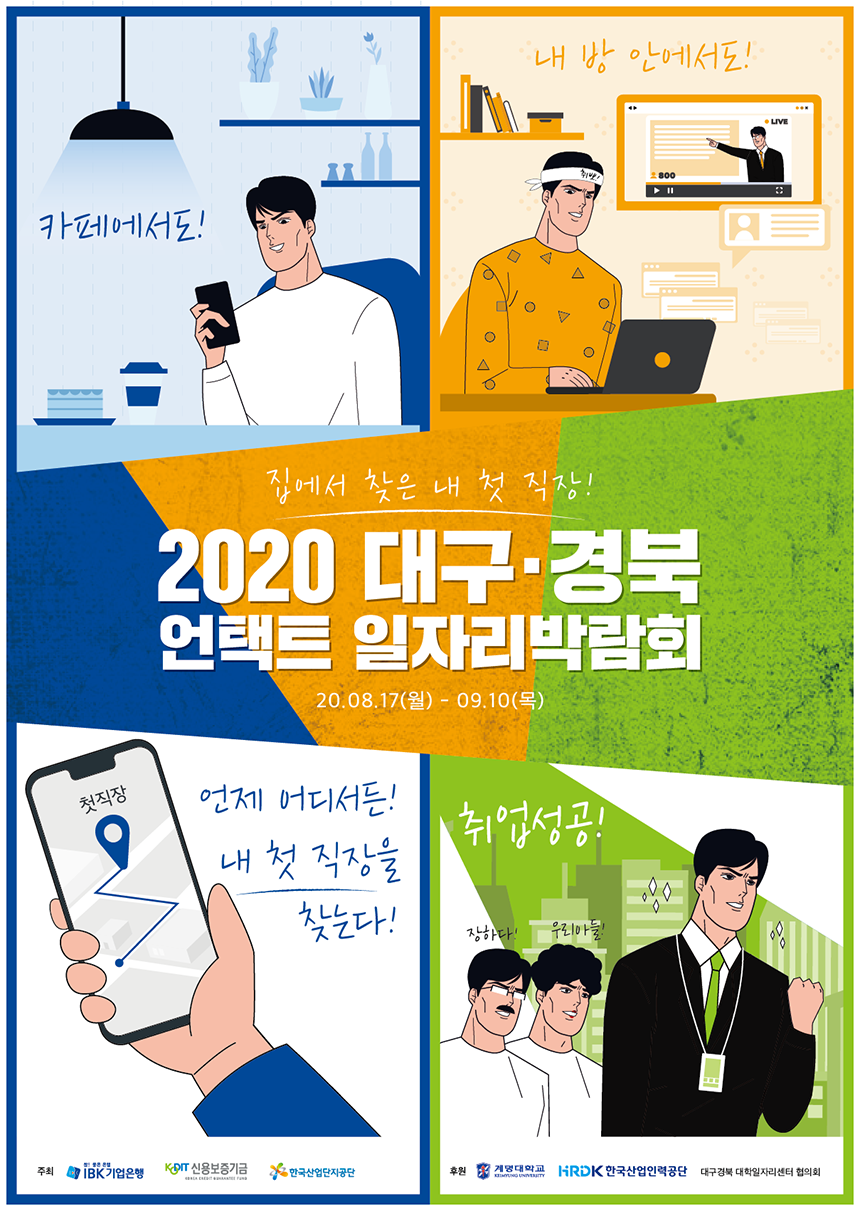 A poster of the Daegu-Gyeongbuk untact Job Fair.

In addition, KODIT announced on Sep. 7 that it will operate "Content IP Guarantee" with the Korea Creative Content Agency to support SMEs that advance into various industrial sectors by utilizing the intellectual property (IP) of cultural contents.

Content IP Guarantee is a guarantee product that provides commercialization funds required to produce or provide services using content-related intellectual property. The commercialization funds include funds for R&D, production and marketing.

Those eligible for this support program are Korean companies that have intellectual property related to contents or take advantage of contents IP.
Specifically, they are content companies with copyrights and other content IP that wants to produce "one source, multiple use" (OSMU) contents by utilizing its content IP and content companies with contents IP such as copyrights that want to produce licensed products such as stationeries and clothes and/or services such as contents experience services based on their content IP.

The Korea Creative Content Agency will assemble a recommendation committee with content evaluation personnel and legal experts.
The committee will recommend companies to KODIT. After screening the candidates, KODIT will provide support for selected companies by giving them preferential guarantees.