Shinhan Bank Launches Digital Sales Dept. and AICC to Expedite Digital Innovation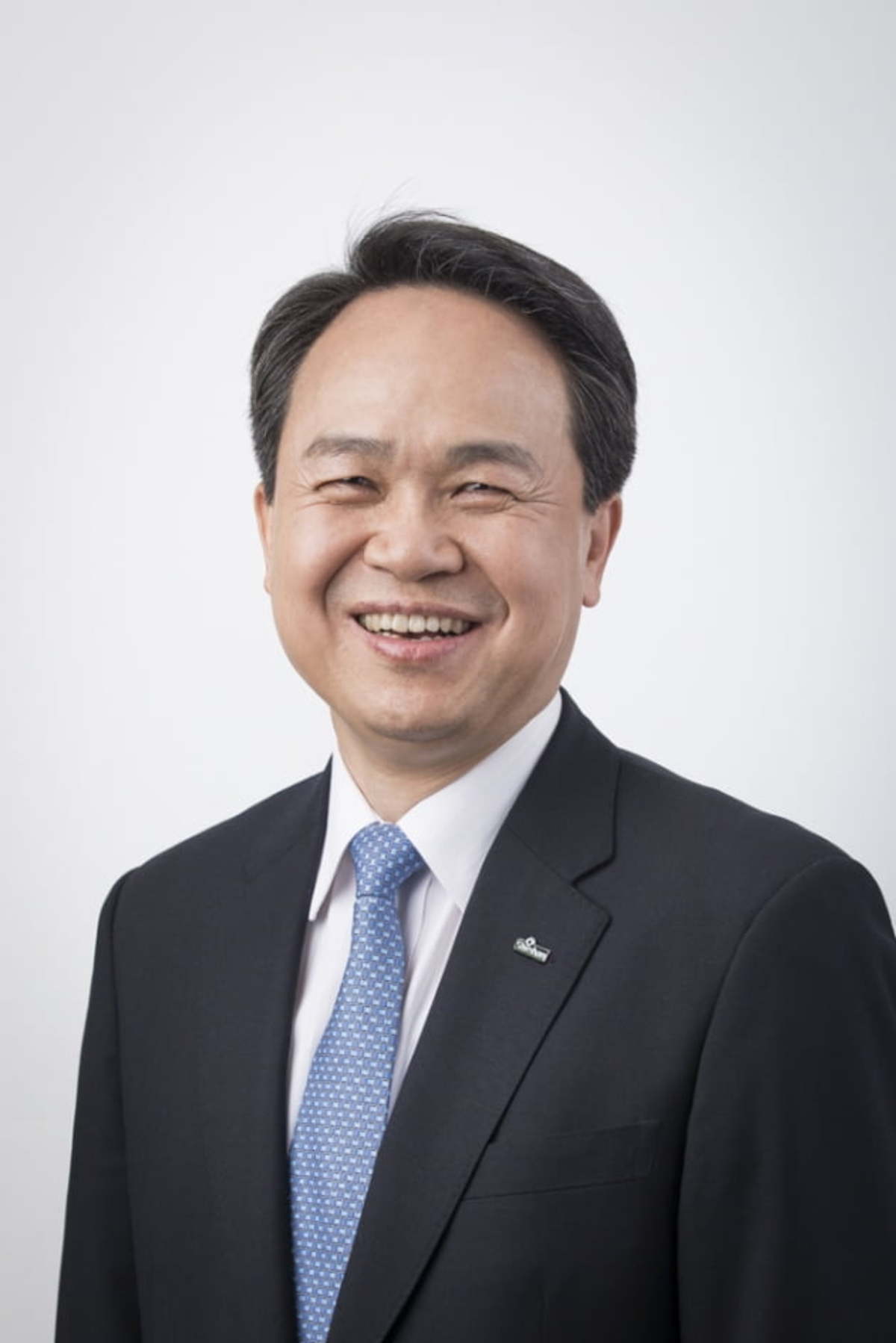 Shinhan Bank President Jin Ok-dong.
Shinhan Bank announced on Sept. 2 that it will launch an AI integration competency center (AICC) that will lead to changes in banking based on artificial intelligence (AI) and the Digital Sales Department that will revolutionize the way they sell products and services through digital operations.
The launch of the Digital Sales Department and the AICC reflects President Jin Ok-dong's will to take advantage of accelerated digital changes in the financial industry as an opportunity to prepare Shinhan Bank for the future.

Shinhan Bank plans to pursue digital transformation (DT) that revolutionizes the way banks work for the purpose of supporting and supplementing their operations and work systems.

The Digital Sales Department is the first windowless digital branch in the financial sector to provide financial services to customers online.
The service saves customers from having to visit a bank branch. Professional employees of the Digital Sales Department provide customized financial consulting to 16,000 digital customers who have no history of visiting offline branches over the last two years.

In order to communicate with digital customers, Shinhan Bank will set up a new page called "My Care" on its mobile application "Sol."
Through this page, customers can easily consult with bank employees by viewing customized messages, useful financial contents, products customized for customers and important financial schedules that customers should not miss.
Starting with the My Care page, Shinhan Bank plans to expand its channel to provide practical financial solutions to digital customers.

The AICC was established to combine Shinhan Bank's AI-based capabilities owned by Shinhan Bank and redesign of employees' work from an AI perspective.
The bank aims to quickly apply AI to actual field work, not research and development. Thus it has recruited employees with abundant field experience and creative business minds to secure strong execution momentum, expanding the current 10-member exclusive AI organization into a 50-member one.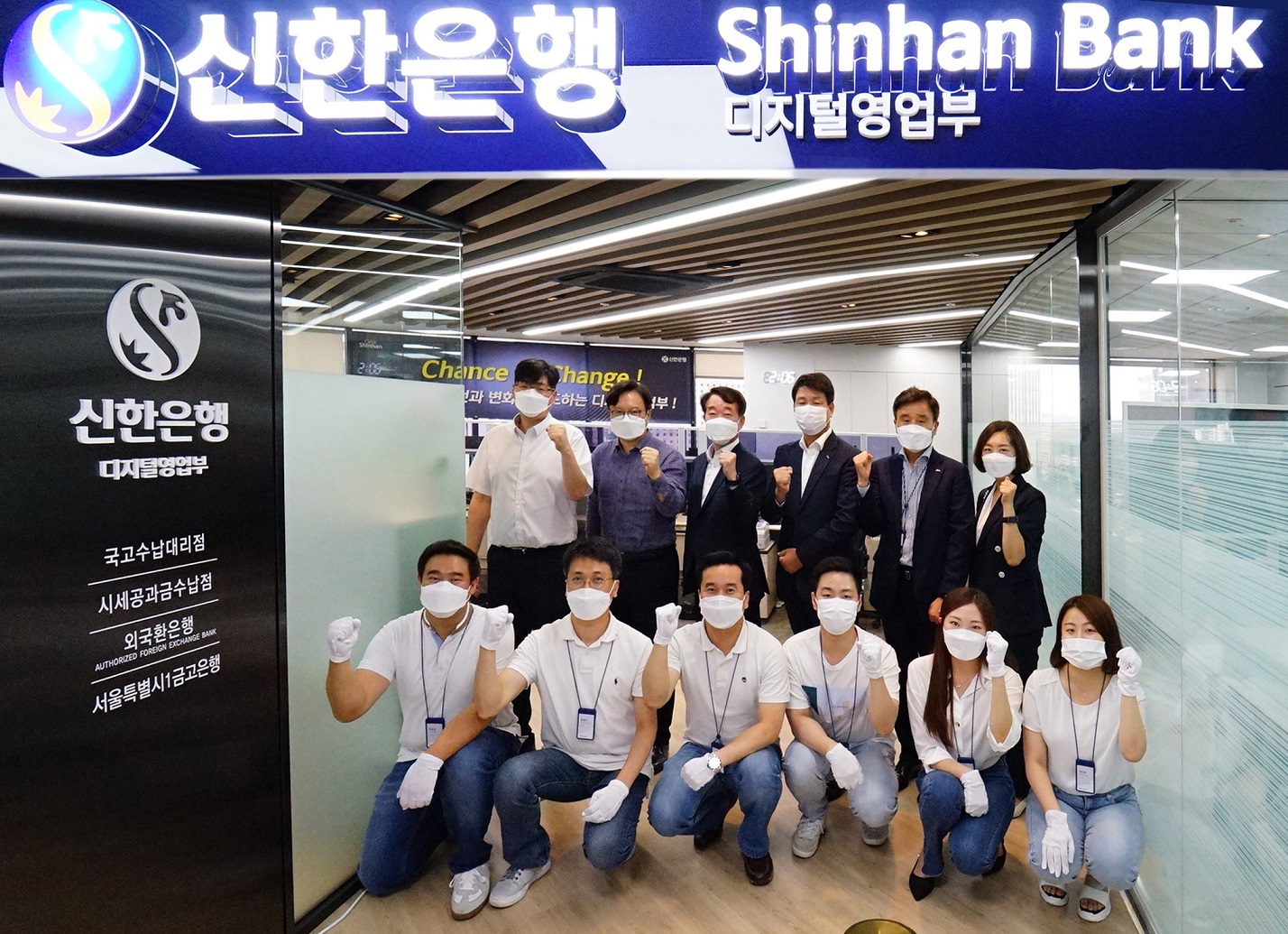 Vice President Park Woo-hyuk (second from left in the back row) of the Digital Individual Customer Division, Vice President Lee Myung-koo (third from right in the back row) of the Gigital Group pose for a photo shoot with employees of the Digital Sales Department (front row), and other Shinhan Bank employees during a ceremony in honor of the birth of the Digital Sales Department at Shinhan Bank in Jung-gu, Seoul on Sep. 1. (Photos: Shinhan Bank)

In the future, the center is planning to push ahead with speedier AI-powered financial services by discovering business data-based tasks and combining AI and IT infrastructure capabilities in an organic way.

In addition, Shinhan Bank plans to establish an original AI ecosystem through the "Digital Guardian" Program of Shinhan Financial Group.
Bank president Jin Ok-dong is in charge of AI guardianship. Shinhan Bank expects the Digital Guardian Program to develop innovative business models and conduct AI-based DT in all areas of the banking business by empowering Shinhank Bank to collaborate with leading IT companies and fintech companies.
The Shinhan Financial Group will be able to upgrade its AI level as its affiliates will be able to share related know-how through the program as well.

"We will introduce new financial services that customers can enjoy through the two new digital-specialized organizations," a Shinhan Bank official said. "We will continue to provide new value to customers through continuous digital innovation."

Shinhan Bank has started to sharpen its global competitiveness through the World Federation of Overseas Korean Traders Associations (World-OKTA)'s networks.

Shinhan Bank announced on Sept. 3 that it signed a business agreement to strengthen global cooperation the World-OKTA two days earlier.
Shinhan Bank and the World-OKTA agreed to cooperate in various areas, including overseas financial consulting and financial support, support for small and medium-sized Korean companies' online platform projects for their global expansion, the World-OKTA's domestic and overseas education programs and the creation of jobs for Koreans overseas.

Shinhan Bank has 153 overseas networks in 20 countries around the world. The World-OKTA's has 7,000 Korean businesspeople and 21,000 next-generation Korean businessmen as its members in 68 countries.

"We hope the agreement will serve as an opportunity for the win-win growth of Shinhan Bank and the World-OKTA in the global market," a Shinhan Bank official said.
"We will continue to cooperate with the World-OKTA to help Korean companies make inroads into foreign markets and rev up their international trade."