Releases 'U+ Real Glass,' 5G AR glasses the telco has developed in cooperation with Chinese mixed-reality product developer Nreal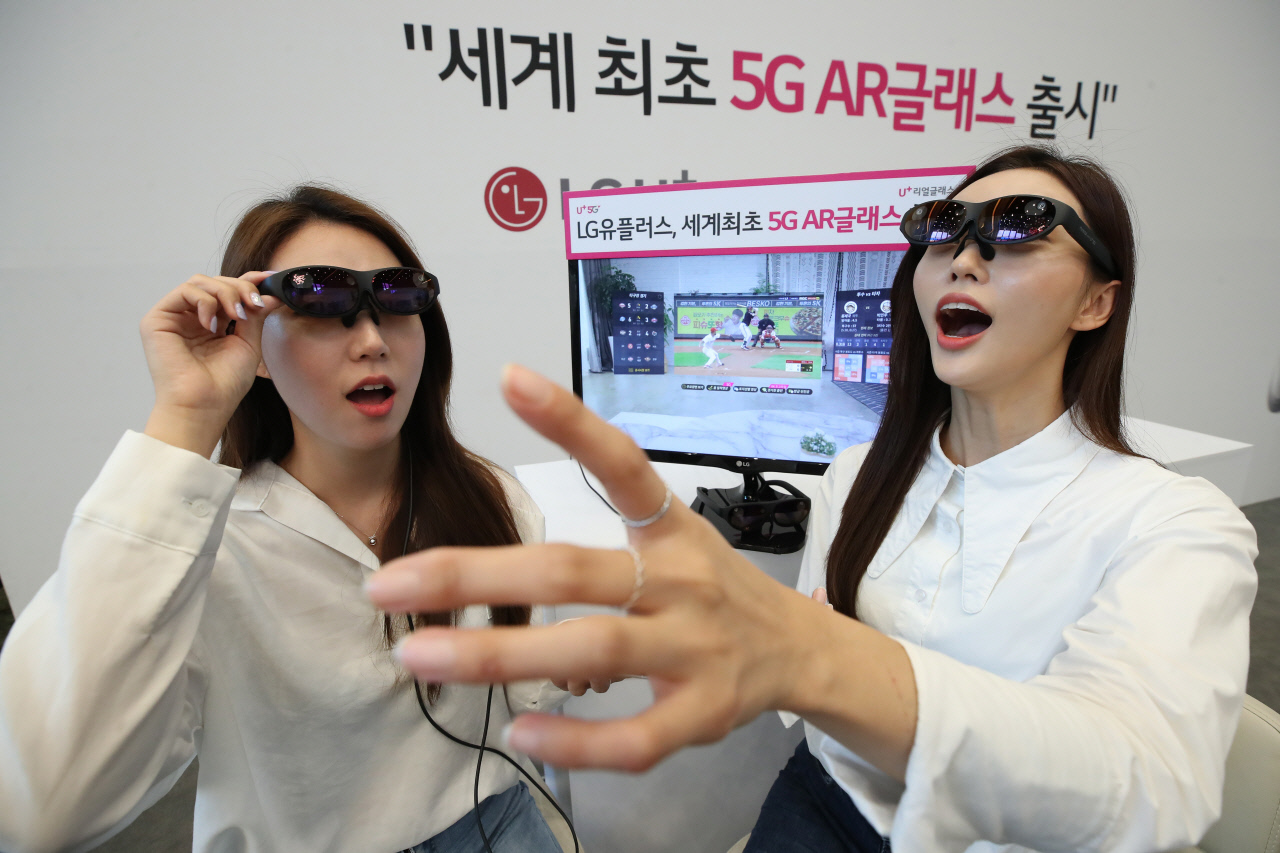 LG Uplus has Released 'U+ Real Glass,' a 5G AR glasses the telco has developed in cooperation with Chinese mixed-reality product developer Nreal. (Photo: LG Uplus)
LG Uplus is gearing up to get an upper hand in the global AR market.

LG Uplus is a Korean telecom service provider which has secured the most augmented reality (AR) content among Korean telcos.
LG Uplus, expanding investments into the AR segment, is sharpening its competitive edge by releasing 5G AR glasses for general consumers and services employing new technologies.

These moves may be construed as LG Uplus Vice Chairman Ha Hyun-hoe's content-oriented strategy to expand the company's forays into the whole AR ecosystem.

LG Uplus will release "U+ Real Glass," the 5G AR glasses the telco developed in cooperation with Chinese mixed-reality product developer Nreal.
Like wearing normal glasses, you can extend the size of the screen to 100 inches, and you can see in front of you while using services through transparent lenses.
Microsoft and other global players have put on the market AR glasses targeting the B2B market, but it is the first time LG Uplus has released AR glasses targeting the B2C market.

If you watch a sports game while wearing U+ Real Glass, you will be able to feel more immersed than conventional TV. You can also search anything you want to know on a search window.
Since U+ Real Glass is no different with the general glasses, you can assemble furniture or cook food while watching videos on YouTube.

You can freely move a beam on the screen using a smartphone and open three apps at once. The conventional AR glasses cost a few million won and weigh more than 300 grams per unit, but U+ Real Glass glasses cost 699,000 won and are lighter at 88 grams.

If you sign up for 5G Premium Plus for 100,000 won monthly, including VAT, you can purchase U+ Real Glass for half price. Currently, users have to use their 5G smartphones to connect to U+ Real Glass.
LG Uplus is developing a service recognizing hand gestures. You could see a file or video, seemingly in the air, while holding a teleconference. The Korean telco plans to release a remote controlled teleconference service in cooperation with The AR/VR collaboration platform developer Special.

Popularizing AR depends on how much diverse content is secured. In May 2019, LG Uplus became the first Korean company to open an AR studio in Seocho-dong, Seoul.
The telco plans to open a 2nd AR studio in Janghang-dong, Ilsan, north of Seoul, this year to expand AR content. The proposed 2nd AR studio is twice the size of the first one covering 100 sq. meters in Seocho-dong.
The new studio will double the number of cameras capable of shooting 4K definition videos to 60.

LG Uplus had initially considered the venue of the 2nd AR studio as Sangam DMC, but the company has finalized it as Ilsan, citing production environment and other conditions.
An LG Uplus official said idols and other entertainers will find not hard to travel between Sangam DMC the Insan AR studio as they are in close proximity.

Ilsan also has KINTEX, the nation's biggest convention & exhibition center. KINTEX will have a large-sized exhibition space added by 2024. There is a potential to converge the AR industry and MICE industry.
The nation's first K-pop arena, being built in Ilsan by CJ Live City, a subsidiary of CJ Group, is situated close to LG Uplus' 2nd AR studio.

LG Uplus Logs Higher-Than-Expected Business Performance

LG Uplus owns 2,200 pieces of AR content as of the end of July, a 30 percent increase over the end of last year, and LG Uplus plans to raise the figure to 3,000, the highest among Korean telcos.

Once AR function is added, LG Uplus' mobile platform U+AR is expected to emerge as the Korean version of Snapchat.
The U.S. mobile messenger platform offers diverse AR effects like "AR filter," capable of transforming users' faces into kids.' About 170 million users around the world share photos and videos using an average of 30 AR functions daily.

LG Uplus recorded Q2 business performances higher than market forecasts. The telco saw its Q2 operating profit surge to 239.7 billion won, a 59.2 percent jump over the same period a year ago.
LG Uplus chalked up the highest rate of operating profit to sales in Q2 among telecom service providers. LG Uplus topped the rate of operating profit to sales for the third consecutive quarter.