Funds are used to help companies and major industries overcome economic difficulties kindled by pandemic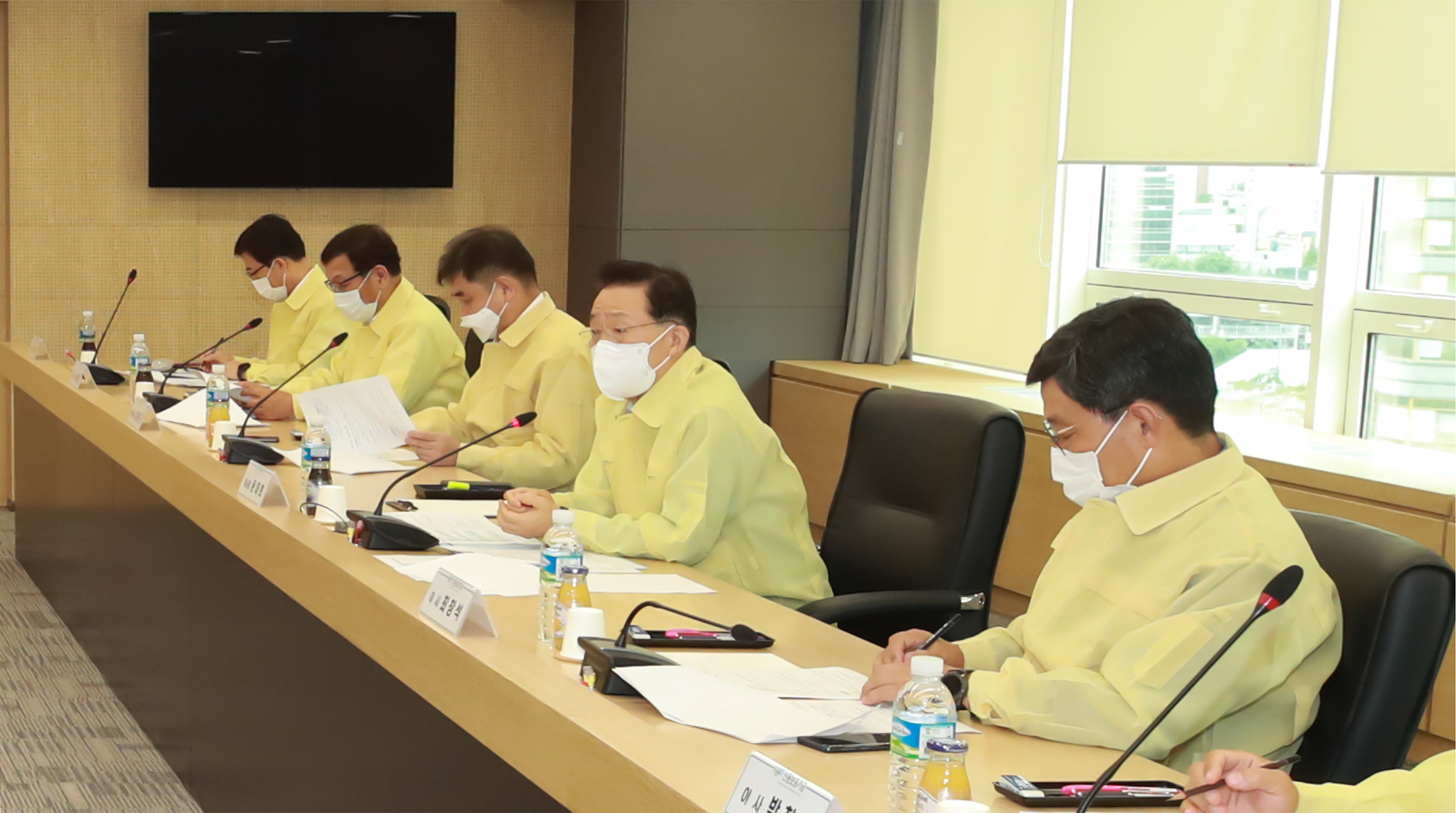 Officials with Korea Credit Guarantee Fund (KODIT) hold a meeting designed to look at companies which have suffered losses and damages, caused by downpours on Aug. 10. (Photo: KODIT)
Korea Credit Guarantee Fund (KODIT) announced on Aug. 21 that it has provided 360 billion won in new funds to companies and major industries hit hard by the COVID-19 virus through primary collateralized bond obligations (P-CBOs) in August.

A P-CBO is a kind of Asset-Backed Security (ABS) backed by a variety of corporate bonds with varying degrees of risks and coupon rates. KODIT provides P-CBO guarantee to facilitate financing to companies more efficiently by guaranteeing the repayment of their corporate bonds indirectly.

KODIT has not issued ABSs in July and August, when corporate demand for funds is low. In 2020, however, KODIT will provide new funds through P-CBO guarantees in August, following July, in order to cope with urgent demand for funds due to COVID-19 and provide financial support to companies.

Through the issuance, KODIT provided new funds to companies and industries hit hard by the COVID-19 crisis one large company and 11 mid-sized companies, at a fixed interest rate of three years, and liquidity to a credit company that actively participated in granting grace periods for the repayment of principal and interest to small business owners.

"With the growing risk of the re-proliferation of the novel cornonavirus, companies are facing growing uncertainties," a KODIT official said on Aug. 21, "KODIT will continue to serve as a strong supporter for companies suffering from liquidity problems by stably providing long-term funds to overcome the COVID-19 crisis."

Meanwhile, KODIT plans to provide an additional five trillion won in new funds through P-CBO guarantees by the end of this year. It will receive application from companies which want to issue ABSs by Aug. 21 for September issuance and by Sep. 18 for October issuance.


In the meantime, KODIT announced on Aug. 11 that it signed an agreement with NH Nonghyup Bank at Nonghyup Bank's headquarters in Jung-gu, Seoul on Aug. 10 to jointly support the Value-Up Program for Small and Medium-sized Enterprises.

The "Small and Medium Business Value-Up Program" supports small and medium-sized enterprises with growth potential but temporary difficulties such as new guarantees for up to four years, management consulting, and extending full maturity, and prevent companies' insolvencies and restore their competitiveness through interest rate cuts with banks under agreements.

The service targets manufacturing companies, innovative small and medium-sized enterprises and job creation companies with more than one to ten billion won in total loans and less than 10 billion won in total loans and their loans from KODIT and NH Nonghyup Bank accounting for more than 50 percent of their total loans among companies using KODIT services.

Under this agreement, KODIT will provide support for new guarantees (fixed guarantee rate of 1 percent), the full maturity extension of existing guarantees, preferential guarantee fees (a cut of up to 0.5 percent), management consulting, discounts on sales bond insurance premiums and NH Nonghyup Bank will provide new loans, make a cut in loan rates (up to 2 percentage points), and extend loan maturity and installment payment periods.

"We hope this agreement will serve as an exemplary case of cooperation between policy and private financial institutions," a KODIT official said.
"We will actively support small and medium-sized enterprises with social values and big growth potential through the value-up program down the road." Established in 1976, KODIT is the nation's leading institution that underpins small and medium enterprises (SMEs) with its comprehensive services.

In the past 40 years, KODIT has been a reliable partner to small and medium-sized enterprises, playing pivotal roles in propping up the nation's economy.
Facing the waves of changes both locally and internationally, KODIT vows to serve as a game changer in making a paradigm shift from a conglomerate-dominated economy to an SME-oriented one.
KODIT will complete its missions to build an innovative ecosystem where SMEs are able to grow and innovate.