Holds launching ceremony for NH Future Innovation Leaders through video conferencing system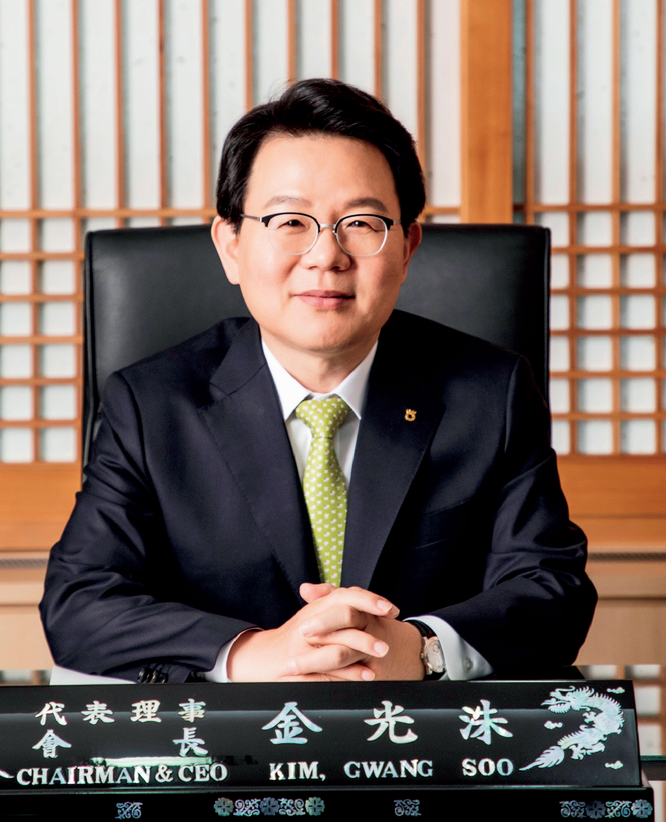 NH Nonghyup Financial Group Chairman Kim Gwang-soo. (Photo: NHFG)
NH Nonghyup Financial Group posted 910.2 billion won in net profit in the first half of 2020. The figure was down 8.7 percent year-on-year, as 123.8 billion won in provisions were preemptively calculated in preparation for COVID-19.

In the first half, interest income arrived at 3.92 trillion won and commission income hit 765.8 billion won. However, net profit was 1.059.9 billion won when the agricultural support project cost (214.1 billion won) was included under the National Agricultural Cooperative Federation Act.

NH Nonghyup Financial Group also posted 571.6 billion won in net profit in the second quarter, up 68.8 percent from 338.7 billion won in the first quarter with recoveries of securities, foreign exchange and derivative businesses due to the stabilization of the financial market.

In the first half, the amount of its credit loss allowance transfers reached 322.8 billion won, up 72.7 percent from 186.9 billion won a year earlier. This is because NH Nonghyup Financial Group preemptively set aside 123.8 billion won in additional loan-loss provisions to enhance its ability to absorb future losses to be sparked off by the COVID-19 virus.

In terms of asset soundness, NH Nonghyup Financial Group continued to stay stable, recording a substandard and below ratio of 0.49 percent and a loan-loss reserve ratio of 130.9 percent in the same period.
Total assets reached 473.8 trillion won, up 10.9 percent (46.7 trillion won) from the end of 2019. Its ROE stood at 8.40 percent and its ROA at 0.40 percent (9.78 percent ROE and 0.47 percent ROA before cost for agricultural support).

NH Nonghyup Bank, a key subsidiary, posted 726.8 billion won in net profit in the first half, down 14.1 percent (118.8 billion won) from a year earlier. This is because interest income rose 2 percent (52.9 billion won) on year, but the transfer of credit loss provisions increased 76.8 percent (104 billion won) due to additional loan-loss reserves stemming from an adjustment based on a future economic outlook.

Among non-bank affiliates, NH Investment & Securities posted 261.7 billion won in net profit, followed by NH Nonghyup Life Insurance with 40.4 billion won in net profit, NH Nonghyup Non-Life Insurance Co. with 41.9 billion won, NH Nonghyup Capital with 28.5 billion won, NH-Amundi Asset Management with 11.5 billion won and NH Savings Bank with 10.7 billion won.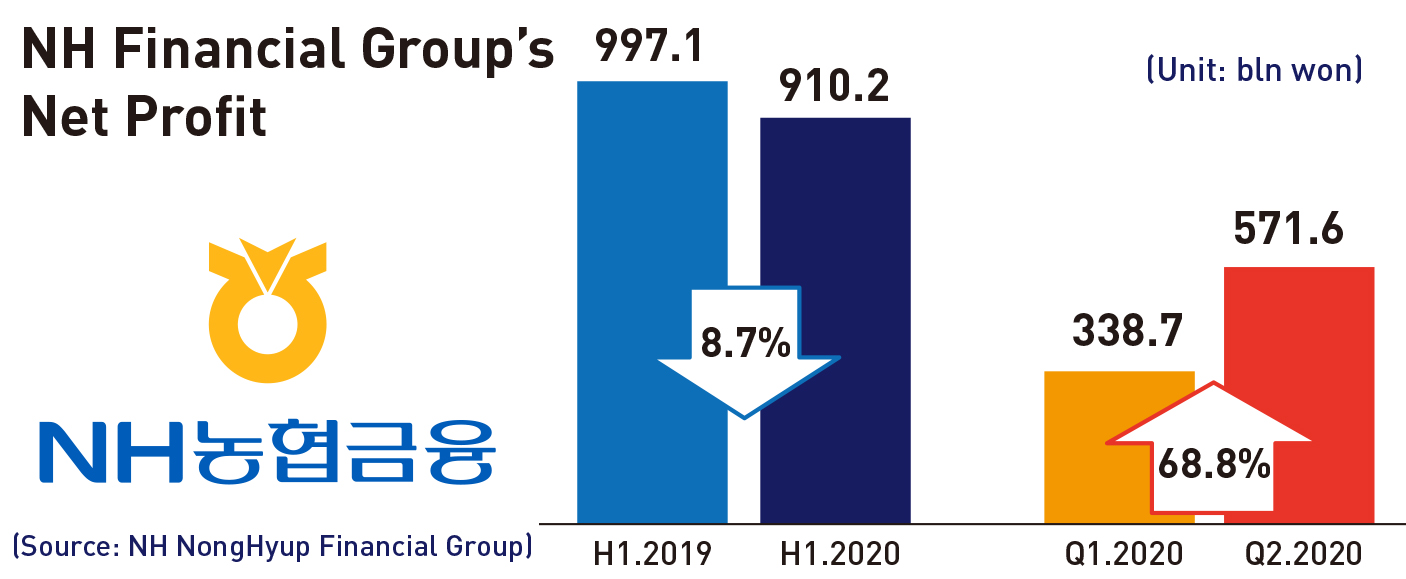 "In response to our management environment under the influence of the spread of the novel coronavirus, we will focus on key tasks such as strengthening risk management of potential insolvency assets and continuous implementation of management improvement tasks by setting 'strengthening internal management that prepares for the future' as our strategic direction in the second half of this year," an NH Nonghyup Financial Group official said.

"We plan to consider future response tasks such as accelerating digital transformation and finding new businesses including the My Data business in devising our mid-term management strategies and push forward with them throughout the group."

In the meantime, NH Nonghyup Financial Group Chairman Kim Kwang-soo has accelerated his group's full-fledged transition into a digital financial group with the launch of a future innovation leader program.

The financial group held a launching ceremony for the fifth class of NH Future Innovation Leaders in 2020 through a video conferencing system on July 31. Chairman Kim Kwang-soo and vice presidents attended the ceremony.

The NH Future Innovation Leader Program is a next-generation leader development program to foster those who will take the initiative in bringing innovation to NH Nonghyup Financial Group. Mostly young employees have been participating in the program since 2016 to promote innovation at the Nonghyup Financial Group.

This year, the management selected the NH Future Innovation Leaders through non-face-to-face video interviews and 16 employees were finally selected.

Chairman Kim had time to freely share ideas on the future of NH Nonghyup Financial Group and how to make innovation successful throughout the group.