IBK president Yoon stresses innovative finance and fair play-based management at a ceremony held in honor of 59th anniversary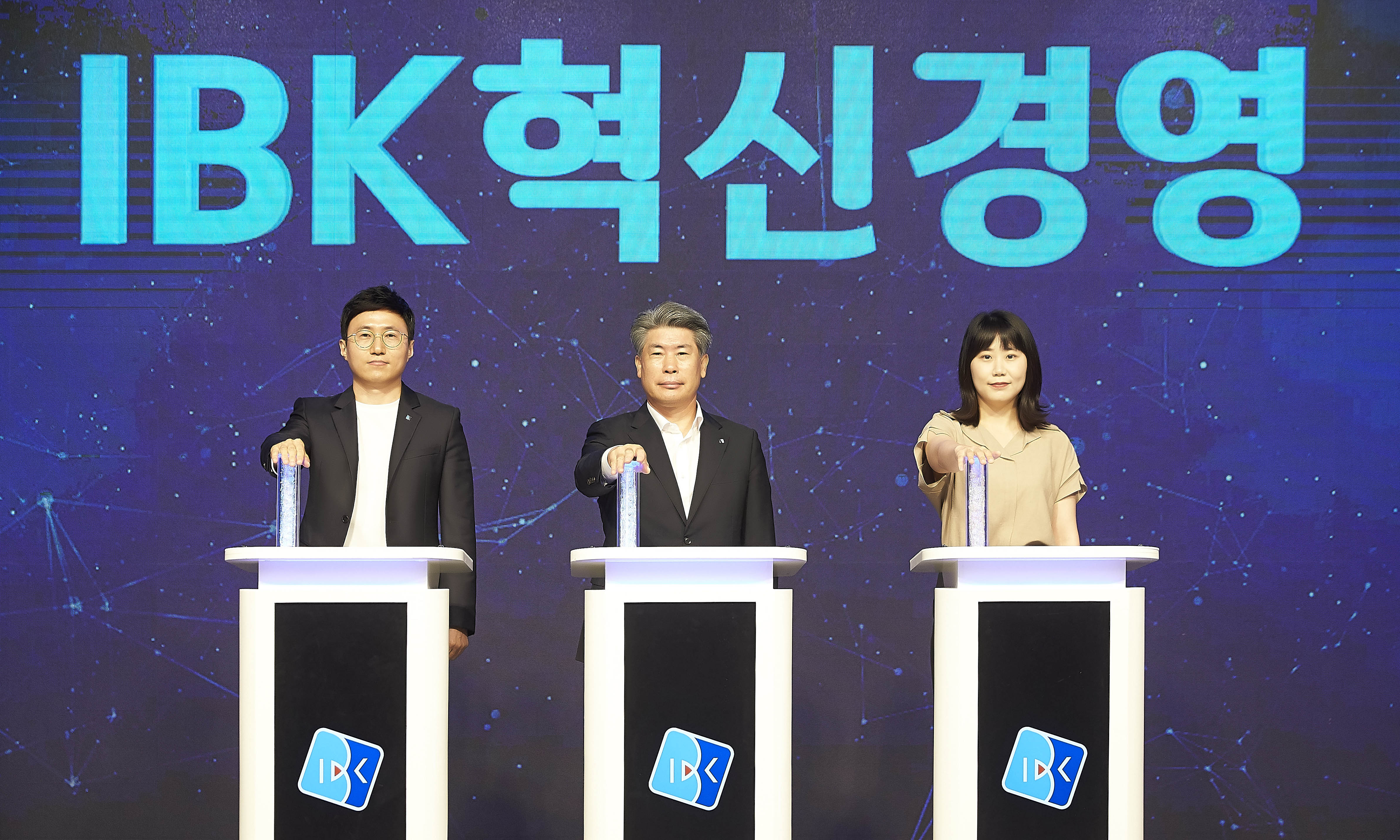 Yoon Jong-won, president of the IBK, poses for a photo shoot with employees in a ceremony to proclaim innovative management in a meeting of heads of nationwide branches at IBK Finance Tower in Seoul on July 27. (Photo: IBK)
Industrial Bank of Korea (IBK) will make a new leap forward through "innovative management" to attain the new vision of becoming a globally-competitive world-class financial group.
IBK said it held a virtual meeting with nationwide branch managers to declare innovative management at IBK Finance Tower in Jung-gu, Seoul on July 27.

At the meeting, IBK president Yoon Jong-won declared innovative management with its tasks to achieve the new vision, emphasizing, "The coming year of 2021 is the 60th anniversary of the establishment of IBK and a watershed in IBK's new 60 years."

Innovative management focuses on responsible and ethical management that strengthens the bank's competitiveness and supports the growth of customers through innovative finance and secures customer trust through fair play-based management.

To this end, IBK selected the establishment of a support system for each stage of corporate growth, leading the venture capital market for startups, the global expansion of financial know-how for small and medium-sized enterprises (SMEs), and the establishment of a digital environment for customers as innovative finance tasks.

For fair play-based management, IBK selected the enforcement of its customer protection process, the prevention of financial accidents through ethical management, the fulfillment of social responsibilities as a corporate citizen and personnel management innovation based on fairness and engagement as tasks.

IBK also reorganized its Key Performance Index (KPI) System to implement its innovative management strategy.
While establishing new "customer value" indicators and expanding points and items for innovative financing, IBK simplified the number of evaluation indicators to 14 from 30.
This action is aimed at establishing a business culture that considers customer needs as a top priority over excessive sales to achieve goals in multiple indicators.

"Innovative management is a roadmap for IBK to grow with customers and lead innovation in the financial industry as a policy partner," Yoon said.
"I hope innovative management will serve as a meaningful opportunity for the banking industry as well as IBK."

Meanwhile, due to COVID-19 concerns, more than 800 branch managers from across the country participated in the meeting through a video conference system.
They shared management results for the first half of 2020 and management strategies for the second half.

"Innovative finance is the front wheel to pioneer the future, and good management is the back wheel that keeps the organization's balance," Yoon said at a ceremony held in honor of the 59th anniversary of the IBK's foundation at IBK Finance Tower in Jung-gu, Seoul on July 31.

Yoon stressed that IBK should play its roles as a financial doctor for companies by suggesting the establishment of a support center for startups, fostering 1,000 global innovative companies over the next five years, and supplying 1.5 trillion won in venture capital over the next three years.

As major tasks for fair play-based management, Yoon suggested establishing the IBK Fair Play-based Management Index and establishing the IBK Ethics Charter in order to enhance employees' sense of compliance and ethics to restore customer trust.

"Let's take the Ethics Charter as our basic value and take off for the purpose of becoming a first-class bank in integrity, and further uproot financial accidents and corruption," Yoon added.

At the ceremony, IBK declared the IBK Ethics Charter to strengthen ethical management. The "IBK Ethics Charter" is an ethical management system for all IBK subsidiaries, as well as IBK, the bank explained.

Considering the COVID-19 situation, IBK held the ceremony on a small scale with executives and department heads without inviting any guests from the outside.

IBK said on July 21 that it carried out a reorganization focusing on strengthening the power of innovative finance and fair play-based management which are the two pillars of innovative management.

First of all, IBK set up the Innovative Finance Group to proactively respond to future industries and changes in customer needs and more actively support financial and non-financial services or small and medium-sized companies such as startups and innovation-powered companies.

The Innovative Financial Group consists of the Innovation Finance Department, the Innovative Investment Department, the Startup Support Department, and the IBK Consulting Center.