Korea Eximbank Chmn. Bang expresses hope Korean companies will aggressively tap overseas smart city development segments on the back of expanded collaboration between Korea Eximbank and LH
Chairman & President Bang Moon-kyu of Korea Eximbank and LH President Byun Chang-heum hold a copy of an MOU on overseas smart city infrastructure development projects after they signed the deal at Korea Eximbank headquarters in Yeouido, Seoul, on June 3. (Photos: Korea Eximbank)
The Export-Import Bank of Korea (Korea Eximbank) and Korea Land & Housing Corp. (LH) have signed an MOU so Korean companies can win more contracts associated with overseas smart city infrastructure development projects.

Smart city is one of the government's leading innovation growth businesses.

Smarty city refers to a city designed to help citizens lead a convenient and pleasant life by solving several problems occurring in the course of urban life, using advanced ICT.

On top of smart city, the government is pursuing innovation growth in eight areas, such as bio health, fin-tech, drones, new energy industry, futuristic automobiles, smart farms and smart factories.

Chairman & President Bang Moon-kyu of Korea Eximbank and LH President Byun Chang-heum signed an MOU on overseas smart city infrastructure development projects at Korea Eximbank headquarters in Yeouido, Seoul, on June 3.

Under the agreement, as for overseas smart city infrastructure development projects, the two organizations will organically connect official development assistance programs and investment development projects.
Funds from Korea Eximbank will be utilized to spur investment development projects. The deal also calls for them to explore promising projects and promote cooperation.

Korea Eximbank Chairman & President Bang said he expressed hope Korean companies will aggressively tap overseas smart city development segments on the back of expanded collaboration between Korea Eximbank, the policy financing institution specializing in overseas transactions and LH, the public SOC entity.

Korea Eximbank has been credited for having supported plentiful overseas mid- and long-term projects using diverse financing support tools while LH is noted for having carried out many industrial complexes and urban development projects as a public SOC entity.

With the signing of the deal, Korea Eximbank's overseas policy financing support like Indonesia's relocating its capital and India's urban redevelopment projects and LH's diverse overseas development project experiences are expected to have synergetic effects.

On top of implementing detailed projects, Korea Eximbank and LH also plan to ramp up collaboration to support innovation growth industries and to promote economic cooperation like regional development in "New Southern" and "New Northern" countries.

The two plan to share global networks and hold working-level negotiations in order to ensure the efficient operation of the MOU.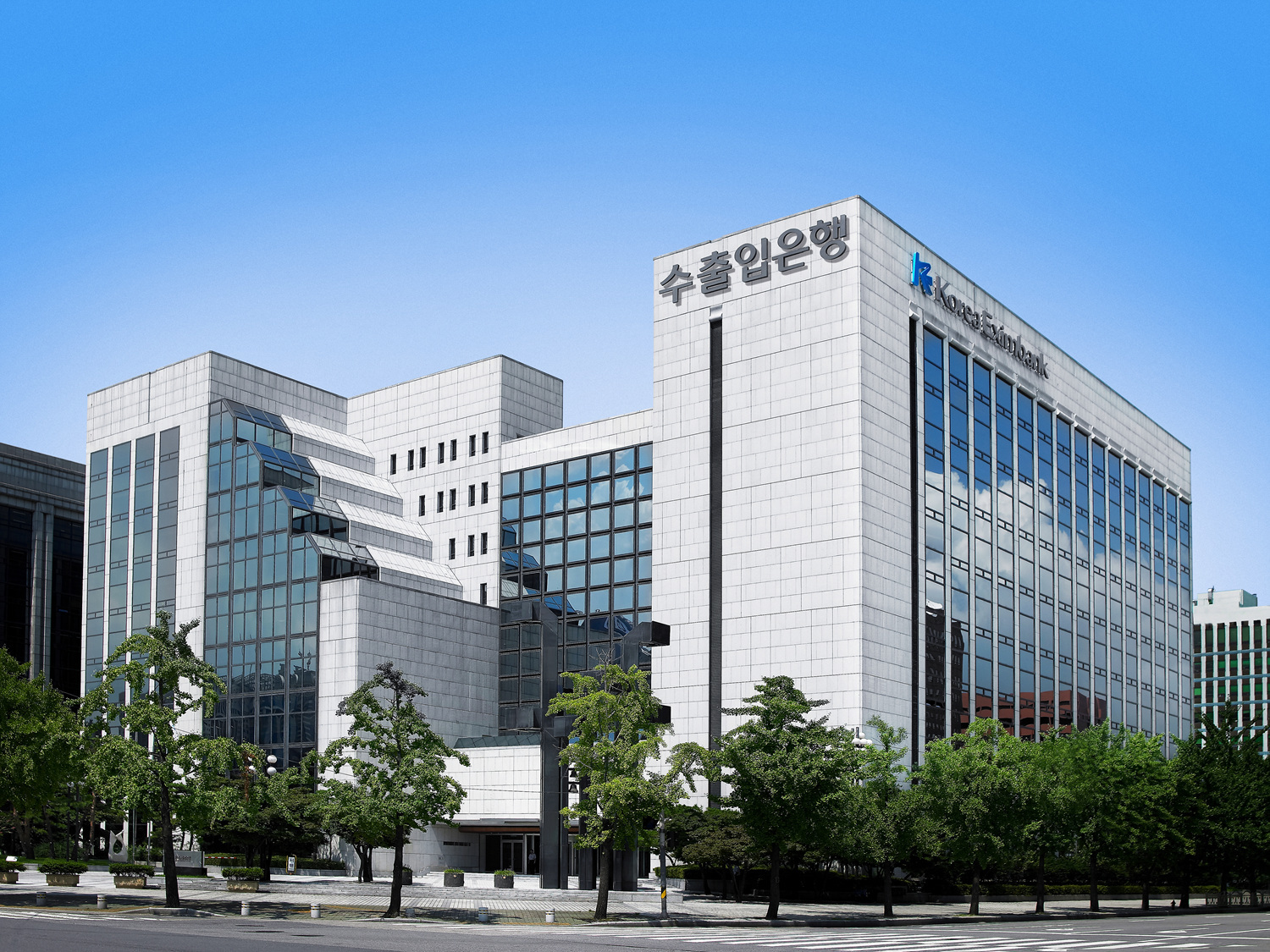 A view of Korea Eximbank headquarters in Yeouido, Seoul.