Signs consulting contract with IDB to help countries in Central and South America better manage their state-owned assets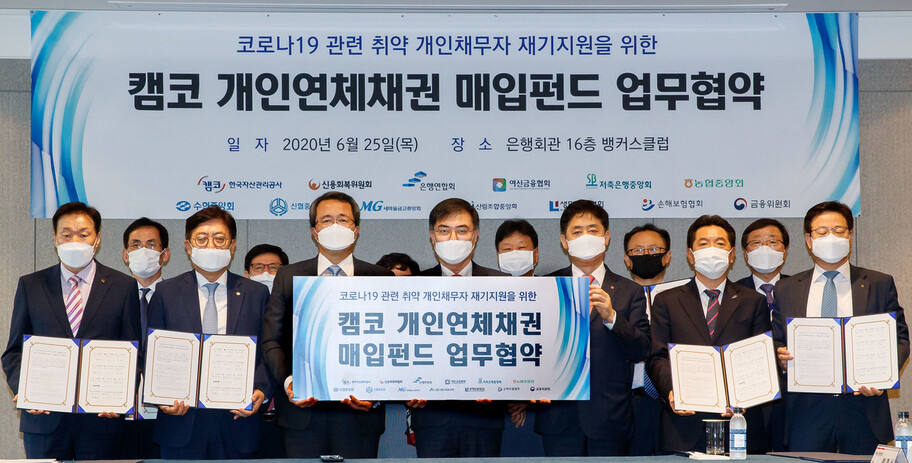 Dignitaries, including Chairman Lee Kye-moon of Credit Counseling & Recovery Service, Chairman Park Jae-shik of Korea Federation of Savings Banks, President Moon Sung-yu of Korea Asset Management Corp. (KAMCO), and Vice Chairman Sohn Byung-doo of the Financial Services Commission, and Chairman Kim Joo-hyun of the Credit Financial Association of Korea, attend a ceremony to sign an MOU on KAMCO's fund to purchase personal overdue debentures at the Korea Federation of Banks on June 25. (Photo: KAMCO)
Korea Asset Management Corporation (KAMCO) will carry out various programs to help companies and individuals overcome the crisis sparked by the spread of the COVID-19 virus.

First, KAMCO launched a program to support the sale of corporate assets.
The program helps companies that need to secure cash after the outbreak of the virus not to sell their properties at bargain prices. KAMCO will take the lead in inducing the inflow of private capital and then use the funds to buy real estate and other properties from companies.

To that end, KAMCO decided to issue 2 trillion won worth of bonds in 2020.

Its support will go to large companies, small and medium-sized enterprises.
As for large companies, KAMCO will help companies which make self-rescue efforts, those with improved financial structures, and those asking for support from creditors.
It will purchase assets from small and medium-sized enterprises to meet their individual needs.

KAMCO's support program will be operated in various forms, including the direct acquisition of corporate assets and selling them to buyers, taking over business assets such as resale factories and office buildings from companies and renting them to other companies, and joint investment with the private sector.
KAMCO began receiving applications from companies that will participate in the program on July 17.

KAMCO will also launch the "Two-Trillion-Won COVID-19-Related Personal Overdue Bond Purchase Program" to help ease debtors' financial burden.
It signed an individual overdue bond purchase agreement with the financial sector on June 25 and began to purchase overdue bonds.

In the meantime, KAMCO announced on Aug. 4 that it has signed a consulting contract with the Inter-American Development Bank (IDB) to help countries in Central and South America increase their capabilities for managing their state-owned assets.

The IDB was established in December 1959 to spark economic and social progress in developing countries in South America and the Caribbean.
It has 48 member countries including Korea, which joined the IDB in 2005. It is a technology cooperation project being pursued by the IDB.

It is aimed at helping Latin American countries, such as Uruguay and Chile, which suffer from chronic fiscal deficits, efficiently manage unused state assets to increase national income.

KAMCO, as an agency dedicated to managing state-owned property, will transfer the expertise and know-how that has contributed to enhancing the value of national assets and increasing fiscal income, to Latin American countries for the first time through this project.

Commissioned by the Ministry of Strategy and Finance, KAMCO has been managing a total of 690,000 parcels and 23 trillion won worth of state-owned general property, contributing to increasing the Korean government's fiscal income by about one trillion won annually since 1997.

The consulting contract will cost about $500,000 (about 600 million won). KAMCO will work with local IDB consultants to carry out the project with Latin American countries until January 2023.

Specifically, KAMCO will improve national property management systems through comparative research on best practices in advanced countries, propose a model for national property management information system, and conduct innovative pilot projects that combine KAMCO's national property management system and online public sale.

"This consulting is quite meaningful in that it will be the first case in which KAMCO will expand its overseas consulting services from Asia into Latin American countries," said Moon Sung-yu, president of KAMCO.
"KAMCO will lead the spread of a Korean wave in the public sector in the post-COVID-19 era by strengthening international cooperation with overseas projects."

On the other hand, KAMCO has transferred its experience and know-how in managing bad loans and managing and developing state-owned assets to 33 institutions in 15 countries including China and Thailand since 2001.
It also successfully completed seven consultation sessions of Knowledge Sharing Program (KSP) consulting on sharing economic development experience for government organizations of Vietnam, Kazakhstan, and Colombia among others.

Based on such achievements, KAMCO signed a consultation contract to restore the Mongolian banking industry and strengthen Mongolia's financial stability with the Asian Development Bank (ADB) in October 2017.
It successfully wrapped up the consulting project for Mongolia in July.