Korea's proposal to host ADB's 56th Annual Meeting in Incheon in May 2023 is expected to be approved at the upcoming virtual meeting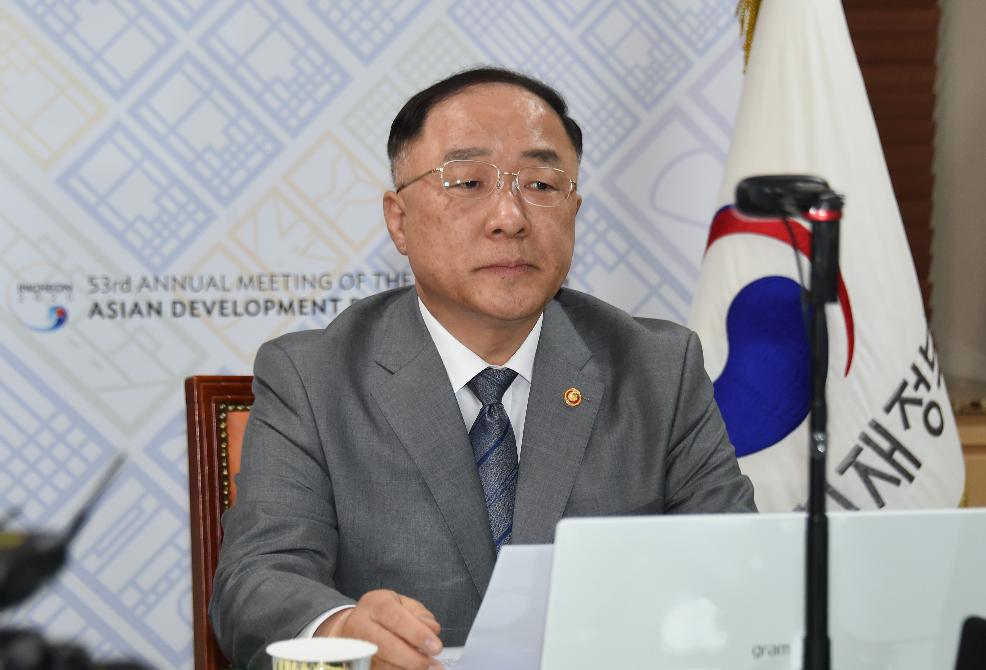 Deputy Prime Minister and Minister of Economy and Finance Hong Nam-ki presides over an online governors' meeting on May 22 at Seoul Government Complex on May 22, the first part of the 53rd ADB Annual Meeting. (Photo: MOEF)
The Asian Development Bank (ADB) will hold the second stage of its 53rd Annual Meeting as a virtual event from Sept. 17 to Sept, ADB said. The event will include a formal business session and selected knowledge events.

"As the coronavirus disease (COVID-19) pandemic continues to evolve, with travel restrictions impacting many ADB members and continued health risks, ADB and the Government of the Republic of Korea have agreed not to proceed with a physical meeting in Incheon," ADB Secretary Eugenue Zhukov said.

The Republic of Korea has proposed to host ADB's 56th Annual Meeting in Incheon in May 2023. ADB's Board of Governors will consider this proposal when it convenes virtually on Sept. 18.

The first stage of the 53rd Annual Meeting comprised a reduced-scale meeting of the Board of Governors on May 22 at which Governors approved ADB's financial statements and net income allocation in line with ADB institutional requirements, ADB said.

The Ministry of Economy and Finance (MOEF) said the 53rd ADB Annual Meeting, originally held in Incheon from Sept. 18 to Sept. 21, will be replaced by a webinar, which will be hosted by ADB headquarters in Manila, and the Incheon ADB Annual Meeting are expected to be delayed by 2023.
The decision was made in consideration of making the safety of Korean and international participants as well as people a top priority. MOEF officials said the decision was made since the ADB Annual Meetings could not be held efficiently due to each travel restrictions abroad each country is imposing and scaled down events.

The ministry had held prior meetings with the ADB and related Korean ministries since late June before it officially requested a delay of the Incheon ADB meeting on July 3. On the same day, the ADB had a board of directors meeting and approved the request.

Korea's hosting of the 56th ADB Annual Meeting in Incheon is a matter that needs to be approved by governors of ADB member countries, so it will be determined by a governors' general meeting in September.

Deputy Minister Huh Chang said, "Not any country has so far expressed an intention to attract the 2023 ADB Annual Meeting, and Korea find it not difficult to host 2023 ADB Annual Meetings in consideration of past Annual Meeting delays.

In the past, Turkey postponed its hosting of ADB Annual Meeting from 2003 to 2005 due to Iraq War.

The 54th ADB Annual Meetings and the 55th ADB Annual Meetings will be held in Georgia in 2021 and Sri Lank in 2022, respectively.

In the meantime, ADB headquarters will host a webinar from Sept. 17 to Sept. 18, replacing the 53rd ADB Annual Meeting, and Deputy Minister and MOEF Minister Hong Nam-ki, the sitting chair of the 2020 Annual Meeting, will preside over a governors' general meeting in September.

The ADB Webinar will take place on Sept. 17 under the theme "Achieving the Sustainable Development Goals by Strengthening Domestic Resource."

ASEAN+3 Finance Ministers and Central Bank Governors Meeting will be held on Sept. 18, which will be followed by ASEAN+3 Finance Ministers and Central Bank Governors Meeting, and Governors' Second Business Session.

Next will come Governors' Seminar, to be held under the theme, "Developing Asia Beyond the Pandemic."
MOEF Deputy Minister Huh said Korea's responses against COVID-19 and economic policies will be shared to help developing countries in the Asia-Pacific area cope with the spread of COVID-19.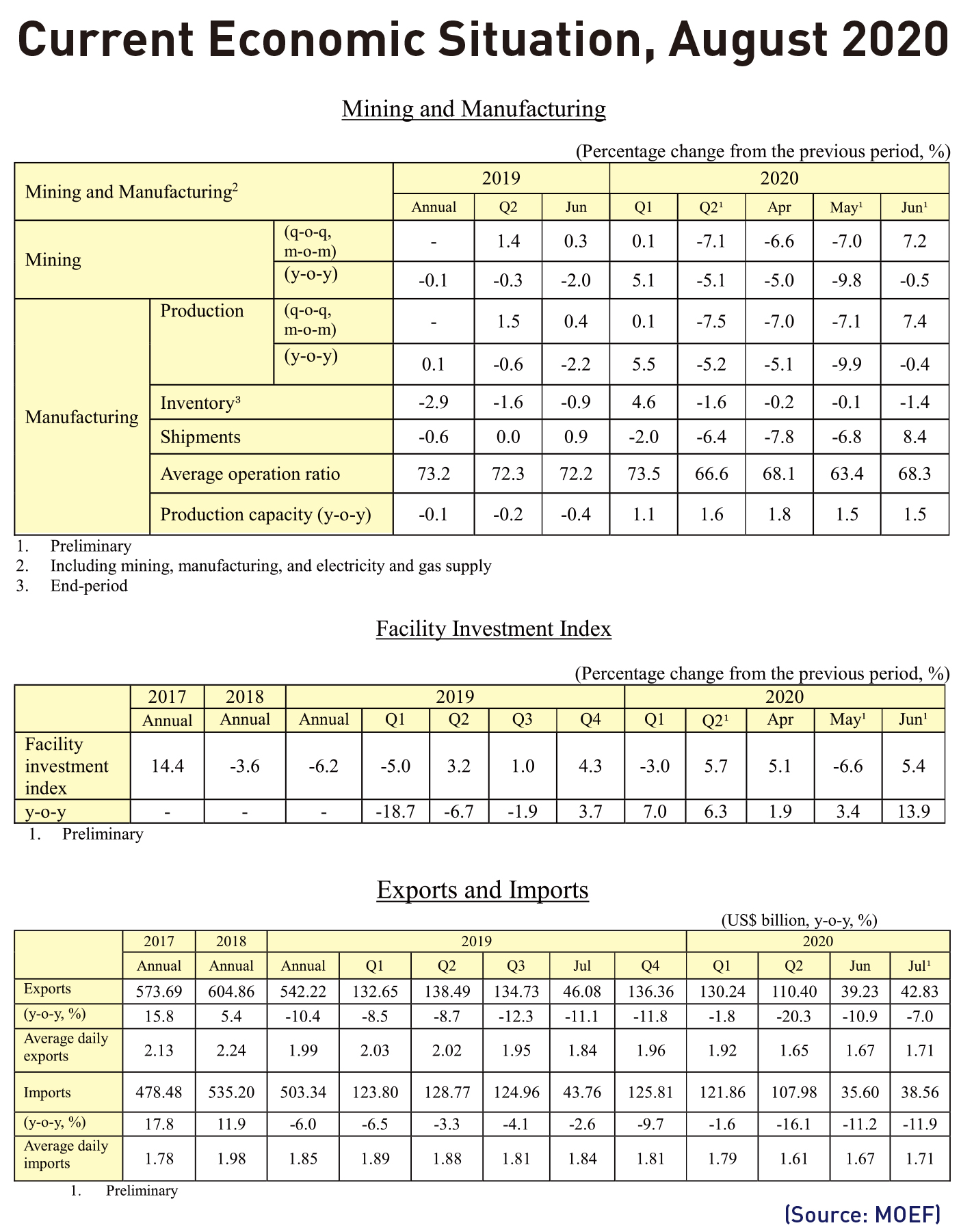 'Korean New Deal'

The government came up with a master plan called the "Korean New Deal" which will channel 160 trillion won and create 1.9 million jobs by 2025.
According to the plan, 101 trillion or 63 percent of the expenditure will go to 10 representative tasks like eco-friendly mobility and data dam in order to bear specific outcomes.
At a session of reporting the Korean New Deal at Cheong Wa Dae on July 14, President Moon Jae-in announced the plan, saying "The Korean New Deal is Korea's paradigm shift to jump to a leading state."

The plan calls for the government's playing a part of pump-priming by raising 114 trillion oir 70 percent of the total expenditure with government budget and the private sector to shoulder the remaining 30 percent.
The move may be construed as the government's making the Korean New Deal based on public-private joint collaboration one of its key state agendas.

Explaining the background of the government's unprecedented investment, President Moon said it is the government's strong determination to transform the nation from a "follower economy" to a "first mover economy," from a carbon-dependent economy to a low–carbon economy, and from an inequality society to an inclusive society.

As to the 10 core tasks of the Korean New Deal, President Moon said people will be likely to see changes during the term of the current government.
The reason is that the goals of the Korean New Deal are divided into short-term tasks ending 2022 and long-term ones lasting until 2025.

The 10 core tasks include data dam, "intelligent" government and smart medical care infrastructure in the Digital New Deal Sector,; green remodeling, green energy and eco-friendly future mobility in the Green New Deal Field,; green smart school, "digital twin," and public safety social overhead capital (SOC) digitalization, and smart industrial complex in the convergence sector.

Manufacturing and Services, Retail Sales and Facilities Investment Improve

Manufacturing and service output improved in June, as well as retail sales, facilities investment and construction investment, the MOEF said.

Industrial production rose 4.2 percent from the previous month in June. Mining and manufacturing improved 7.2%, month-on-month, as well as service output, up 2.2%, month-on-month. Industrial production increased 0.7 percent year on year.

Retail sales rose in June 2.4% month-on-month, as well as facilities investment, up 5.4% month-on-month, and completed construction works.
Exports fell 7.0 percent year-on-year in July, the fall slowing amid easing lockdowns in major economies. Average daily exports, an indicator calculated according to the days worked, fell from a year.

The consumer sentiment index (CSI) improved 2.4 points in July to 84.2. The business sentiment index (BSI) for the manufacturing sector rose 6 points to 57, and the BSI outlook for August went up 6 point to 57.

The cyclical indicator of the coincident composite index for June increased 0.2 points to 96.7, and the cyclical indicator of the leading composite index improved 0.4 points to 99.4. The economy lost 277,000 jobs year-on-year in July. Job loss slowed as service jobs and construction jobs declined at a slower rate.
The unemployment rate rose 0.1 percentage points from a year ago to 4.0 percent. Consumer prices rose 0.3 percent from a year ago in July. Fresh food prices rose and oil prices fell slowly. Core inflation rose 0.7 percent.

KOSPI rose in July amid foreign net buying of Korean shares. The won strengthened and Korea treasury yields dropped.

Housing prices continued to rise in July (up 0.41% → up 0.61%, m-o-m), as well as Jeonse (lump-sum deposits with no monthly payments) prices (up 0.26% → up 0.32%, m-o-m).
Although there are uncertainties with regard to the COVID-19 pandemic and long rainy spell, the country's domestic demand has continued to improve, and exports and manufacturing are showing signs of recovery.

Global financial markets have been stable and large economies posted improvement in major indicators. However, concerns linger over the spread of COVID-19 and conflicts between huge traders.

To help the economy turn around, the government will strengthen its risk management, work to implement as planned the 3rd extra budget and other measures to boost consumption, investment and exports, and continue to work on the Korean New Deal.