Mini insurance policies offer customized coverage services with reasonable premiums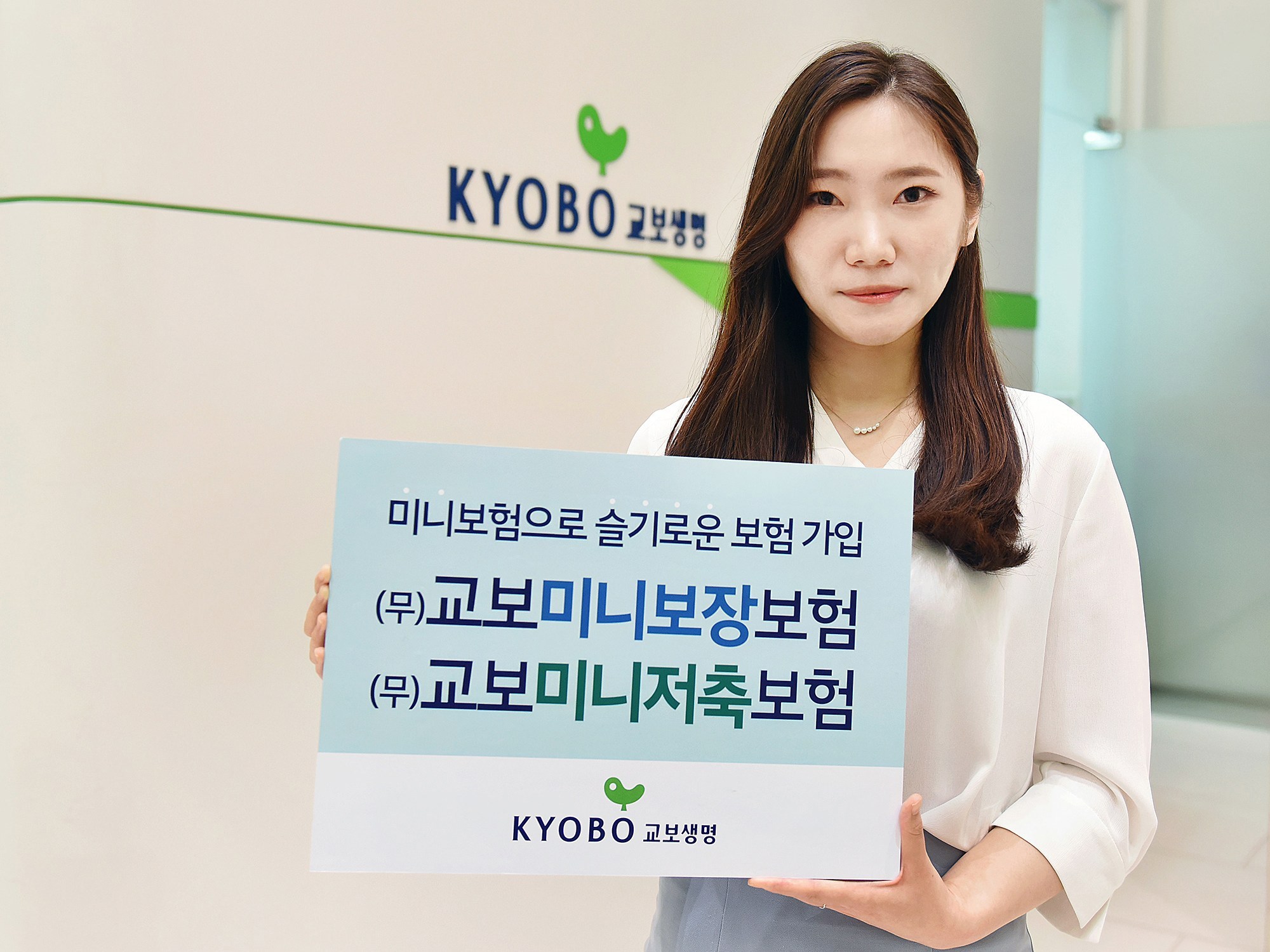 On June 15, Kyobo Life Insurance launched non-participating Kyobo Mini Coverage Insurance which pays hospitalization fees from the first day and also pays for surgery when a consumer is hospitalized due to an illness or disaster. Non-participating Kyobo Mini Savings Insurance launched together along with Kyobo Mini Coverage Insurance is a product for raising a large sum of money. Its monthly insurance premiums range from 30,000 won to 100,000 won. Its official interest rate eclipses those of deposit and installment savings in the banking industry. (Photo: Kyobo Life)
The average annual cost of health care per person rose from 940,000 won in 2011 to 1.53 million won in 2018. In particular, the average annual cost of medical treatment per senior citizen increased from 2.97 million won to 4.57 million won during the same period.

However, if consumers really want to buy insurance, they have to consider the heavy burden of insurance premiums. Attention must also be paid to understanding complex insurance products. At times like this, it is worth turning to mini insurance.

Mini insurance reduces the financial burden and offers necessary coverage only. Insurance premiums were lowered through the selection and concentration of coverage. However, mini insurance offers necessary coverage.
Also, contents of mini insurance policies are relatively easy to understand. This is why mini insurance is receiving a lot of attention.

Insurance products are also changing, reflecting the recent spread of minimalism-seeking life trends and an increase in single-person households. Interest in mini insurance reflects this changing trend.

Attention is being paid to non-participating Kyobo Mini Coverage Insurance. Kyobo Life Insurance has launched non-participating Kyobo Mini Coverage Insurance and non-participating Kyobo Mini Savings Insurance.
The two insurance policies can significantly lower premium burdens and provide coverage and lump sum money for a required period.

These products are characterized by the fact that a customer can buy a customized insurance policy for a period of his or her choosing while paying a reasonable premium.
They were developed for those in their 20s, 30s and 40s who can feel burdened with insurance purchases.

Kyobo Mini Coverage Insurance is low-premium coverage insurance that prunes the cost of hospitalization and surgery due to diseases and disasters with a low premium.
To provide a wide range of coverage services, Kyobo Life strengthened coverage services for hospitalization and surgery that can occur in everyday life.

If a person with a special admission contract of 10 million won is admitted to a hospital, he or she can receive 20,000 won per day in a hospital and 50,000 won per day if he or she is hospitalized at a higher general hospital.
Another advantage is to pay 100,000 won to 3 million won per surgery depending on the type of surgery (one to five types).
Accordingly, the person will not feel financial burdens when he or she has to receive a wide variety of surgeries.

In addition, buyers of Kyobo Mini Coverage Insurance can enjoy the Kyobo Mini Healthcare, the first health care service in the Korean insurance industry. Through the service, they can see doctors one on one and enjoy appointment services with doctors and receive information on advanced medical services.

The insurance is available for those who are 15 to 50 years old. You may choose between three and five years as a maturity period.
The premium can be paid in the form of monthly or annual payments, and is 4,500 won per month for a 30-year-old.

"Kyobo Mini Savings Insurance" is a savings insurance policy that allows you to pay 30,000 won to 100,000 won a month and raise a lump sum in three or five years.

Kyobo Mini Savings Insurance is a product that saves money at a higher public interest rate than banks' deposit and installment savings rates. It guarantees the principal even if it is maintained for just one month, further enhancing stability.
The refund rate exceeds 100 percent from one month after subscription because it is a method of deducting business cost from interest from reserves, not the paid insurance premium.

Kyobo Mini Savings Insurance requires a low premium so buyers of this insurance policy will be able to raise funds for their children's education, self-improvement, hobbies among others without the loss of principals.
This insurance targets those who graduated high school or college, company workers and housewives and others.