KB Chairman Yoon Expedites Growth of KB Financial Group through Bold New Attempts
KB Financial Group forges strategic partnership with Carlyle Group to strengthen domestic and foreign investment capabilities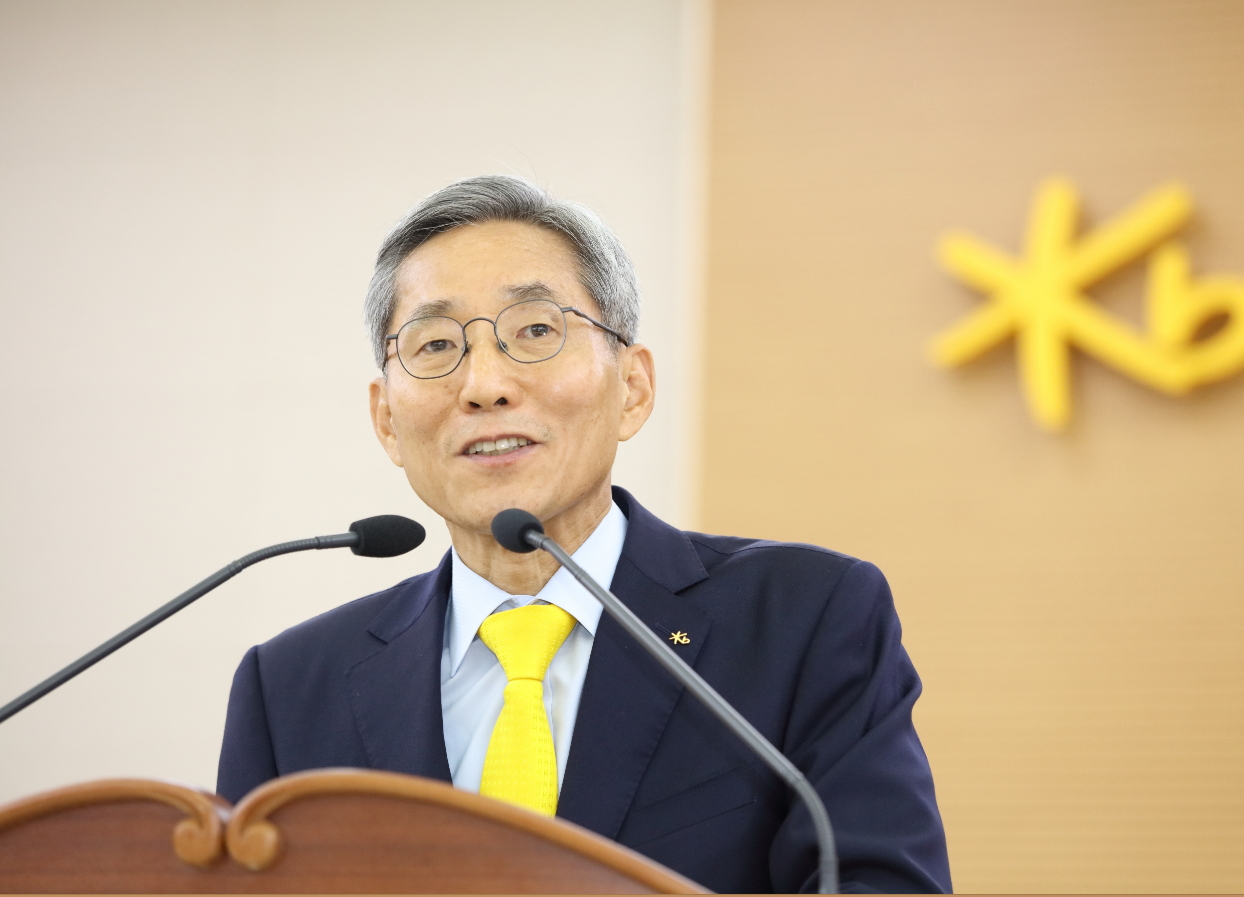 Chairman Yoon Jong-kyoo of KB Financial Group. (Photo: KB Financial Group)
Yoon Jong-kyoo, chairman of the KB Financial Group, stabilized KB Financial Group, which had reeled in the aftermath of the KB Financial scandal, while leading KB Financial Group to higher net profit and the acquisition of non-banking affiliates.
Yoon is said to have the strongest leadership capabilities among chairmen of KB Financial Group.

Under Yoon's strong leadership, KB Financial Group has been focusing on strengthening its non-banking sector to complete a balanced portfolio suitable for an advanced financial group and to produce results in its global business beyond Korea through overseas expansion.

KB Financial Group is fiercely competing with the Shinhan Financial Group to stand as the nation's No. 1 financial group. KB Financial Group's acquisition of Prudential Life Insurance, which posted a net profit of 140 billion won in 2019, is heating up competition in the financial industry in Korea.

Yoon, who has been heading up the KB Financial Group since 2014, has significantly expanded the size of KB Financial Group in a short period of time, succeeding in a series of large-scale mergers and acquisitions.

One of the most notable is the LIG Insurance (KB Insurance) M&A in 2015, which played a direct role in KB Financial Group becoming a general financial group capable of providing total financial services.

Yoon has also been seeking to diversify the financial group's business portfolio and create synergies through the combination of commercial banks and investment banks after taking over Hyundai Securities Co. in 2016. In April, it succeeded in taking over Prudential Life for 2.34 trillion won.
The acquisition of Prudential Life Insurance is expected to give the KB Financial Group a more balanced business portfolio.

In the global business, Yoon has been employing a two-track strategy in the Southeast Asian and advanced markets.
In 2019, KB Financial Group acquired an 80 percent stake in Indonesia's credit company "PT Finansia Multi Finance" and succeeded in acquiring an 85% stake in Sunindo Parama Finance and took over a 70 percent stake in Prasak Microfinance, Cambodia's number one micro finance deposit-taking institutions (MDI) for US$603 million, laying the foundation for revving up its global growth engines.

Yoon has been working hard to keep the KB Financial Group one step ahead, especially in digital finance. At the end of October 2019, it introduced "Liiv Mobile," a mobile virtual network operator (MVNO) service.

Customers can use banking and telecommunication services without complicated procedures such as installing a public certificate or application if they insert a USIM chip. Liiv Mobile is considered the culmination of a digital transformation pursued by the KB Financial Group.

KB Financial Group declared its digital transformation in 2018. Since then, it has been pushing for digitalization in all sectors including business methods, the organization of the group, platforms, and services.

The decision was made as Yoon judged that it was imperative for the KB Financial Group to increase its digital and IT capabilities in order to increase its competitiveness compared to information technology (IT) companies such as Alibaba and Google at a time when financial technology innovation was taking place fast.

In the meantime, KB Financial Group and the Carlyle Group, a global investment firm headquartered in the United States, signed a memorandum of understanding (MOU) on forging a strategic alliance between the KB Financial Group and Carlyle's leading Asian buyout fund, "Carlyle Asia Partners V."

Through this strategic alliance, the two companies will work together to create new investment opportunities using their strong networks in Korea and abroad, and create synergies in various areas including the KB Financial Group's structured finance and funding support for Carlyle's investments in Korea and other countries.

To top it off, on the same day, the KB Financial Group signed an investment agreement with Carlyle after obtaining approval from its board. Under the agreement, Carlyle will invest 240 billion won in exchange bonds issued using its treasury shares held by the KB Financial Group.

"We expect that our strategic partnership with Carlyle will contribute to KB's growth on the global stage while creating various business opportunities not only at home but also abroad," Yoon said. "We will actively support Carlyle to explore new domestic investment opportunities through the KB Financial Group's strong network in the Korean market."