It is the fastest DRAM solution in the industry, being able to transmit 124 full-HD movies per second
President Moon Jae-in talks with SK Group Chairman Chey Tae-won while touring SK hynix's Incheon Campus ion Gyeonggi-do on July 9.
SK hynix has started the full-scale mass-production of high-speed DRAM, 'HBM2E', only 10 months after the company developed the new product last August.

SK hynix's HBM2E supports over 460GB (Gigabyte) per second with 1,024 I/Os (Inputs/Outputs) based on the 3.6Gbps (gigabits-per-second) speed performance per pin. It is the fastest DRAM solution in the industry, being able to transmit 124 FHD (full-HD) movies (3.7GB each) per second.

The density is 16GB by vertically stacking eight 16Gb chips through TSV (Through Silicon Via) technology. It's more than doubled from the previous generation (HBM2).

HBM2E boasts high-speed, high-capacity, and low-power characteristics; it is an optimal memory solution for the next-generation AI (Artificial Intelligence) systems including Deep Learning Accelerator and High-Performance Computing, which all require high-level computing performance.

Furthermore, it is expected to be applied to the Exascale supercomputer – a high-performance computing system which can perform calculations a quintillion times per second – that will lead the research of next-generation basic and applied science, such as climate changes, bio-medics, and space exploration.

"SK hynix has been in the forefront of technology innovation that contributes to human civilization with achievements including the world's first development of HBM products," said Oh Jong-hoon, Executive Vice President and Chief Marketing Officer (CMO) at SK hynix.
"With the full-scale mass-production of HBM2E, we will continue to strengthen our presence in the premium memory market and lead the 4th Industrial Revolution."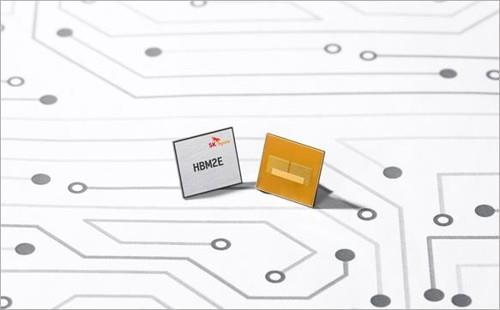 A view of HBM2E Dram, produced by SK hynix. (Photos: SK Hynix)

President Moon: 'Korea Has Overcome Crisis Caused by Japan's Export Curbs'

President Moon Jae-in, assessing Japan's imposition of exports curbs on Korea a year ago, said the nation has managed to overcome the crisis.

Korea's rising to become a global power, departing from its passive attitude of dependence on Japanese imports, is contributing to stabilizing global supply networks and promoting collaboration, President Moon said.

President Moon made the remarks while touring SK hynix's plant in Icheon, Gyeonggi-do, on July 9. President Moon said Japan's unjust export curbs continue to last for one year, and worry mounted that the Korean economy would be dealt with a severe blow, but the government and the private sector have so far joined forces in overcoming the crisis without any production disruption case.

He extended whole-hearted thanks to not only SK hynix and other businesses which have made strenuous efforts to secure self-sufficiency in the raw materials, parts and equipment sectors but also people who have mustered support.

SK Group Chairman Chey Tai-won accompanied President Moon in person to introduce the plant to the president.

Chairman Chey revealed ways of creating social values to make a leap forward in the raw materials, parts and equipment sectors.

Four agreements were signed during the event. SK hynix, tenant candidate companies, and the government struck a deal on "Yongin semiconductor cluster" alliance and cooperation to set up a semiconductor cluster.

The 120 trillion won investment project is expected to create 17,000 jobs and have added value creation effects worth 188 trillion won. A deal has been signed to invigorate the reshoring of companies returning from abroad.