POSCO Group Conducts Volunteer Activities to Put into Global Corporate Citizenship
Global Exemplary Citizenship Week takes place in a nine-day run from June 19 through June 27 to reflect management tenet of corporate citizenship with a view to participating in solving problems of global society
Officials with POSCO's Thai operation clean the memorial for Thai soldiers who participated in the Korean War. (Photos: POSCO)
POSCO has held the "Global Exemplary Citizenship Week" under the theme "Cheer Up My Town & Remember Our Heroes" to reinvigorate regional economies that have been buffeted by the spread of COVID-19 and mark the 70th anniversary of the Korean War.

During Global Exemplary Citizenship Week, executives and staff members of POSCO Group around the world have been joining forces in solving social issues by using the talent they possess and participating in volunteer activities contributing to the development of regional communities.

POSCO has held the "Global Volunteer Week" every year since 2010. Starting this year, Global Volunteer Week has been renewed to the Global Exemplary Citizenship Week to be connected with management tenet of corporate citizenship with a view to participating in solving problems of the global society on a voluntary basis.

The Global Exemplary Citizenship Week occurred over nine days, from June 19 through June 27. POSCO Group executives and staff members conducted contactless volunteer activities using technologies, skills and specialized knowledge each individual possesses, while following social distancing designed to prevent the spread of COVID-19.

Volunteers participated in diverse consumption expedition drives to revive mom-and-pop shops with a focus on POSCO Group's operations in the Pohang, Gwangyang and Incheon areas to give a helping hand to regional communities grappling with hardships caused by the protracted COVID-19 pandemic.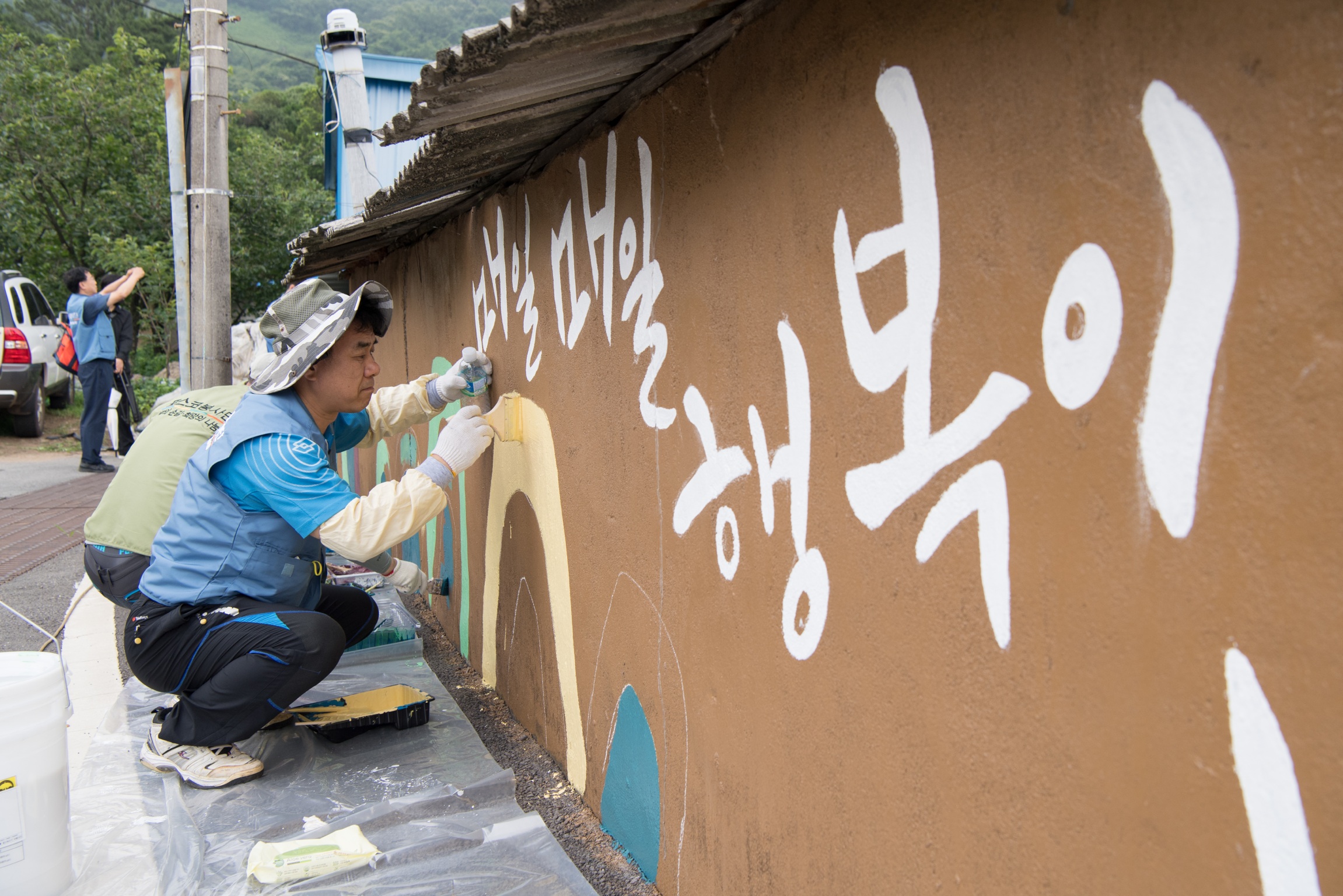 Executiveds and staff members with POSCO Gwangang Steelworks are engaged in diverse volunteer activiies like mural painting (seen).

They also conducted volunteer activities, such as practicing steps to prevent the spread of the pandemic among neighborhood residents in related farming areas, the drawing of mural paintings, and the repairing of farming machinery.

POSCO executives and staff members in countries such as China, Indonesia and Vietnam operated educational classes designed to prevent the spread of COVID-19.
They also dispensed daily necessities to help local residents suffering from hardships caused by the novel coronavirus.

Volunteers were engaged in diverse activities to pay homage to the fallen heroes of the Korean War, marking the 70th anniversary of the outbreak of the war.

Some executives and staff members participated in volunteer activities to touch up the landscaping around a memorial in Pohang, while counterparts in Thailand donated a TV set to a memorial hall of Thai soldiers who participated in the Korean War, planted trees and cleaned the memorial site.

In particular, POSCO plans to select 40 households of underprivileged families of soldiers who fought during the Korea War in cooperation with the Ministry of Patriots and Veterans Affairs, and cover the expenses to have their homes renovated.

POSCO talent-sharing volunteers participated in wallpapering, electric repair and other activities related to renovating homes.
They started with the repairing of four homes in the Gwangyang area on June 20. The work involving the 40 households is to be finished by the end of October.

It is noteworthy that SK, which has cooperated in solving social issues, has joined POSCO's 2020 activities. SK Group Chairman Chey Tai-won was invited as a speaker to the 2019 corporate citizenship event held last December.
He spoke on SK's social values activities and stressed their significance. On June 25, POSCO and SK signed a deal that calls for the latter to join in the "Happiness Alliance" project to dispense lunch boxes to underprivileged children.